Reported by PMOI/MEK
London, March 5, 2019 - "Ashraf III – Rising From The Ashes" is the title of a new report published by Struan Stevenson, a prominent former member of the European Parliament and a known expert on Middle East affairs, especially Iraq. The report, presented on Tuesday at a London press conference, provides a detailed explanation on why the mullahs' regime ruling Iran is escalating its propaganda campaign and terror measures against the People's Mojahedin Organization of Iran (PMOI/MEK), the main member of the Paris-based Iranian opposition coalition National Council of Resistance of Iran (NCRI).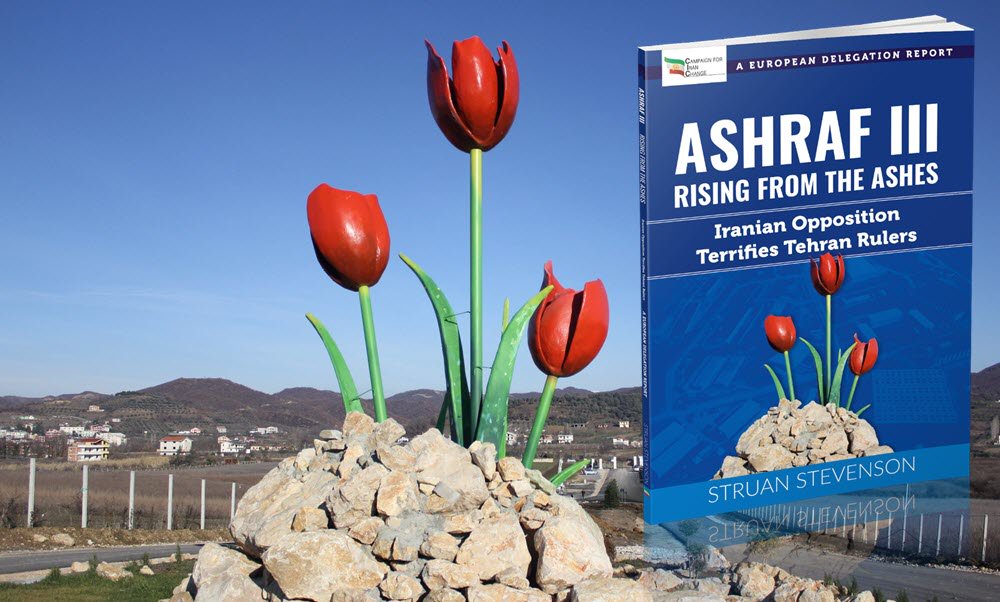 "Ashraf III – Rising From The Ashes" – By Struan Stevenson
Through his remarks, Stevenson highlighted how Tehran continues to intensify repression at home after the so-called "moderate" regime President Hassan Rouhani took office, parallel to the recent surge in the number of terrorist plots and propaganda campaigns carried out by the mullahs' regime against the NCRI, and specifically targeting the PMOI/MEK.
"The regime plotted to bomb a rally in Paris. I was at that rally. Several other terror plots were perpetrated by Iranian regime agents in Europe," Stevenson explained, referring to Tehran's plot to target the annual Iranian diaspora rally on the outskirts of Paris where tens of thousands of Iranians join hundreds of prominent dignitaries from across the globe to express their support for NCRI President Maryam Rajavi and her ten-point plan for Iran. "But despite all that we still have Europeans trying to sign trade deals with Iran as part of an appeasement policy. These countries have shamefully set up INSTEXT to bypass U.S. sanctions in a somewhat barter system."
Stevenson turned his remarks on recent developments in Iran.
"Only two days ago, Iran appointed Ebrahim Raisi, the notorious executioner of thousands only for their support for the PMOI/MEK. How on Earth can we have dialogue with a regime that appoints a man with such atrocities to head of judiciary?" he asked in reference to the role of Raisi as a senior member of the notorious "Death Committee" that sent thousands of political prisoners to the gallows during the summer 1988 massacre. Over 30,000 dissidents, mostly PMOI/MEK members and supporters, were executed in kangaroo "courts" that lasted mere minutes.
"The sudden resignation of Iranian Foreign Minister Mohammad Javad Zarif and the uprising show the fragile status of the regime," Stevenson said, highlighting the numerous crises engulfing the mullahs' regime. "The insistence of Revolutionary Guards Quds Force chief Qassem Soleimani on Zarif's reinstatement show how these two figures are working together on the regime's foreign terrorist organization."
Stevenson adjusted his speech onto the main Iranian opposition force, the PMOI/MEK, threatening the regime in Tehran.
"Following the airlift of over 2,000 Iranian dissidents [from Iraq to Albania], the mullahs couldn't tolerate it and sent dozens of agent to Albania. The mullahs' regime began planning bomb plots and assassinations in response," he added. "Mrs. Maryam Rajavi and her people built a whole city in a matter of months. Ashraf. That is why I call it 'rising from the ashes.'"
Tehran has also launched a demonization campaign against the PMOI/MEK based in Albania.
"Ann Singleton actually held a press conference in Albanian claiming to work for the UK government as an anti-terrorism expert. Two Londoners, Masoud Khodabandeh and his wife, Singleton, who have sinister records and have been seen outside Ashraf in Iraq planning rocket attacks on the residents, are now regularly visiting in Albania," the former MEP continued.
"The people of Iran now look to the organized opposition [the PMOI and the NCRI] as the harbingers of a future of democracy, justice, and peace. The fortitude and stamina of PMOI members in Albania has acted as a beacon of hope for the 80 million beleaguered citizens of Iran who hope and pray for freedom from oppression… The Iranian people have lost their fear and are demanding 'regime change.' We have a regime that has executed 4,000 only during the so-called moderate Rouhani's tenure. After 40 years of dictatorship, today 80 million Iranians have had enough."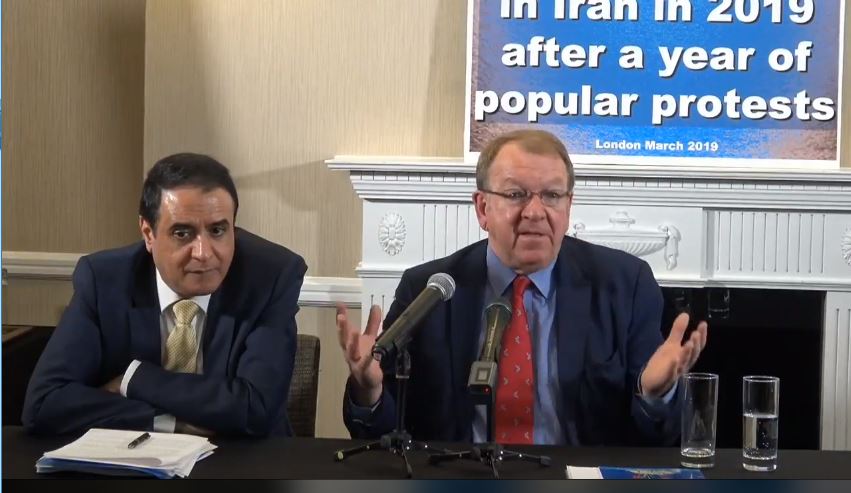 Former MEP Struan Stevenson at the London conference announcing his new report – March 5, 2019
Hossein Abedini, a member of the NCRI Foreign Affairs Commission, shed light on the terror campaign launched by Tehran especially through the course of 2018. He showed documents exposing Iranian agents using diplomatic passports and immunity to plot and carry out terrorist attacks on European soil and other foreign countries. Qassem Soleimani is using diplomatic passport to travel to foreign countries, he explained.
Reza Amiri Moghaddam, a former head of the Iran delegation to Iraq, came to Europe and engaged directly with Assadi to plot terror attack targeting the Paris rally back in late June 2018.
"It is not a secret anymore that all Iranian regime departments and figures, including Rouhani and Zarif, are involved in terrorism and there is no difference between their factions. Zarif is the 'smiling face' of a terrorist," he explained.
"The moderation of this regime has been an invalid claim. Last summer, Rouhani put an end to this. He assigned his Intelligence Ministry to carry out a terror attack against the Iranian opposition rally near Paris," Abedini continued.
"It is time for Europe to listen to people of Iran and black list the regime's Ministry of Intelligence & Security and the IRGC as foreign terrorist organizations," he added. "The mullahs' regime only understands the language of firmness. The UK government blacklisting Hezbollah, which is on the payroll of the mullahs' regime in Iran, is a good move but not enough."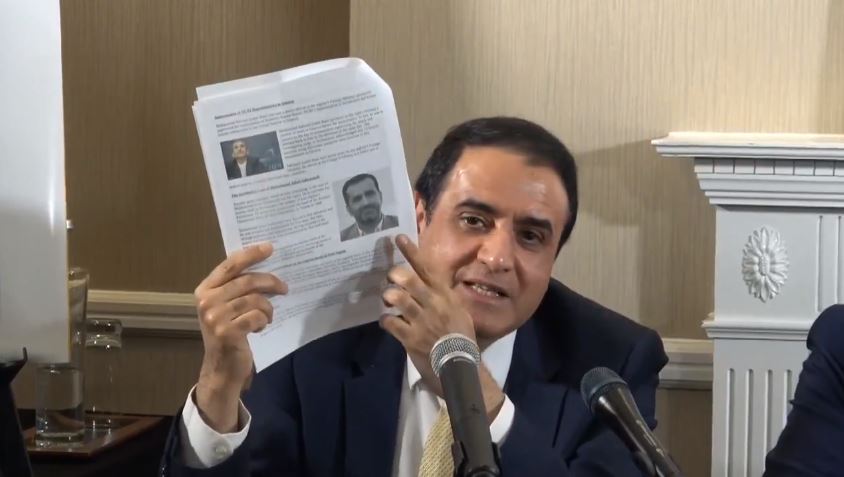 NCRI member Hossein Abedini at a press conference in London – March 5, 2019
Lord Clarke of Hampstead, CBE, also attended the London press conference.
"After one year of popular protests in Iran against the regime, the world and Iran experts now understand and admit that the people want genuine change and freedom," he said.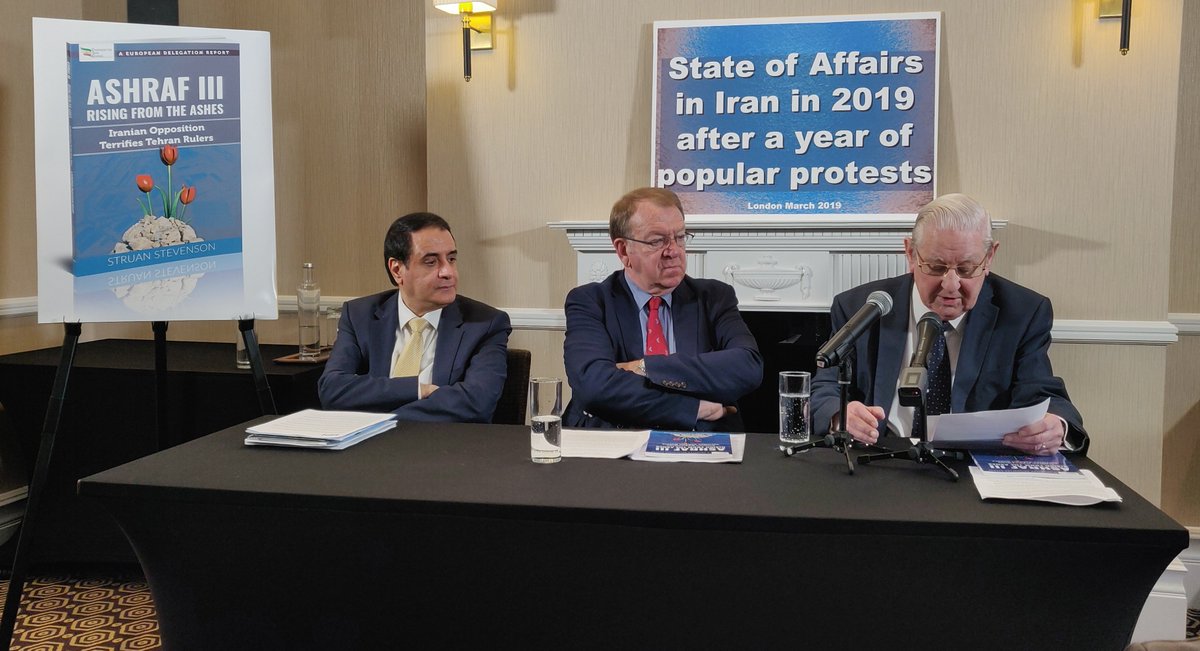 Lord Clarke of Hampstead, CBE, at the London press conference – March 5, 2019