Washington, Riyadh Daily, 01 December 2017 - A large number of Iranians are living in abject poverty despite the country's strategic location, hydrocarbon wealth and human resources. This is the sad truth even as the mullahs boast of their ballistic missiles and military prowess.
Iran is now competing with the poorest of African countries for hunger and disease, particularly HIV and AIDS. More than 4,000 Iranians lose their lives every year from AIDS and more than 70,000 are carriers of the HIV virus.
The impoverished eastern part of Tehran is known to be a hotbed for drug addicts, peddlers and traffickers. A psychologist learnt this when he visited this poor district to collect blood samples to ascertain the high incidence of HIV and AIDS. The virus spreads easily when heroin syringes are exchanged by drug addicts. Drugs frequently come from across the borders with Afghanistan where its opium trade flourishes mainly through deals with Iran.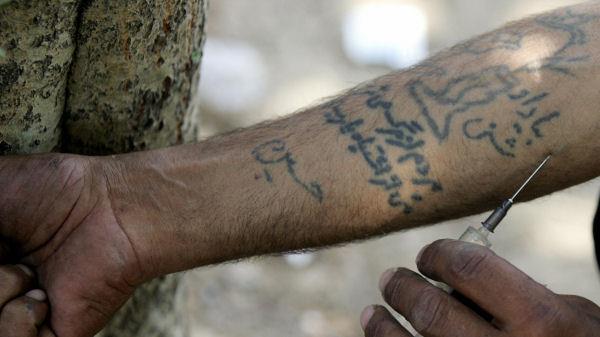 An Iranian drug addict injects himself with heroin in a park in Tehran
Iran has recently witnessed a remarkable increase in the number of HIV and AIDS infections through illegitimate sexual relations indulged in by young Iranians. They are unaware of their infection and continue to spread it, in the absence of awareness campaigns and preventive steps. There is also a lack of health facilities to encourage young people to undergo medical tests for AIDS. In addition, the Iranian government is in a state of denial. This ostrich-like policy has only compounded the problem.
A lengthy report by the American ABC News on the spread of AIDS in Iran cites one of the reasons as its temporary marriage culture. This so-called marriage, which lasts only for a few hours, is permitted by the Iranian government. AIDS is easily spread through such immoral relations. The report also highlighted the phenomenon of Moayasha or Mosakan, which are Arabic words for a man living together with a woman outside marriage. This practice has been growing in popularity, with Supreme Leader Ayatollah Khamenei describing it as a result of a "promiscuous generation."
American ABC News described the suffering of people with AIDS as tragic. They are completely isolated from society and deprived of jobs. To make matters worse, the Iranian government is offering treatment for only a few thousands of patients out of the 70, 000 sufferers.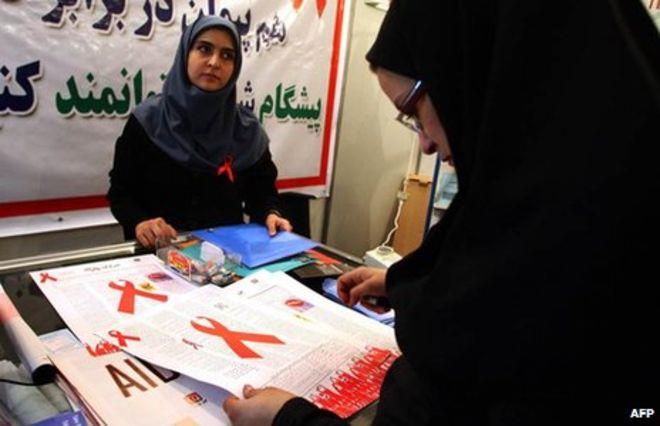 An Iranian woman reads a leaflet at an exhibition marking World Aids Day in Tehran