Distinguished guests,
Dear sisters and brothers,
Fellow compatriots,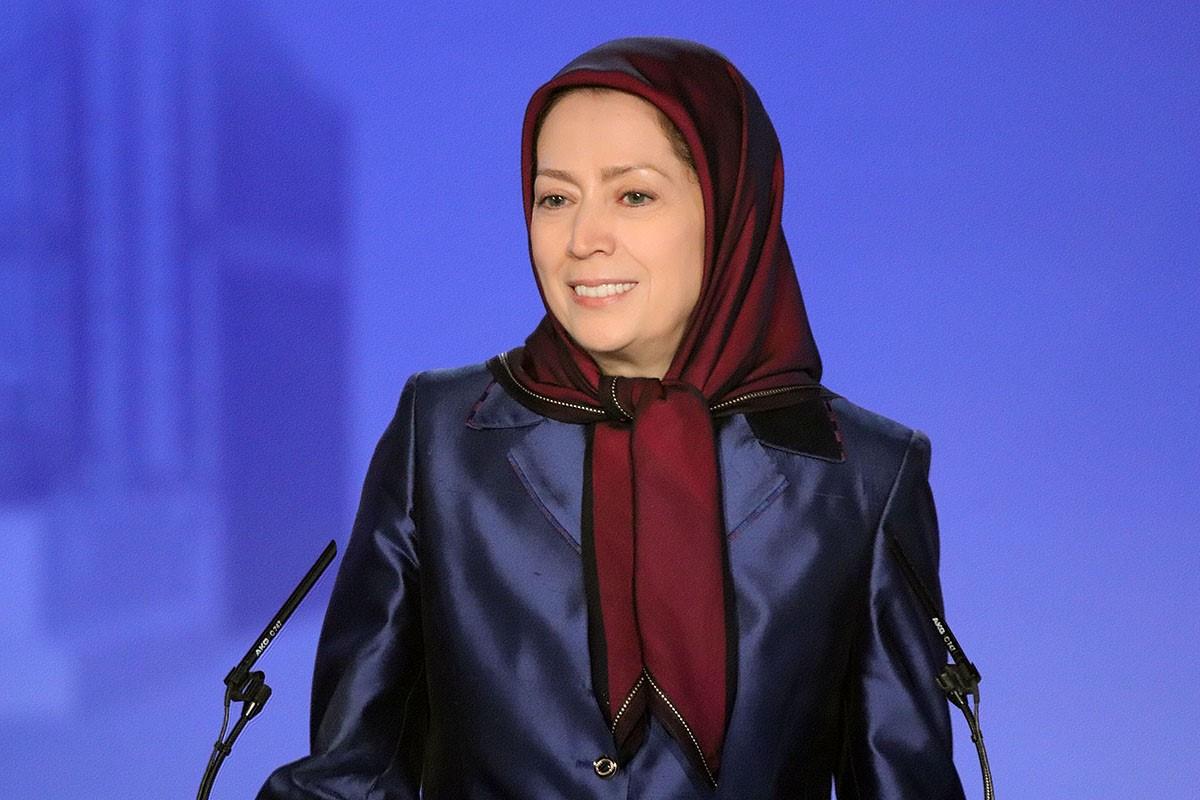 We have come together to honor the memory of 24 members of the PMOI who were slain two years ago in a rocket attack launched by the Revolutionary Guard Corps at Camp Liberty.
This day and these victims remind us of an important message: the message of the victims of the 1988 massacre and the 120,000 souls who gave their lives for freedom and the 38-year suffering of our nation. The message is that the people of Iran are determined to gain their freedom and democracy and will overthrow the mullahs' religious dictatorship at any cost.
Hail to Nayyereh Rabii, member of the Central Council of the People's Mojahedin Organization of Iran, who attested to the Iranian women's grim will to achieve freedom and equality.
Hail to Hossein Abrishamchi, a valiant commander of the National Liberation Army of Iran, and hail to each and every one of those martyrs who are shining lights who pierce the darkness of tyranny, despair and submission:
My dear brothers Manouchehr Barati, Hamid Dehghan, Akbar Alidoust, Hassan Towfiq-jou, Hamidreza Imeni, Abu-Taleb Hashemi, Kiumars Yousefi, Hossein Gandomi, Farshid Rabii, Hassan Ibrahimi, Mohammad Ali Mirzaii, Sohrab Homayounfar, Behzad Mirshahi, Amir Hossein Adavi, Rajab Ghorbani, Abdulreza Vadian, Sharif Vaissi, Hossein Sarvazad, Ahmad Messchian, Jassem Ghassear, Mohammad Javad Salari, and Mohammad Hassan Nourali.
To these 24 Mojaheds who were slain two years ago we would say that you are present in all the fields of this generation's battle and it is impossible to forget you.
How could one forget Hossein Abrishamchi who was an exemplary model of high spirits in battle, who broke through any deadlock, opened new ways and removed any obstacle with utmost devotion and dedication.
And how can we forget my dear sister, Nayyereh Rabii, whose lively spirit and love and respect for her comrades were exemplary.
These and all the Mojahedin members who were slain on October 29, 2015, bore noble humanitarian values and their message to us is that we have to fight on, with much greater energy to fill their places.
Indeed, each of these martyrs and every one of you, the PMOI members, who are present here, is a testament to a great truth that in a world where due to oppressive rulers, standing by one's principles comes at a high cost, those who pay the price of doing so become the standard-bearers and trailblazers for a world of freedom and emancipation.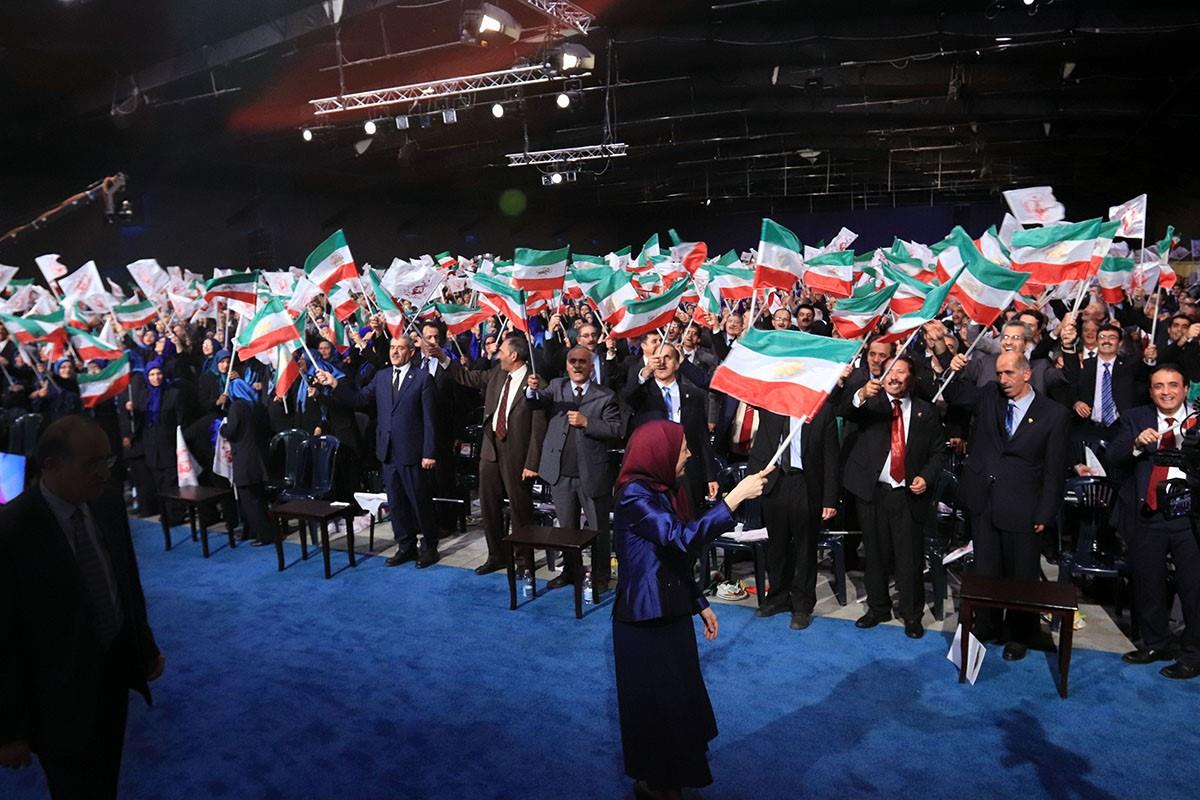 To these martyrs, we'd say: You are symbols of free human beings who gave their lives with dignity and courage. Your comrades have vowed to carry on your struggle until victory and in order to do so, they have pledged to overcome all hardships and every conspiracy.
The day after the attack, amidst the casualties and damages, the first thing you did was to renew your vows for the overthrow of the clerical regime. Each and every one of you wrote or said that you will not give up your goal and you will continue to defend your values. You were so determined in renewing your pledges that Massoud Rajavi (the leader of the Iranian Resistance) later said that he had been astonished by such firm resolve and reiterated that this was a major setback to the regime. If the enemy launched rockets, you fired back with your robust response.
He also said that he counted on your voluntary pledges to lead the struggle to ultimate victory.
Two years on, I am happy to see that you have succeeded to tread along the same path. The experiences of other revolutions also show that triumph is the outcome of steadfastness and strong adherence to such pledges and there is no other way.
Is it not true that human progress in the world of humanity depends directly on the extent of devotion to struggle to remove the obstacles in the path of evolution? The methods are improved every day and the price is paid. And one learns how to make a candle of his life to shed light on the path of freedom and emancipation.
Is it not true that the prerequisite to any unity and solidarity is having faith in such pledges and delivering on them?
In the 1980s, we were victims of horrific mass executions; 30,000 of our comrades were massacred in 1988; we were besieged for years and blacklisted in various countries; we were victims of numerous conspiracies, bombardments, assassinations, terrorism, carnage and missile attacks. How did we get through all these?
Only by remaining steadfast and adhering ever more strongly to our principles. Therefore, again, we renew our vows, and strengthen our faith and conviction.
These vows and the price we pay for them pave the way for ultimate victory provided that no one thinks of him or herself. As Massoud reiterated, "Everyone should think about those who sacrificed their lives in Iran, in Ashraf or Liberty, and the martyrs of the 2009 uprisings. Everyone must endeavor to realize the goal which these martyrs gave their lives for."
All of us remember that the plan for PMOI's relocation from Ashraf to Camp Liberty was originally a scheme to destroy the Mojahedin. But you were vigilant and managed to foil that attempt, and turn it against itself, by your steadfastness and of course, by great suffering. They had planned to turn Camp Liberty into a killing field for the PMOI. The rocket attack on October 29, 2015, had been intended to take hundreds of lives. Again, you foiled this scheme by your vigilance, by being constantly on alert, and by your blood-drenched steadfastness. In this way, the lofty martyrs of October 29, opened the way for the final relocation of the PMOI. Otherwise, we had only a few days left to the deadline for Khamenei's big plan to raze Camp Liberty to the ground.
Dear friends, sisters and brothers,
The Iranian regime's failure to annihilate the PMOI, its deadlock over the nuclear agreement, its incapacity in containing the country's economic and social problems, the defeat of Khamenei and his entire regime in the sham presidential election particularly that the loss was inflicted on the regime by the Campaign Calling for Justice for the victims of the 1988 massacre, and the end of the era of US appeasement of the regime, have created a situation which marks a phase of defeat and deadlock for the regime.
The expansion of popular protests in Iran, taking place every day in Tehran, Ahwaz and elsewhere, is among the outcomes of this new phase. Most social sectors participate in this new stage of resistance and protest, including those whose savings have been plundered by credit institutes affiliated with Khamenei or the Revolutionary Guard Corps (IRGC), workers, teachers, nurses, retirees, government employees, university students and graduates, hospital personnel, high school students, unemployed youths seeking jobs, farmers, and the disgruntled people who form human chains along the Karoon River or Zayandehrood and protest the drying up of rivers and air pollution, as well as political prisoners who go on hunger strike and pay the price of their protest with their lives and health.
What is their demand?
They demand their trampled rights. They protest discrimination and constant humiliation, incessant stealing of their savings and deposits, agonizing poverty and being deprived of the most basic needs of living. All these protests and demonstrations, however, ultimately translate into a single demand which is the overthrow of the mullahs' religious dictatorship. As long as the mullahs hold the reigns of destruction, none of the Iranian people's demands could be met.
This goal is both possible and within reach.
Today, the highest officials of the clerical regime say they there are six super-challenges in the Iranian economy. They also say that no enemy could do what has been already done to the country's natural resources and environment.
They also confess that the regime has destroyed the country's oil, gas, water, soil, jungles, air and rivers. Yes, the regime is plagued with destruction and corruption and worst of all is its political situation. The mullahs are at an impasse.
To continue their reign, they need belligerence and terrorism in the region and the continued crimes and depravity of the IRGC. But this belligerence and terrorism have now put the regime and the IRGC in dire straits.
Khamenei and Rouhani are upset with the United States' new Iran policy most of all because it has laid bare the weakness and frailty of their regime before the people of Iran. The fact that Rouhani and his Foreign Minister have set aside their moderation theatrics to defend the IRGC and officials such as Raissi who was among the leading perpetrators of the 1988 massacre, is because they want to close their ranks against the people of Iran and protect the regime. Nevertheless, they are not able to rein in the regime's fatal predicaments.
For more than three decades, the ruling mullahs have chanted anti-American slogans and at the same time benefitted from the US policy as a political safe haven vis-à-vis the Iranian people and resistance.
Over these years, whenever the prospects of regime change by the Iranian people and their Resistance appeared to be looming, and the circumstances were ripe for a major change, Western governments and particularly the United States' policy of appeasement went to the regime's aid. It is therefore clear that the termination of the US appeasement policy has brought about a major political vacuum for the clerical regime. The policy which acted for years as a protection for the Iranian regime in the face of a furious populace, no longer exists.
So in the first place, Khamenei and Rouhani who sought to get through the present crisis with the help of the United States in the framework of the JCPOA have failed in this objective.
Secondly, the religious fascism ruling Iran is deeply vulnerable vis-à-vis the Iranian society and fears losing its internal and external balance.
Now, what is the main reason for the mullahs' fear? The fact that they find themselves confronted by the Iranian people and Resistance.
If it was not for the volatile state of the Iranian society, if there was not any prospect for the eruption of another wave of uprisings like the ones that took place in 2009, and if there was not any democratic alternative such as the PMOI and the National Council of Resistance of Iran, Khamenei would not have been so concerned about the shift in international policies.
For these reasons, we believe that the policy of isolating the regime, including the congressional bill passed just recently to impose further sanctions on the regime's missile program, is of course a positive step. The blacklisting of the IRGC, imposing sanctions on it, and fixing the loopholes in the nuclear agreement including putting a halt to all forms of enrichment, are all necessary steps.
But in order to end the previous catastrophic policies of the United States and to compensate for their damaging consequences, the National Council of Resistance must be recognized as the only democratic alternative to the mullahs' terrorist, religious dictatorship.
The general desire today is to have the regime's leaders face justice for the massacre of 30,000 political prisoners in 1988. The United Nations Special Rapporteur on human rights in Iran, Ms. Asma Jahangir, stressed in her latest speech before the General Assembly on the need for a comprehensive and independent investigation in this regard.
We call on the international community to support the launching of a UN committee to probe the 1988 massacre in Iran.
I must also point out to the European governments, that the Iranian people's minimum expectation is for them to condition every relation and trade with the Iranian regime on end to torture and executions in Iran. We tell them to particularly refrain from doing any business or engaging with the Islamic Revolutionary Guard Corps (IRGC).
Today, more than anyone else, it is the people of Iran who seek to get rid of the IRGC and overthrow the clerical regime.
By setting up 31 different corps, this brutal force has set up a killing machine in every Iranian province. The IRGC has created a criminal force, namely the IRGC's counter intelligence to incessantly control all the affairs in Iranian society. It is the main entity importing and distributing drugs in Iran and exporting the rest to other countries. At the same time, thousands of people are executed on the charge of drug-trafficking.
The IRGC controls the lion's share of the country's production institutes, imports and exports, oil, gas, and financial market, driving millions of Iranians into poverty and hunger. By fomenting war and terrorism, it is the main cause of slaughter of hundreds of thousands of Syrians and homelessness of millions of others.
I must point out two basic truths about Syria:
First: If the Iranian regime did not have a significant role, side by side the dictator of Syria, in creating the bloodbath in that country, and if it was not for its belligerence and meddling in Syria, Bashar Assad had been overthrown years ago by the Syrian people and freedom fighters, and the crisis in that country would have been resolved.
Second: The people of Iran stand by the people of Syria. As they frequently express in chants during their protest demonstrations, they vehemently oppose the presence of criminal forces of the Iranian regime in Syria.
For this reason, the Iranian people and Resistance have always wanted the eviction of the clerical regime, the IRGC and its proxy militias from the entire region. This is something that would pave the way for the overthrow of the regime in Tehran.
The PMOI and the Iranian Resistance embarked on the struggle to bring down the religious tyrannical regime 36 years ago. This is the cause for which 120,000 PMOI members and combatants of freedom, including 30,000 who were massacred in 1988, gave their lives.
Those martyred on October 29, 2015, also sacrificed their lives for the same cause. They are the beacons of our times and indeed, they continue to live on.
They are the flames of hope while many are lost in despair. They are fountainheads of conviction and faith while many have failed out of disbelief and doubt. This is the message of our martyrs and the words of the freedom fighters who have vowed to remain loyal to their pledges till the end.
This is the message of the Mojahedin to the generation of Iran's youths. Disbelief, despair, and indifference are the deadly temptations spread by the mullahs' regime. You must crush them. Like narcotic drugs, the clerical regime spreads poisonous messages in society, such as "change is impossible", "we cannot do anything", and that "any effort is useless." You must rise up against this regime and its evil spirit of bondage. You must rise up hand in hand and set up bastions of rebellion all across the country. Putting end to this decadent regime is possible, within reach and in your power.
Once again, I reiterate: the overthrow of the mullahs' regime is imperative and within reach, and a democratic alternative is in force.
Hail to the martyrs
Long live freedom
Hail to all of you