IRAN, July 25, 2017-- Some 1,000 people gathered on Tuesday, July 25, 2017 in the city of Andimeshk, in Khuzestan province protesting against the job insecurity at Haft-Tappeh Sugarcane factory. The protest gathering of workers and their families took place in front of the company in Andimeshk, south of Ahwaz.
The Iranian Suppressive State agents then fired live shots at the protesters out of fear of the spread of the demonstration to other parts of the city. The clashes between the employees and the security forces led to the closure of the Ahwaz-Andimeshk highway by the protesters. Latest news indicates that the workers have resisted the guards' intimidations and stayed their grounds.
Read more:
Earlier on July 3rd and 4th, workers from the same company, but in another city rallied in front of the governor's office in the city of Shush, also in Khuzestan province, south of the country to protest their retirement obstacles. They had demanded the Haft-Tappeh factory officials to give them guarantees for their retirement pays.
Their protest came less than 2 weeks after a verbal guarantee from the board of management to secure the retirement fund for 341 employees of the Sugarcane Company. But the management did not meet its obligations and prompted the workers to take to the streets again and again.
Haft-Tappeh employees demonstrate at a 50 deg. Celsius heat
Employees and retirees of Haft-Tappeh Company gathered in front of the executive office of the company during a scorching hot day when the temperature exceeded 50deg. Celsius to demand their unpaid wages and retirement funds.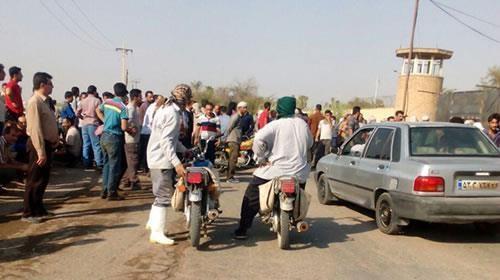 Haft-Tappeh employees' protest
The employees said despite the sizzling heat in the town of Haft-Tappeh, they are demonstrating but the authorities have ignored their plight and grievances and nobody is responding to their needs.
Furthermore, their insurance coverage was suspended adding to their problems and their difficulties.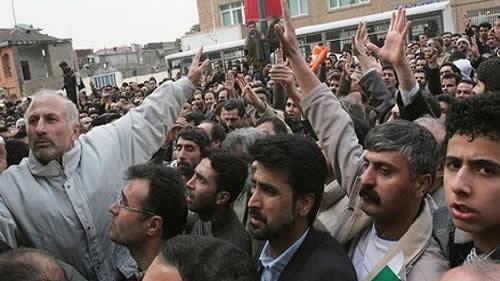 Haft-Tappeh employees' protest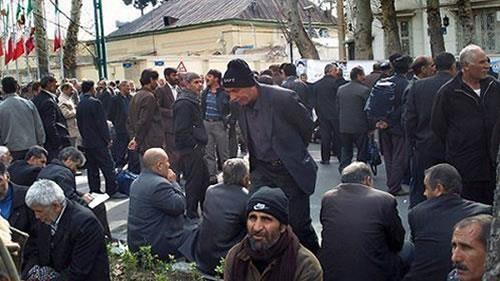 Haft-Tappeh employees' protest