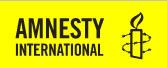 Syria, Amnesty, March 15, 2017 - Six years into the crisis in Syria, government forces and armed groups are still bombing civilians, committing war crimes and crimes against humanity. And they are getting away with it, without punishment.
The conflict has caused the deaths of hundreds of thousands and led millions of people – more than half the population -- to flee their homes, either abroad or within Syria.
Today, the people responsible for these atrocities remain out of the reach of justice, and civilians continue to suffer every day.
It is time to deliver justice and reparation for victims and their families. It is time to ensure that war crimes and crimes against humanity do not go unpunished.
A real opportunity for justice exists with the international community voting for a new UN mechanism aimed at investigating crimes committed in the Syrian conflict.
Call on the UN to ensure an impartial and independent investigation in Syria happens now, so that those who are suspected of committing war crimes and crimes against humanity are brought to justice in the future.
The path to justice can be long, but where there is a will there is a way.