THE NATIONAL, Nov. 30, 2016 - The international community has been urged to "end its silence and inaction" over crimes committed by the clerical regime of President Hassan Rouhani in Iran, which has seen more than one execution every day between January and October.
And, addressing a conference in Paris, Maryam Rajavi, president-elect of the Iranian Resistance, called for a change in the United States' policy on Iran, which had been "disastrous" for its people over the past 16 years.
She also told the international gathering that any solution to combat Daesh was conditional on the removal of the Iranian regime.
"In the present crisis in the region, any solution seeking to ultimately end war and insecurity, and specifically address the problem of Daesh, must consider terminating the regime's meddling in the region, particularly in Syria," she said.
"Nothing is more catastrophic than collaborating with the Iranian regime to fight Daesh because it would strengthen the Iranian regime and its terrorism, and would nourish Daesh, politically and socially.
"Although [Supreme Leader Ayatollah] Khamenei attempts to justify the regime's continued invasion of and carnage in Syria by absurd rhetoric of defending its Holy Shrine, the people of Iran detest this filthy war and stand by the courageous and proud people of Syria."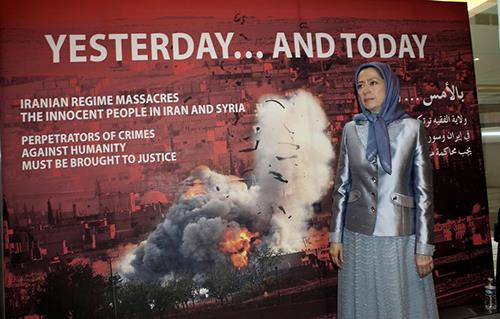 Rajavi added that the six world powers, especially the US, gave in to Iran's demands during talks that supposedly limited the country's nuclear activity while allowing economic sanctions against it to be lifted. But she said the agreement had turned out to be counter-productive.
"Poverty and hunger haunt our people more than ever, and the regime's internal factions have begun settling their accounts," she said.
"Today, the mullahs are no longer able to contain their own internal factions or the social protests, as they previously did. The Velayat-e Faqih [governance of the jurist] regime is in difficult straits from every respect, but the road to regime change and the establishment of a pluralist republic based on separation of religion and state, abolishment of the death penalty and women's equality is more accessible than any other time.
"Our expectation and the expectation of the people of the Middle East is that the international community stop its policy of giving concessions to the Velayat-e Faqih regime and end its silence and inaction vis-a-vis the regime's crimes in Iran.
"Instead, we expect them to respect the Iranian people's struggle for freedom and the desires of the peoples of the region."
The conference – organized by the National Council of Resistance in Iran (NCRI) – also heard from young people who had managed to escape the country after serving prison sentences there, including one of Iran's highest profile student activists.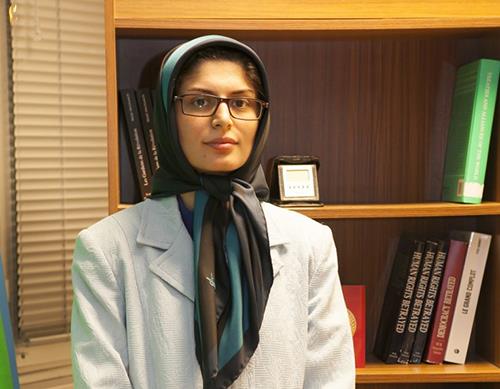 Shabnam Madadzadeh was arrested with her brother Farzad and spent five years in various prisons in Iran, including Evin in northern Tehran, Raja'i Shahr, west of Tehran and Gharchak in Veramin.
During her incarceration she was physically and mentally tortured, forced to watch mock – and actual – executions and kept in inhumane and unsanitary conditions.
Madadzadeh – a computer science student – had been a member of the largely cultural Islamic Association and was general secretary of a students' organization. She was jailed for moharebeh (being an enemy of God) and disseminating anti-state propaganda.
She told The National: "Among the prisons they sent me to were some of the most horrible in Iran. They tortured me physically and mentally, and forced me to watch mock executions.
"But they also made us watch real executions and I saw a number of my cell mates lose their lives by the rope. They also beat and whipped my brother Farzad to try to make me confess.
"While I was in 209 ward (at Elvin Prison) they interrogated me every day for three months, trying to force me to confess to things I had not done."
Madadzadeh went on to describe what conditions were like in the Iranian jails.
"There were different women in the prison," she said. "There were under-age girls who had made perhaps a small mistake in their lives and the regime made sure they would pay.
"Conditions were disgusting. There were seven corridors in the jail and 200 women and they [guards] watched us all the time, even during the night they kept the lights on. Two hundred women but only two toilets and two showers for all of us. It was disgusting and degrading."
Her incarceration became even tougher after she managed to sneak out letters to the UN Rapporteur on Human Rights in Iran, Ahmad Shahid, inviting him to the Raja'i Shahr and Gharchak prisons, to witness crimes that were allegedly being committed by the state in the institutions.
For this she spent another period in solitary confinement.
Madadzadeh was diagnosed with digestive and heart problems during her detention, but received no medical treatment and was only released once she had served her five-year sentence.