Neda Agha Soltan, 27, a student of philosophy, was shot dead by paramilitary agents of the mullahs' regime (Basijis) in Amir-Abad (Tehran) on June 20, 2009. Short clip of her last moments before she passed away was widely covered by world media.
On June 20, she along with her philosophy professor and some of her classmates participated in a demonstration in Tehran. Falling behind others alone when talking on her cellphone, she was shot by two plainclothes agents on a motorcycle one of whom targeted Neda's hearth by a pistol. She passed away before the eyes of her professor.
The agents were stopped and arrested by the people later on. An unconfirmed report says that the murderer was killed.
On Sunday June 21, her body was delivered to her family on the condition of a secret and quick funeral in Behesht Zahra cemetery (southern Tehran). The funeral was carried out very quickly and under severe security measures.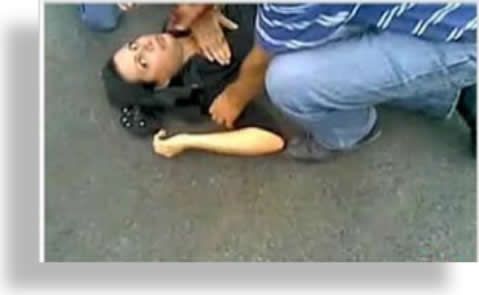 The commemoration ceremony for Neda was supposed to be held in Niloofar Mosque in Tehran; however, the Mosque called the family and informed that the ceremony was cancelled. Also all mosques in Tehran were instructed that they were not allowed to hold any ceremony for Neda Agha Soltan.