FRANCE 24, Oct. 15, 2016 - Newly appointed UN Secretary-General Antonio Guterres told FRANCE 24 on Saturday that resolving Syria's five-and-a-half-year civil war would be his top priority.
This war "became not only a tragedy for the Syrian people, but a big threat for the stability of the region, and a threat to the security of everybody everywhere", the former UN high commissioner for refugees said in the exclusive interview. "It is in everybody's interests to come together and put an end to this war."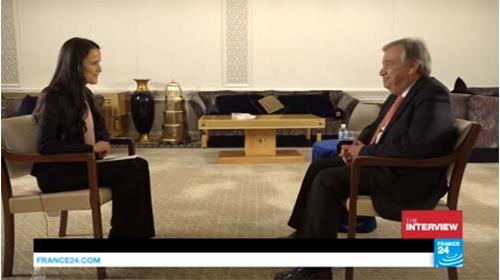 The New Secretary Ganeral of the UN interview with FRANCE-24
Guterres, who was Portuguese prime minister from 1995 to 2002, will take over from current UN Secretary-General Ban Ki-moon at the beginning of January 2017. He will become the ninth UN chief in the world organization's 71-year history.
Asked what influence he could wield to restore peace in Syria, Guterres said he was aware of the challenges the UN faces, but warned that he was not becoming "the leader of the world" and that the position required a "humble" approach.
The secretary-general "must work as a convenor, facilitator, as a mediator, as a bridge builder, an honest broker and try to bring people together", he told FRANCE 24's Jessica Le Masurier.
Warning that "we are witnessing a multiplication of new conflicts...with links to global terrorism", Guterres said he aimed to persuade people to "engage in a surge of diplomacy for peace".
Guterres was elected to his new position at the UN headquarters in New York on Thursday.
Secretary-General Ban, recalling Guterres' decade as the UN's refugee chief, told the assembly that his successor was "best known where it counts most, on the front lines of armed conflict and humanitarian suffering".