Syrian opposition has called on the Afghan government to stop flow of fighters to the Middle Eastern country, a letter obtained by 1TV showed Saturday.
In the letter, Haitham Maleh, the chairperson of the legal committee of Syrian National Coalition, has said that there are more than 8,000 Afghans fighting for President Bashar Al-Assad and who came either directly from Afghanistan or via Iran.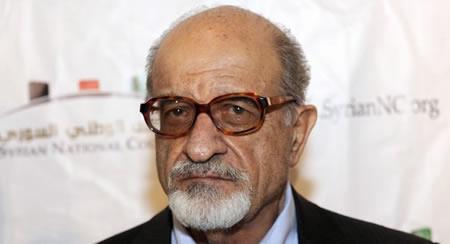 Haitham Maleh, the chairperson of the legal committee of Syrian National Coalition
Blaming Iran for training those fighters, the letter said that the fighters committed war crimes against the Syrian people.
"They carried out indiscriminate bombing, murder, blockades and torture. They also committed several massacres and sectarian cleansing. They committed slaughter by knives, mutilate bodies, and committed atrocities in sexual violence in addition to mass killings and looting the homes and property of the Syrians," a part of the letter read.
It said that the fighters were under the umberella of the Iraqi or mixed factions such as "Abou El Fadl Abbas" and "Saraya Al Korasani" or in Afghan formulations led by Iranians such as "brigade Fatimoun."
Claiming that the fighters' flow is against international law, the opposition urged the president of Afghanistan to "take all measures at the national level in order to stop these fighters flow to Syria and withdraw these Afghan militants from Syria and prevent their movement through imposition of laws guaranteeing held accountable for their crimes as provided by international law."
Syrian Civil War beganin 2011 after nationwide protests against President Assad's government, a war that has claimed lives of up to 400,000 people and left millions displaced.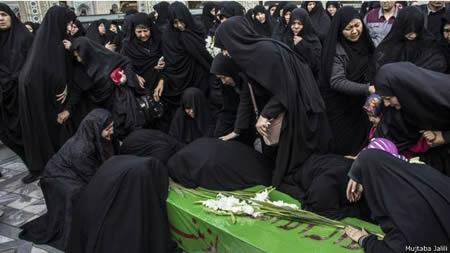 Funeral of Afghanis in Iran who have been killed in combat in Syria, recruited by Iran's regime.

Earlier this year, the Human Rights Watch said that Iran was recruiting thousands of Afghan refugees to Syria fight, some forcefully.
Iran has denied Afghans are officially sent by Iran, suggesting they are volunteers to defend holy sites. Some captured by opposition forces in Syria have also said that they were fighting for money.
As recently as last week, NATO officials were reported saying Iran's recruitment of Afghans to Syria fight might be contributing to a shortage of Army recruits in western Afghanistan.
It was unclear if President Ashraf Ghani responded to the letter by Syrian opposition.
Shakib Mustagni, a spokesman for the Afghan Foreign Ministry, admitted that the Afghan refugees are recruited by non-government and government institutions to activities against international laws.
He said that the Afghan government was working seriously to tackle the problem through diplomatic channels.
Source: 1TV Afghanistan, 26 June 2016