May 13, 2016 - According to a new WHO report, New Delhi was the 11th most-polluted city while Gwalior (2), Allahabad (3), Patna (6) and Raipur (7) figured in the top seven.
The report warned that over 80 per cent of the world's city dwellers breathe poor quality air.
DELHI IS no longer the world's most polluted city, says WHO. The national Capital is now the 11th most polluted city in the world, based on average annual PM 2.5 readings of 3,000 cities in 100 countries, according to the WHO's latest urban air quality database for 2016.
The latest PM 2.5 level rankings show Iran's Zabol topping the list with 217 micrograms per cubic meter followed by Gwalior with 176 and Allahabad with 170. Patna at sixth place (149) and Raipur on seventh spot (144) are the other Indian cities in the top 10. In total, the top 20 global cities with highest PM 2.5 levels includes 10 Indian cities, including Kanpur, Ludhiana and Firozabad.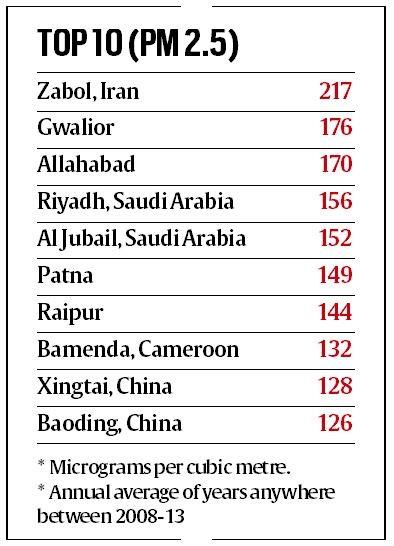 WHO's air quality guidelines state that by reducing particulate matter (PM10) from 70 to 20 micrograms per cubic metre, air pollution-related deaths could be reduced by roughly 15 per cent. WHO safe limits for annual mean of PM 2.5 and PM 10 levels are 10 and 20 micrograms per cubic metre, respectively.