Kurdish political prisoner Zeinab Jalalian is serving her eighth year behind bars while she has been deprived of any leave and is suffering from chronic illnesses.
An informed source described her conditions as dire and says this prisoner is suffering from serious eye and intestinal illnesses.
Zeinab Jalalian, born in 1982 in the city of Maku, was first sentenced to execution and then decreased to life in jail, as media reports indicated. She was arrested in 2007 by Kermanshah Intelligence Department agents and sentenced to execution, then life in prison by a 'revolution' court based on charges of being in contact with Kurdish parties. Jalalian has during the past several years been placed under serious pressure and has gone on hunger strike protesting her conditions.
Amnesty International issued a statement on July 16, 2014 expressing concern about her conditions. (NCRI Women's Committee – August 22, 2015)
Further insight: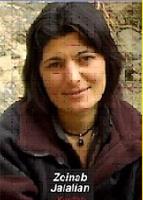 Document - Iran: Kurdish woman losing sight in Iranian prison: Zeinab Jalalian
URGENT ACTION
KURDISH WOMAN losing sight in Iranian prison Zeinab Jalalian, a member of Iranian's Kurdish minority, currently serving a life sentence in Kermanshah Prison, western Iran, is at risk of losing her eyesight and she is in urgent need of medical care.
Zeinab Jalalian has had eye problems for a number of years, possibly as a result of beatings she received during interrogations by the Iranian authorities.
Her health situation has worsened and she may be losing her eyesight.
On 8 April, she was transferred to the prison clinic in handcuffs and shackles to receive treatment for her eyes, but the prison authorities have repeatedly refused to allow her access to an eye specialist outside of Kermanshah Prison. It is not clear whether the prison clinic is able to provide Zeinab Jalalian with the medical care she requires.
Zeinab Jalalian was sentenced to death for "enmity against God" (moharebeh) in January 2009 by the Kermanshah Revolutionary Court for her alleged membership of Party For Free Life of Kurdistan (PJAK) , an armed Kurdish opposition group.
Before that she had spent eight months in pre-trial detention in a Ministry of Intelligence detention facility, where she says she was tortured. She was not granted access to a lawyer during her trial, which she says lasted only a few minutes. Zeinab Jalalian death sentence was commuted and reduced to life imprisonment in late November 2011.
Zeinab Jalalian's family have not been able to visit her for more than a year and they are only allowed to have two minute phone conversations with her once a week. Zeinab Jalalian formally requested prison leave in January 2014, but she has said that the Iranian authorities have asked her to do a forced televised "confession", which may be a prerequisite for prison leave but she has refused to do so.
Please write immediately in Persian, Arabic, English or your own language:
Calling on the Iranian authorities to ensure that Zeinab Jalalian is protected from torture and other ill-treatment; and is granted all necessary medical treatment she may require, including treatment at a medical facility outside the prison if required;
Urging the authorities to allow her regular visits from her family;
Urging that she is granted a re-trial that complies with international standards for fair trial and to disregard any evidence obtained under torture or other ill-treatment.
(Amnesty International, June 16, 2014)