By Greg Russell

The National, January 9, 2018 — MORE than 3700 people were arrested in Iran during protests over the past two weeks, according to a reformist legislator, far more than authorities had previously claimed.
The protests were the largest seen in Iran since the disputed 2009 presidential election, and saw some demonstrators calling for the government to be overthrown.
Officials figures suggested more than 20 people have been killed in the unrest, but the NCRI – Iran's opposition in exile – puts the figure at more than double that.
Mahmoud Sadeghi of Tehran was quoted on the Iranian parliament's official website as saying that different security and intelligence forces detained the protesters, making it difficult to know the exact number of detainees. He did not elaborate nor say where he got the figure.
Authorities had previously said "hundreds" were arrested in Tehran alone, not offering a total figure as the demonstrations spread into the Iranian countryside, including small towns.
Interior minister Abdolreza Rahmani Fazli has said about 42,000 people at most took part in the anti-government protests.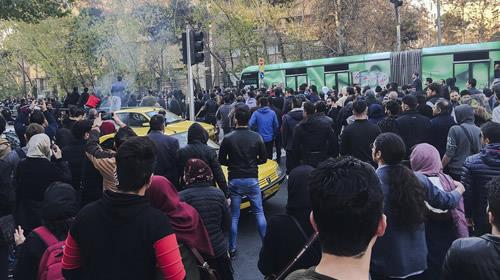 University students attend a protest inside Tehran University while a smoke grenade is thrown by anti