By: Josie Ensor, MIDDLE EAST CORRESPONDENT

THE TELEBRAPH, JAN. 6, 2018 - After an earthquake destroyed Majid Ahadi's home in November, he waited for aid promised by the Iranian government to help his young family and others who had lost everything. But it never came.
Far from the capital Tehran, Mr Ahadi and some 30,000 residents in the northern city of Kermanshah left homeless in the disaster felt abandoned by their leaders.
A few weeks later, President Hassan Rouhani announced he would be cutting the cash handout scheme the 25-year-old part-time mechanic had been depending on.
The government neglect in Kermanshah had left him angry, Mr Rouhani's budget proposal made him furious. The huge hike in food prices that followed was the final straw.
On Friday, December 29, Mr Ahadi took to the streets with several friends in protest at what he saw as endemic corruption and mismanagement.
"You hear about one thing or another sparking the demonstrations, but it wasn't a single thing - it was a perfect storm," he told the Telegraph from a cousin's house, where he is now staying with his wife and two daughters. "There was so much pressure on the people, it just exploded."
The first protests sprung up spontaneously in Kermanshah and Mashhad in the north of the country. Unlike in the 2009 Green Movement revolution, most of those out on the street were working-class, a demographic whose interests have largely been ignored and have suffered most under the sluggish economy.
"Eggs used to be 100,000 rials (£2), now they are 210,000," said Mr Ahadi, using a pseudonym. "But it's not just about eggs, it would be ok if people had good jobs to pay for the extra, but they don't. We were promised them by Rouhani but they never materialised."
Inflation is at 12 per cent and 40 per cent of young people are unemployed, leaving an increasingly consumer-driven population restless and frustrated.
Many of the demonstrators are angry at what they see as the failure so far of President Rouhani's government to deliver on promises of more jobs and investment as a payoff from the 2015 nuclear accord, which saw Iran halt its nuclear programme in return for the lifting of sanctions.
"Iran is not a poor country, but its national wealth is going to Hizbollah in Lebanon, Hashd al-Shaabi (Popular Mobilisation Forces) in Iraq and the Houthis in Yemen. Where is our money?," Mr Ahadi asked, echoing a sentiment expressed by protesters earlier in the week.
In its desire to take on Sunni power and archfoe Saudi Arabia, Iran has invested billions in propping up its Shia proxies in the region.
Iran's military forces also saw their funding increase by nearly 20 per cent in the budget to $11 billion (£8bn). The same budget proposed ending cash subsidies for millions of citizens and increasing fuel prices.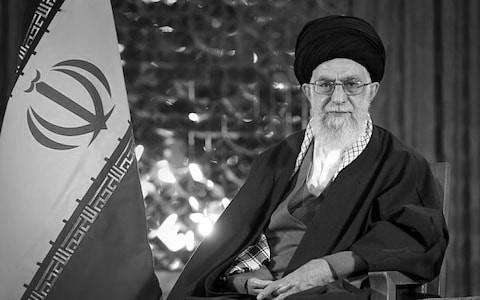 Much of the anger has been aimed at Ayatollah Khamenei, Iran's supreme leader
Meanwhile, Ayatollah Ali Khamenei, Iran's supreme leader, his mullahs and the Revolutionary Guard, only seem to be getting richer, one trade unionist complained.
"Even conservatives have become increasingly concerned about the... ruling mafia of the Islamic Republic, which has systematically trampled on the rights of Iranian citizens," said the activist, using the pseudonym Kiumars Pirouz.
A few years ago a photo was widely shared on social media of a smashed-up car belonging to a high-ranking mullah following a crash in Tehran. The cost of the Porsche Boxster GTS he had been driving was equal to a decade's salary for most, users balked as they remarked on the hypocrisy.
Greater access to technology in recent years has helped expose the growing chasm between the wealthy elite and the impoverished majority, as well as provide a window into the relative religious and democratic freedoms enjoyed in the West.
Realizing the mobilizing power of social media, the government shut down Telegram, an encrypted messaging service, a few days after the protests began, adding to the list of platforms now blocked in the country.
However, activists and many ordinary citizens have been able to circumvent the ban using virtual private networks (VPNs), helping them get news of the demonstrations out of Iran.
"These current protests are big - not in terms of people, but in terms of geography," Holly Dagres, an Iranian-American Middle East analyst and curator of The Iranist newsletter, told the Telegraph. "The number of smartphone users have doubled since 2009 to about 50 million, which allows them to share videos and information very quickly.
"Protesters are taking to the streets in cities and provincial towns that we haven't heard from since the 1979 revolution," she said. "They are also leaderless, which makes pointing fingers especially hard to do, unlike 2009 when the Green Movement leaders were blamed and later put under house arrest.
"It makes it harder to stamp them out."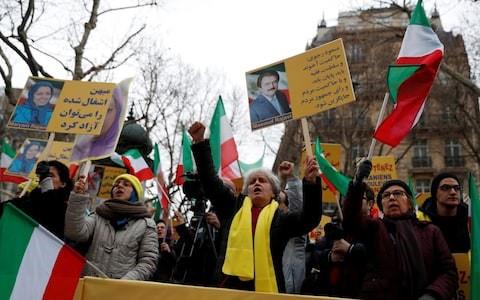 Exiled opposition groups, such as the controverisal People's Mojahedin Organisation of Iran (PMOI) have seized upon the moment
Exiled opposition groups, such as the People's Mojahedin Organisation of Iran (PMOI), which has growing support inside Iran, and monarchists, have seized upon the moment and welcomed the protests.
The PMOI, which now operates largely out of France, has played a key role in organizing major demonstrations in Iran since its inception in the 1960s.
One of the PMOI's activists in Tehran told the Telegraph that it was its aim to seize on the protests to call for the fall of the regime.
"Calls were given on our Telegram channels a few days before the demonstrations," said the activist, a 29-year-old engineering student who gave only the name Mohammed for fear of reprisal. "This is the group's slogan: protest at any time, at any place.
"We have helped come up with times and meeting places for people to gather," Mohammed said in voice messages sent via Telegram. "Don't think this will go away, that people will give up. It will have ups and downs but it is certainly not the end as the Revolutionary Guard claims."
While it is unclear to what extent the demonstrations have been centrally organized, groups like the PMOI have looked to exploit the discontent.
A banner bearing the picture of Maryam Rajavi, the group's president-elect, appeared over a major overpass in the capital last week. "Brave young people, join the uprising against high prices," it read. "Overthrow the criminal Khamenei. Death to Khamenei. Hail to Rajavi."
Iran observers believe many of the videos and pictures coming out of the protests are being published and shared by the PMOI networks.
Mr Rouhani blamed the PMOI for the unrest, while Ayatollah Khamenei blamed "foreign agitators and adversaries", just as Egyptian leader Hosni Mubarak looked to do after his country erupted in protest in 2011, and Bashar al-Assad in Syria after him.
Iranian leaders have seized on comments made by President Donald Trump that he stands with the "great people of Iran who are hungry for food and freedom" as proof the US is inciting demonstrators.
EU states, which have mostly stayed quiet this last week, are concerned that Mr Trump is trying to use the protests as a vehicle to place further pressure on the bloc to abandon its support for the nuclear deal signed by his predecessor Barack Obama.
Mr Trump has until mid-January to decide whether to continue waiving US sanctions on Iran's oil exports under the terms of the nuclear deal that he vehemently opposed.
But, given that the unrest began over high unemployment and prices, if he reimposes the sanctions it could increase the economic pain for Iran's people and perhaps give them cause to take to the streets once again.
"If these protests have indeed fizzled out as Iran's leaders claim, it's worth noting that the grievances have not," analyst Ms Dagres said. "As long as the government doesn't address the concerns of its citizens, their anger will continue to bubble beneath the surface."