Tehran, Washington, Riyadh Daily, 01 January 2018 - Several Iranian cities witnessed sporadic demonstrations on Sunday evening, disrupted by violence, despite calls for calm by Iranian President Hassan Rouhani, according to Iranian media and social networking.
In the Iranian capital, police fired tear gas and water cannons to disperse groups of demonstrators who shouted slogans against the government in Tehran University district.
Other cities, particularly Kermanshah (west), Shaheen Shaher (near Isfahan), Tacstan (north), Zinjan (north) and Waizej (south-west), have seen demonstrations and videos of the media and social networks have shown public buildings, religious centers, Basij (paramilitary forces linked to the Revolutionary Guard) have been attacked and sometimes burned. Demonstrators also attacked and set fire to police cars.
Two people were killed in the western city of Duroud on Sunday, where two people were killed on Saturday evening during clashes.
Since Thursday, Iran has been witnessing protests against inflation and unemployment, which began in the city of Mashhad (northwest) and spread to the rest of the country. Iranian authorities cut off Internet access to mobile phones for several hours on Saturday night to restrict the use of social networks, particularly Telegram and Instgram, in Iran, to prevent new protests.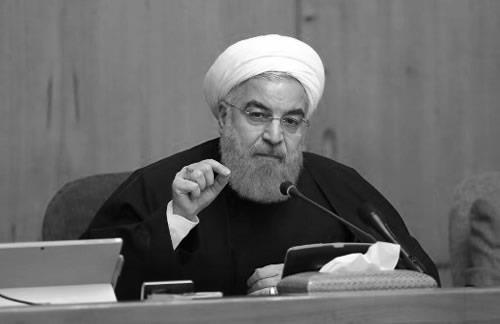 Iranian Regime's President Hassan Rouhani
Trump and Republican allies support protests
US President Donald Trump and Republican lawmakers on Sunday voiced their support for tens of thousands of Iranians protesting deteriorating economic conditions and rampant corruption in their country.
"The people are finally realizing how their money and wealth are stolen and squandered on terrorism," Trump said in a tweet at his Twitter account, adding, " It seems they will never accept that any more and the United States of America is closely monitoring human rights violations".
US Ambassador to the United Nations Nikki Haley said in a statement that the Iranian government is facing a test from its citizens, hoping for the victory of freedom and human rights.
Republican Senator Lindsey Graham said President Trump should address the public across the country setting the terms of a modified nuclear deal with Iran.
The protests began in Iran focusing on economic hardships, but they soon included anti-government messages, and protests continued for the fourth day in a row yesterday, despite Tehran's restrictions on messaging applications used by demonstrators.