By Erin Cunningham
THE WASHINGTON POST, ISTANBUL, December 31, 2017 — Iran on Sunday blocked Instagram and the messaging app Telegram, official media reported, after three days of escalating anti-government unrest.
Two demonstrators were killed over the weekend, an official said, and protests continued in the capital, Tehran, and other cities on Sunday. Local media showed images of police firing a water cannon at protesters in central Tehran.
The move to block the social media apps was aimed at blunting the protests, which are the largest in Iran since an uprising over disputed election results shook the country eight years ago. The demonstrations appear to have caught Iran's leadership off guard, and President Hassan Rouhani was expected to address the nation on Sunday night.
About 200 people were arrested in Tehran on Saturday, local media reported, quoting officials. Authorities were "temporarily" blocking Instagram and Telegram, social media apps that are popular with Iranians, to "maintain peace," state television said Sunday. Many demonstrators had used the apps to share and upload videos from the protests.
Telegram chief executive Pavel Durov wrote on Twitter that Iran was "blocking access to Telegram for the majority of Iranians after our public refusal to shut down . . . peacefully protesting channels."
Iranian authorities warned protesters after a night of attacks on government buildings and confrontations with police that they would "pay a price" for breaking the law. The government has a history of brutally repressing unauthorized protests and political dissent.
"Those who damage public property and create disorder are accountable before the law and must pay the price," Interior Minister Abdolrahman Rahmani Fazli said Sunday, according to state media.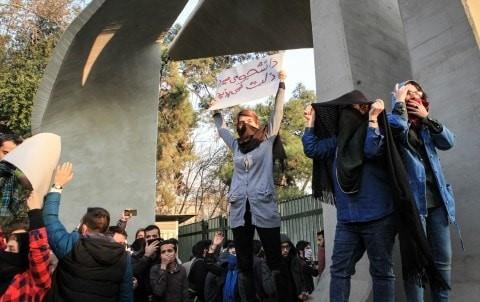 Students clash with police during an anti-government protest around the University of Tehran on Dec. 30
An official in western Iran confirmed the deaths of two demonstrators who protesters said had been shot. The official deputy governor of Lorestan province, Habibollah Khojastehpour, suggested that they had been shot either by "foreign agents" or by Sunni militants who he claimed infiltrated the area.
"No bullets were shot from police and security forces at the people," Khojastehpour said Sunday on state television, the Associated Press reported.
President Trump also commented on the unrest, saying Sunday on Twitter that the "USA is watching very closely for human rights violations!"
The demonstrations, which began Thursday, were sparked by economic woes but swiftly expanded to target a system that many protesters have said is corrupt and incapable of reform. In stunning scenes, protesters were seen chanting, "Down with the dictator!" as they tore down posters of Ayatollah Ali Khamenei, Iran's supreme leader, in central Tehran.
Protesters from Kermanshah in the west to the holy city of Qom in the north and Ahvaz southwest of the capital marched Saturday in defiance of authorities, according to footage circulated online. Some of those images could not be confirmed.
"Big protests in Iran. The people are finally getting wise as to how their money and wealth is being stolen and squandered on terrorism," Trump said Sunday. "Looks like they will not take it any longer."
Rouhani had yet to address the nation. Reports in local media that he planned to give a speech Sunday were quickly denied.
Both reformists and conservatives struggled to respond to the demonstrations with a unified message. Each side has blamed the other, while the camps are internally split over the legitimacy of the protests.
Allies of Rouhani, including Vice President Eshaq Jahangiri, initially suggested that his political opponents had orchestrated the demonstrations.
Rouhani has come under fire for a perceived failure to deliver on key economic promises he made after reaching a 2015 nuclear deal with world powers. International sanctions on Iran were lifted as part of the deal.
Iran's economy has indeed grown, and the International Monetary Fund has forecast real GDP growth reaching 4.2 percent in 2017-2018. But that boost has largely been due to renewed oil exports, and growth unrelated to the oil sector has lagged significantly.
"The trickle-down economics, there's no sign of it," said Alex Vatanka, an Iran expert at the Middle East Institute in Washington. Indeed, inflation has crept up to nearly 10 percent this year, and the cost of basic foodstuffs has risen, economists say.
"This is a very sensitive moment for Rouhani," Vatanka said. "Here's a guy who basically came into the presidency as someone who was going to be the champion of the reform cause in Iran.
"But these protests show that he's not a champion of the people," Vatanka said. "And Iranians feel like they've been played."