Dubai, Paris, Berlin, AFP, 31 December 2017 - Demonstrations in Iran continue for the third day in a row in protests against economic difficulties and corruption of the Iranian regime, where Iranian riot police shot and killed two protesters and arrested dozens in Dorud, Lorestan Province, according to world news agencies.
United States President Donald Trump said yesterday regarding these demonstrations that the people of this country want change, assuring that repressive regimes will not last forever.
Vice President of the United Sates Mike Pence tweeted today, "I stand with peaceful protestors in Iran who are calling for freedom and we condemn the arrests of innocents. The time has come for the regime in Tehran to end terrorist activities, corruption, and its disregard for human rights''.
It is noteworthy that the rate of unemployment in Iran rose to 12.4% in the current fiscal year, while the annual inflation rate increased by about 8%, and the lack of some food commodities has led to high prices.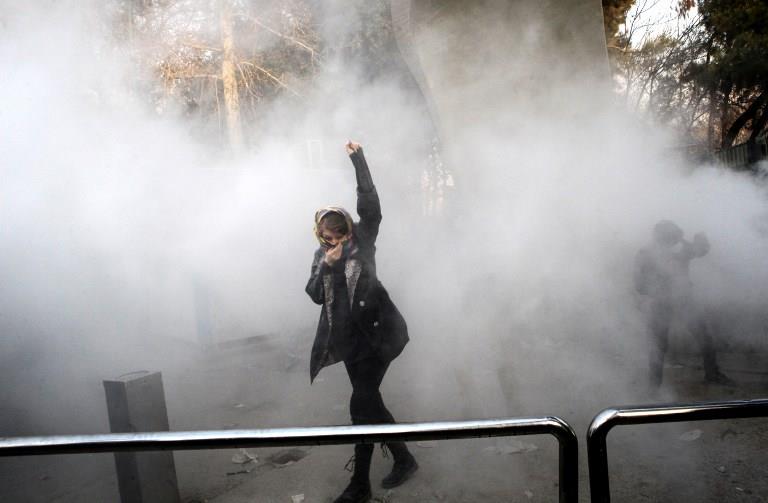 An Iranian woman raises her fist amid the smoke of tear gas at the University of Tehran during a protest driven by anger over economic problems
- Demonstrations in Paris and Berlin -
Dozens of Iranian opponents demonstrated in Paris and Berlin in solidarity with demonstrations in Iran over the past two days to protest rising prices and corruption.
In Paris, some 40 people from the Iranian community gathered near the Iranian embassy on Friday to demand specially an end to the interference in Syria and Lebanon.
"One of repeated demands in all cities is to abandon Syria and not to intervene in Lebanon and Gaza," said Afshin Alawi, a member of the Paris-based National Council for Resistance of Iran to France Press Agency.
He added that the recent demonstrations include "a broader base in the Iranian society, the middle class and largely the unemployed, and hungry Iranians who suffered economically from the consequences of corruption."
In Berlin, hundreds of opponents to the Iranian regime gathered in front of the Iranian embassy on Friday to demand the immediate release of demonstrators detained in Iran, according to police.
Iran, isolated internationally and pursued by international sanctions for its sensitive nuclear activities, witnessed protests on Thursday and Friday in several cities, particularly in Mashhad, Iran's second city.