BY: Heshmat Alavi
FORBES, DEC 28, 2017-- As we gear to welcome 2018 with celebrations across the globe, it is morally correct to take a moment and think about the lesser fortunate in such times.
The world's most powerful earthquake in 2017 shook Iran's western province of Kermanshah, leaving at least several hundred people killed – while posts on social media showed locals speaking of the death toll being in the thousands – and scores more injured.
For the survivors, despite living in a country sitting on an ocean of oil and gas, their hardships continue as we speak. Iran, being the world's leading state sponsor of terrorism, stands accused of allocating billions to prop the Assad regime in Syria, funding the Lebanese Hezbollah, supporting Yemen's Houthis and backing Shiite militias in Iraq.
This goes alongside further billions pumping into a controversial and unnecessary nuclear program, and a dangerous ballistic missile drive.
The Iranian people are continuously seen protesting the regime's policies. On Thursday a large number of protesters took to the streets in the cities of Mashhad, Neyshabur, Kashmar and Birjand in northeast Iran, protesting unemployment, poverty and skyrocketing prices. Protesters were also seen chanting, "Death to Rouhani" and "Death to the Dictator," in reference to the regime's president and Supreme Leader Ali Khamenei, respectively.
Evaluations show around 18,000 homes are completely destroyed in this area and another 50,000 have suffered major damages, according to Iran's official news agency.
The mayor of Sar Pol-e Zahab, the main town targeted by the quake, says many of those whose lives have been ruined remain waiting for trailers. The situation has also been discussed in the country's parliament.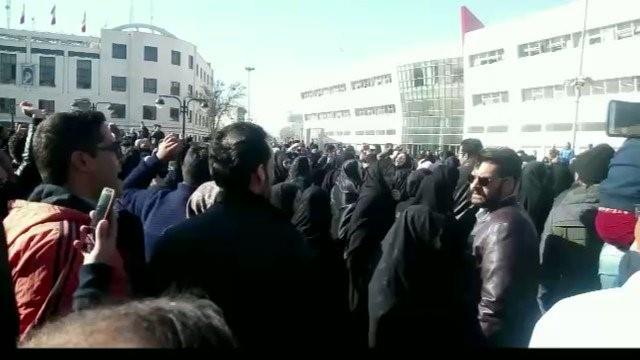 "Only 1,500 trailers have been sent and installed in the quake-stricken area by people's charity," Heshmattollah Falahat-Pishe, a member of Iran's parliament said according to the semi-officials ISNA news agency. "Arrangements were made for 400 trailers to be installed daily. This has not been realized and people are very unhappy with the process. Some villages have not received a single trailer…"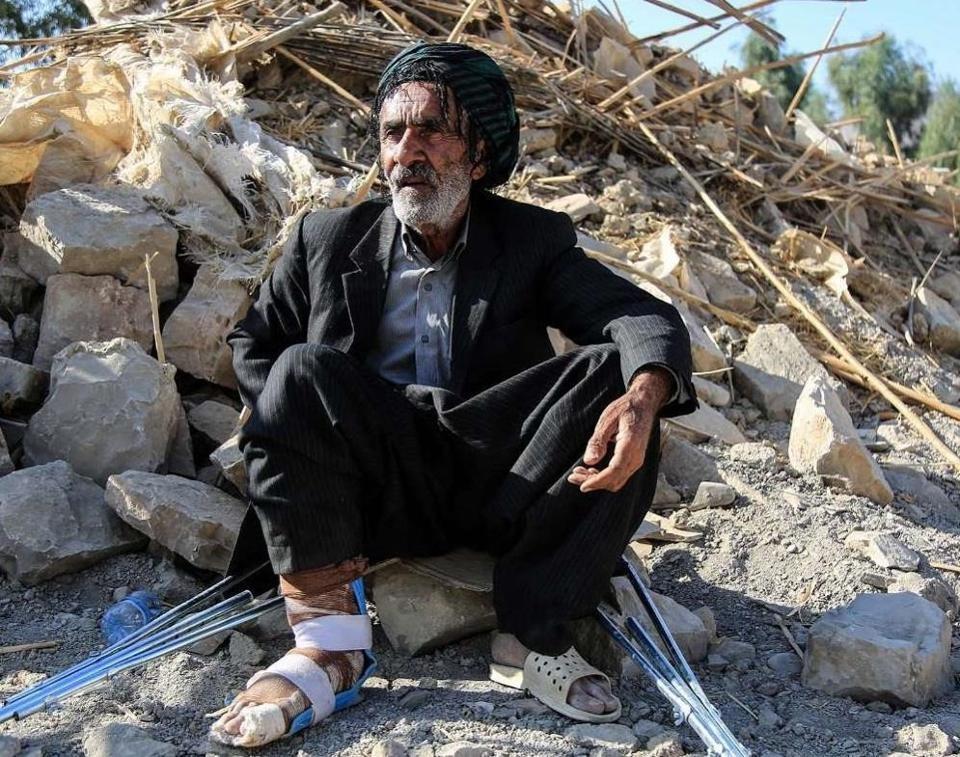 A man injured following the 7.2-magnitude earthquake in Iran's Kermanshah province.
The province of Kermanshah is also known as the center of Iran's kidney market. As the media sporadically covers the earthquake's aftermath, unknown to many even inside Iran is the fact that this province faces a wide range of other difficulties.
"Our cities are tantamount to war-torn areas. No major factories, no source of employment… This fuels unemployment and poverty, making many in Kermanshah willing to sell a body part," said Hossein Bigleri, head of the Kermanshah Kidney Patients Support Society, according to a state-run Iranian website.
The irony lies in the fact that with such a high percentage of Iran's populace living in utter poverty, those who need kidney transplants the most lack the procuring ability. The price of a kidney now stands at around $5,000 in Iran, and at times even higher, reports show.
Lines are long at Kermanshah's dialysis clinics, as both sides of a kidney transplant are facing serious jeopardy. As a result, many of those looking to sell their kidneys are seen seeking markets in other cities across the country.
For a society such as Iran, further disturbing is the rising number of women seeking to sell their kidneys, including women as young as 20 to 35 years of age. There are cases of such desperate women who are even willing to sell their kidneys for as low as $1,500 to desperately make ends meet.
As such numbers portray a drastic image, Iran's next fiscal budget will provide the Iranian Revolutionary Guard Corps (IRGC) around $76 billion of the total $114 billion allocated to the regime's armed forces. The IRGC and its extraterritorial unit, the Quds Force, enjoy a priority in the new budget, according to reports.
While claiming to be a moderate, Iranian President Hassan Rouhani submits the budget plan a month after the quake and presses the parliament to urgently approve the bill.
Mohammad Jamali, a member of the parliamentary defense committee, considers the Quds Force and the provocative missile program that has bought the regime numerous condemnations, deserving the utmost priority in the armed forces' budget.
This MP argues regional and international threats demand Iran upgrade its capabilities, while continuously failing to provide the attention earthquake victims deserve.
Further concerning is the fact that Tehran is spending about $15-20 billion a year in Syria, revelations indicate.
Making a long story short, many in Iran face no choice but selling their body parts to provide for their daily needs. This regime, however, is designating 150 times the budget of a province such as Kermanshah to maintain a ruthless dictator such as Bashar Assad in power.
The Iranian regime's aggression result in the people at home paying the price with their flesh and blood, and millions across the region losing their lives, being injured and/or displaced.
This must come to an end and all crosshairs must focus on the ruling elite sitting in Tehran. A TIME piece back in July explains how such measures are effective against Iran's regime.
"Sanctions on Iran, on the other hand, have shown some results, because unlike North Korea, Iran wants a deeper commercial and political engagement with the rest of the world."