The Baghdad Post, December 18, 2017 - In an attempt to take revenge on its adversaries and opponents in the Middle East and the West, Iran not only uses its proxies, but also an effective form of militias, namely cyber militias.
Media outlets and government institutions' websites have been targeted by these militias. The Baghdad Post is neither the first nor the last website that fall victim to Tehran's cyber warfare. In March, Iran cyber militias, aka Teamspam313, have hacked Twitter accounts of Chairman of The Baghdad Post Sufian Samarrai and the news website.
Teamspam313 are known to be using Chinese and North Korean hacking technology to attack the governmental foundations inside Iraq as well as other countries to halt their operation to cover up their schemes of spreading terrorism in Iraq and other countries.
Exposing terrorist plots
The move comes in the aftermath of the campaign the site conducted to expose the role of Mullah regime plays in destabilizing countries in the Middle East, including Iraq, Syria, Yemen and Lebanon. However, The Baghdad Post reiterated the continuation of its policy, saying it will not be intimidated by such acts.
The Baghdad Post's transparency policy and professionalism in news coverage have raised the ire of Tehran. Every now and then the news website's social media platforms become a target of Mullah regime's cyber militias.
Recurrently, the Iraqi news website's Facebook and YouTube accounts have been attacked by Iranian hackers. For a while they have been completely deleted.
Cyber warfare in more recent years has risen up the rankings as one of the more effective forms of war, used with the intent of inflicting harm over presiding governments and damaging economies, without the costly exercise of taking up arms.
The covert nature of cyber warfare is more akin to the cold war era of spy games. Yet, Iran has recently used this type of war in an extensive way. Cyber warfare in Iran is a part of its "soft war" military strategy. Tehran is considered an emerging military power in the field, observers say.
Active player
According to a 2014 report by Institute for National Security Studies, Iran is "one of the most active players in the international cyber arena". In 2013, an Iranian Revolutionary Guard Corps (IRGC) general stated that Iran has "the fourth biggest cyber power among the world's cyber armies.
Iran is one of the leading cyberspace adversaries of the United States. It emerged as a cyber threat a few years later than Russia and China and has so far demonstrated less skill. Nevertheless, it has conducted several highly damaging cyber attacks and become a major threat that will only get worse.
The history of Iran's cyberspace operations begins with its hackers. But unlike other countries, Iran openly encourages its hackers to launch cyber attacks against its enemies. The government not only recruits hackers into its cyber forces but supports their independent operations.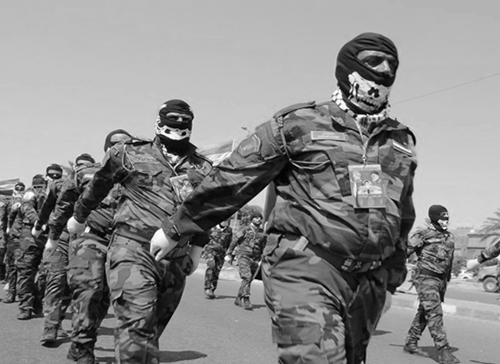 Iranian Cyber Army
The Iranian Cyber Army has been implicated in several website attacks, including one against Twitter in 2009 that proclaimed support for Iran's supreme leader Ali Khamenei. Other attack targets were the Voice of America in 2011 after the US supported Iran's Green Movement and regime opposition websites in 2013 just before the presidential election.
According to some cyber security researchers, the Iranian Cyber Army operates on behalf of the IRGC, a branch of the country's military. IRGC runs a cyber warfare program that in 2008 was estimated to employ about 2,400 professionals. In addition, it connects with independent hacker groups.
The IRGC also command Iran's voluntary paramilitary militia, known as the Basij Resistance Force. In 2010, the Basij established the Basij Cyber Council, but it focuses more on media and influence operations than on cyber attacks.
Turning to sabotage
By 2012, Iranian cyber attacks had gone beyond simple web defacements and hijack to ones that destroyed data and shut down access to critical websites.
A group called itself the Cutting Sword of Justice. In 2012, it launched cyber attacks against the Saudi Aramco oil company. More than 30,000 computers were rendered inoperable at Saudi Aramco and Qatar's RasGas, which was also targeted. US intelligence officials blamed Iran for the attacks.
In 2016, the US indicted seven Iranian hackers in absentia for working on behalf of the IRGC to conduct those bank attacks, which were said to have caused tens of millions of dollars in losses. The motivation may have been retaliation for economic sanctions that had been imposed on Iran.
According to former Congressman Peter Hoekstra, who chaired the House's Permanent Select Committee on Intelligence, Iran's rapid emergence as a major cyber threat likely stems from its close ties to Russia. Matthew McInnis, a resident fellow at the American Enterprise Institute, believes Iran turned to Russia to level the cyber warfare battlefield with the US and the West.
Cyber Armageddon
When Tehran fails to achieve its terrorist plots and conspiracies by using its ground terrorist militias, it resorts to the Iranian Cyber Army, IRGC's arm, to be used as a sabotage tool that threatens the interests of its foes and at the same time go unpunished, analysts told The Baghdad Post.
The world is sliding toward cyber Armageddon. This is a dangerous escalation and poses a bigger threat to global stability, they concluded.