The Telegraph, 24 November 2017 - Oxford Circus underground station has been evacuated amid reports of a "gunshot" incident.
Armed police have surrounded the station, on Oxford Street, while witnesses said dozens of people were seen running away in panic.
Scotland Yard have confirmed that the incident is being treat as a potential "terror incident".
No casualties have been located at this stage.
On Twitter, British Transport Police said: "Officers are responding to reports of an incident at OxfordCircus station. Officers are on scene, more information when we get it."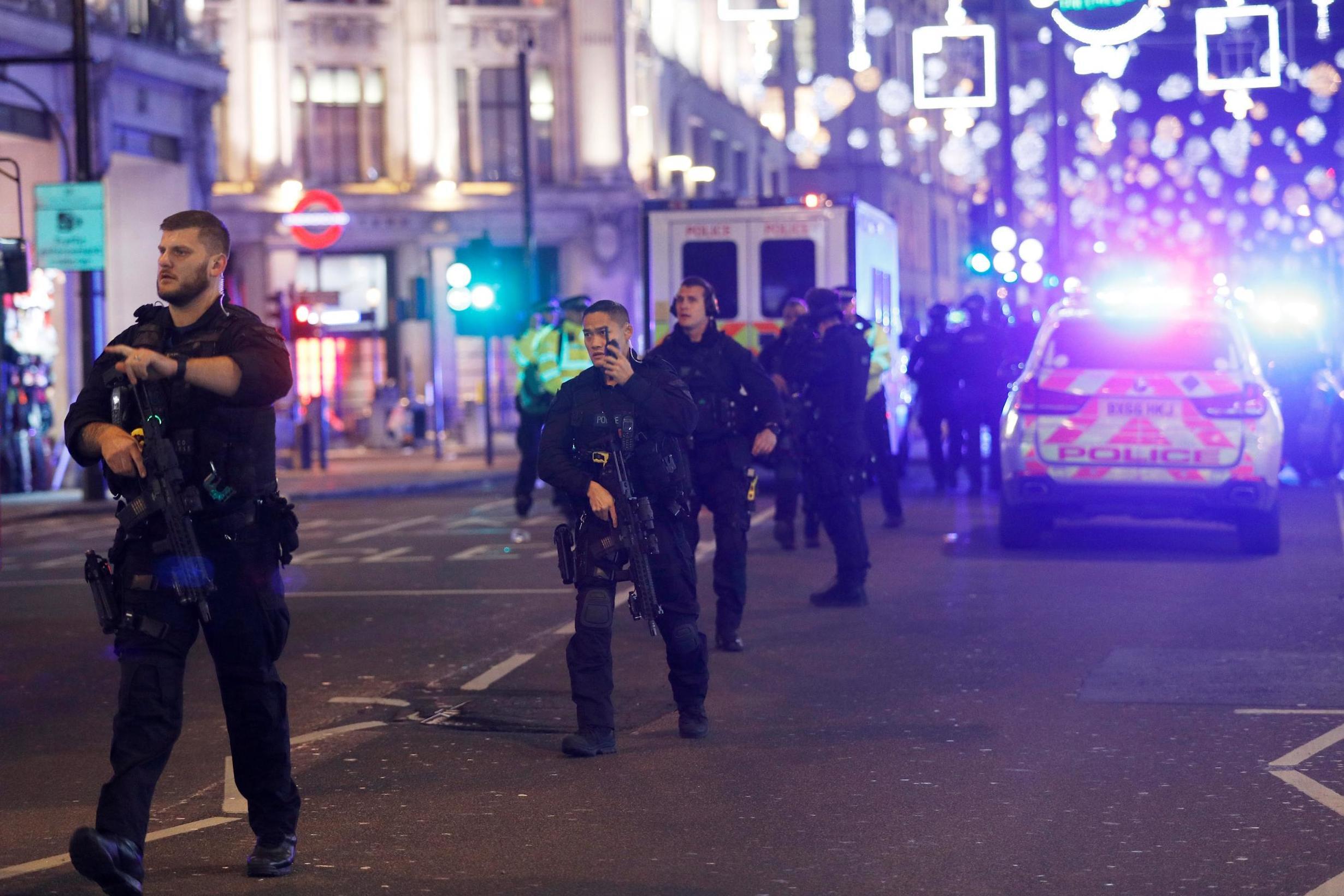 Oxford Circus; Armed police response after 'shots fired' at Tube station and on London's busiest shopping street, London Evening Standard
Transport for London said on Twitter: "Oxford Circus Station is closed while we investigate a customer incident."
The singer Olly Murs has also claimed on Twitter he is in Selfridges and that there are reports of "gun shots".
A video posted online by Twitter user Charlotte Terry appears to show hundreds of people leaving the area around the underground station, as police quickly secure the area.
One woman injured during stampede, police confirm.
British Transport Police tweeted: "At this stage, we have received one report of a woman sustaining a minor injury when leaving Oxford Circus station. There are no other reported casualties. More updates to follow."
5:37pm
Selfridges evacuation thought to be caused by false alarm
Reports of gunshots at Selfridges are thought to have been a false alarm, according to a security guard speaking to The Telegraph.
The panic is believed to have spread by rumours of a gunman inside. The shop has now been completely evacuated.
5:30pm
Panic in shops as people run from reports of gunshots
A Telegraph employee was shopping in John Lewis with her daughters when there was a sudden stampede for the doors and people screaming amongst reports of gunshots.
The trio were ushered into the the basement of a chemist around the corner from Oxford Street, along with scores of other shoppers.
"We were in the women's section on the second floor when there was loads of screaming and a mass stampede," she said.
"People we are with said they had heard gunshots."
5:29pm
Three fire engines and 15 firefighters attend incident
In a statement posted on Twitter, the London Fire Brigade said: "We were called at 1643 to an incident at Oxford Circus tube. Three fire engines & 15 firefighters are in attendance. Please avoid the area."
5:26pm
Oxford Circus and Bond Street stations closed
Oxford Circus remains closed while Bond Street station has also been shut to prevent overcrowding.
Hundreds of people are being directed down Bond Street away from the area.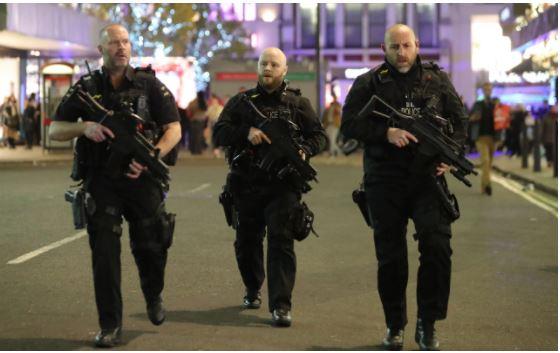 Armed police

5:24pm
Police are not treating incident as 'mass casualty attack'
A BBC producer and director said police are not dealing with a "mass casualty attack" as armed police descended upon Oxford Circus tube station.
Ruaridh Arrow tweeted: "Police officers on the scene have told me this is not a mass casualty attack. No ambulances beyond the cordon. Sense the incident is drawing down."
5:22pm
Witnesses describe panic as police arrived on Oxford Street
Lisa Markwell, the former editor of the Independent on Sunday, told LBC radio that she was travelling in a car through the West End of the capital when she a "mass" of people screaming and running.
"I was passing by car by Oxford Street Tube station. Suddenly people started screaming an running. From the back entrance of Bond Street station I saw a police car. Three armed police officers got out and ran towards Selfridges.
"It's such a massive shopping day, there were lots of people around."
She added that although she did not see or hear any gunfire, "It was just a large mass of people moving to get out o the way."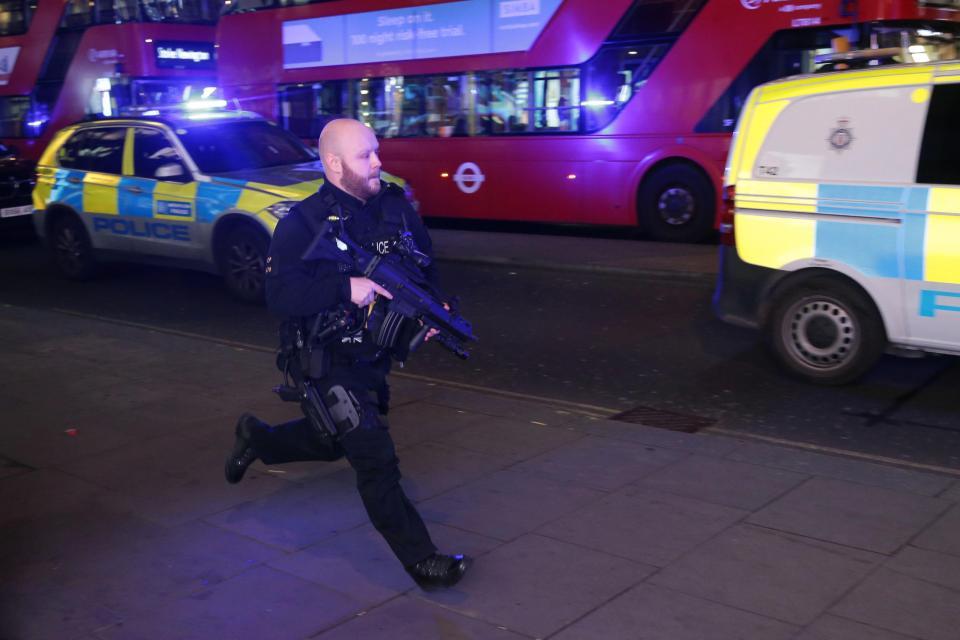 An armed officer runs down the street after reports of shots fired
5:20pm
Scotland Yard investigating reports of shots fired
Police were called at 16:38hrs on Friday, 24 November to a number of reports of shots fired on Oxford Street and underground at Oxford Circus tube station.
Police have responded as if the incident is terrorist related. Armed and unarmed officers are on scene and dealing along with colleagues from British Transport Police.
If you are on Oxford Street go into a building and stay inside until further direction.
Avoid travelling to the Oxford Street area.
At this stage police have not located any casualities.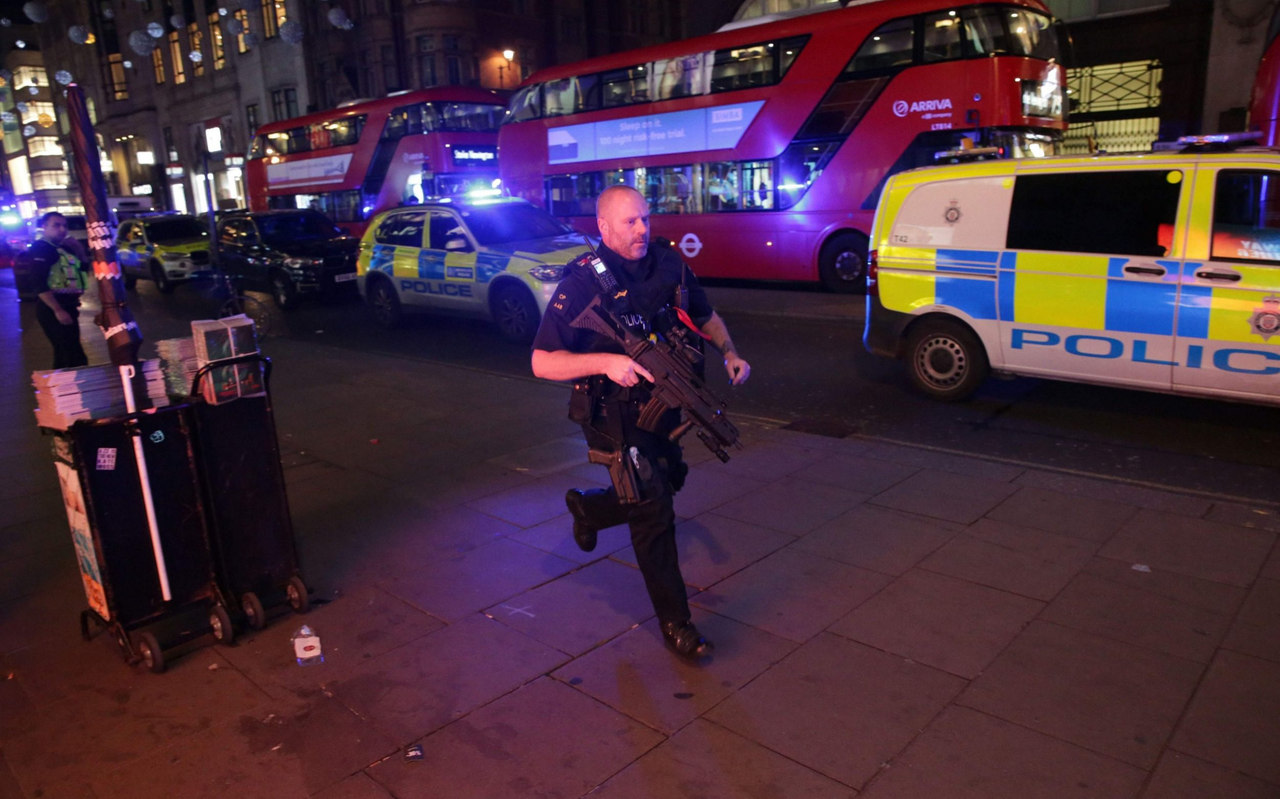 Armed police response
5:16pm
Selfridges is being evacuated
The designer store is being evacuated by police according to social media users.
Police can be seen standing at the entrance as people are led out.
5:12pm
Witnesses describe panic inside tube station
Greg Owen, 37, from London, said: "I was next to the tube station and everyone started screaming and shouting and then a flood of people came up the stairs."
And a witness who only wanted to be known as Emma said she heard something which sounded like "three shots."
She said: "There were shots fired on Oxford Street and then armed police ran into me and my friend.
"Armed Police were running up Argyll Street and now we're locked in French Connection."