BAGHDAD/ANKARA, Reuters, November 13, 2017 - At least 332 people were killed in Iran and Iraq when a magnitude 7.3 earthquake jolted the region on Sunday, state media in the two countries said, and rescuers were searching for dozens trapped under rubble in the mountainous area.
State television said more than 328 people were killed in Iran and at least 2,500 were injured. Local officials said the death toll would rise as search and rescue teams reached remote areas of Iran.
Iran-Iraq Earthquake 7.3 Magnitude Concrete Structures Had Collapsed
The earthquake was felt in several western provinces of Iran but the hardest hit province was Kermanshah, which announced three days of mourning. More than 236 of the victims were in Sarpol-e Zahab county in Kermanshah province, about 15 km (10 miles) from the Iraq border.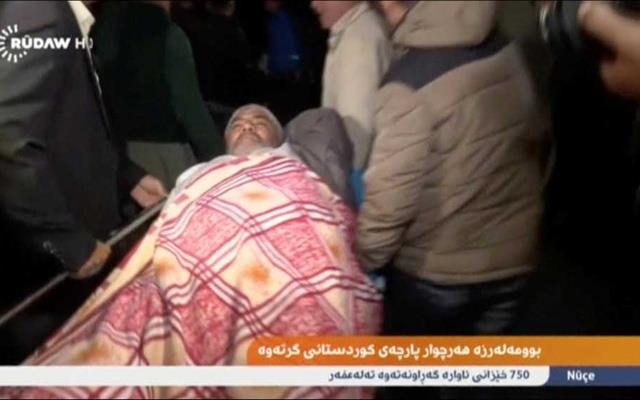 An injured man lies on a stretcher as he is taken to hospital after an earthquake at an unknown location in Iraq in this still image taken from video Nov 13, 2017. Rudaw TV
Major quake hits Iraq Iran border

Iranian state television said the quake had caused heavy damage in some villages where houses were made of earthen bricks. Rescuers were labouring to find survivors trapped under collapsed buildings.
The quake also triggered landslides that hindered rescue efforts, officials told state television. At least 14 provinces in Iran had been affected, Iranian media reported.

An earthquake victim is aided at Sulaimaniyah Hospital in Iraq
The US Geological Survey said the quake measured magnitude 7.3. An Iraqi meteorology official put its magnitude at 6.5 with the epicentre in Penjwin in Sulaimaniyah province in the Kurdistan region, close to the main border crossing with Iran.
Kurdish health officials said at least four people were killed in Iraq and at least 50 injured.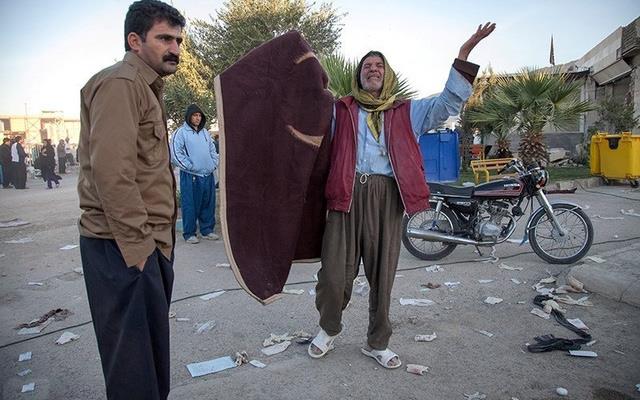 A man reacts following an earthquake in Sarpol-e Zahab county in Kermanshah, Iran Nov 13, 2017.
The quake was felt as far south as Baghdad, where many residents rushed from their houses and tall buildings when tremors shook the Iraqi capital.
"I was sitting with my kids having dinner and suddenly the building was just dancing in the air," said Majida Ameer, who ran out of her building in the capital's Salihiya district with her three children.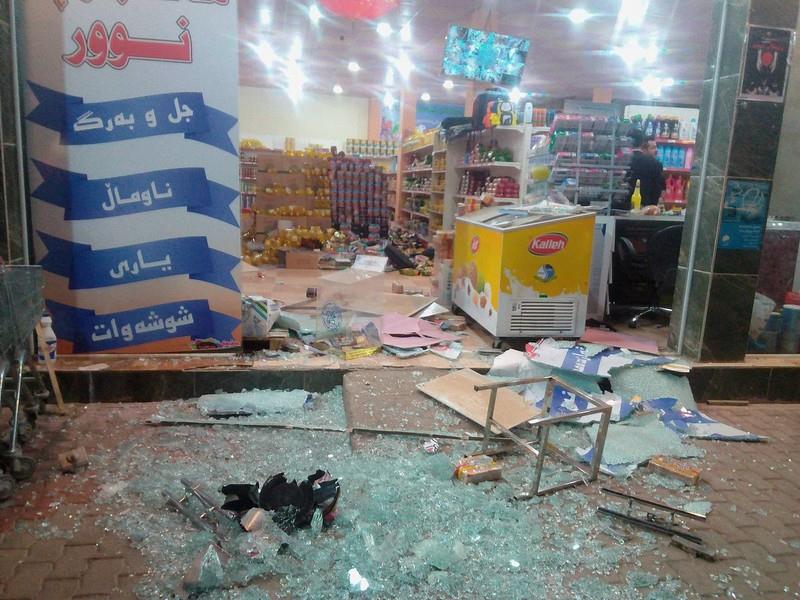 A damaged storefront is seen after an earthquake in Halabja, Iraq
"I thought at first that it was a huge bomb. But then I heard everyone around me screaming: 'Earthquake!'"
Similar scenes unfolded in Erbil, the capital of the Kurdistan Region, and across other cities in northern Iraq, close to the quake's epicentre.

People sit on the pavement after an earthquake at an unknown location in Iraq in this still image taken from video Nov 13, 2017. Rudaw TV
Cold weather
Electricity was cut off in several Iranian and Iraqi cities, and fears of aftershocks sent thousands of people in both countries out onto the streets and parks in cold weather.
The Iranian seismological centre registered around 118 aftershocks and said more were expected. The head of Iranian Red Crescent said more than 70,000 people were in need of emergency shelter.
Hojjat Gharibian was one of the hundreds of homeless Iranian survivors, who was huddled against the cold with his family in Qasr-e Shirin.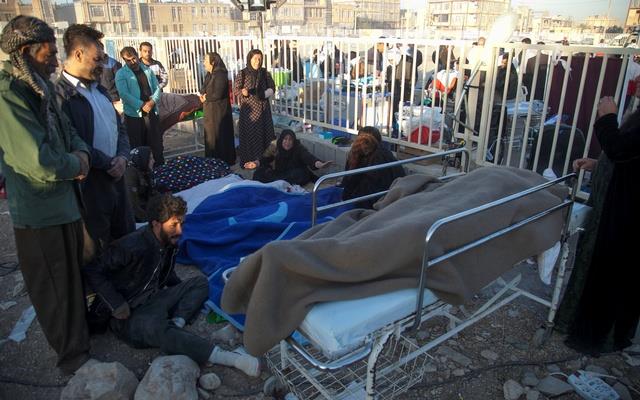 People react next to dead bodies following an earthquake in Sarpol-e Zahab county in Kermanshah, Iran Nov 13, 2017.
"My two children were sleeping when the house started to collapse because of the quake. I took them and ran to the street. We spent hours in the street.
Iranian Interior Minister Abdolreza Rahmani Fazli said some roads were blocked and authorities were worried about casualties in remote villages. An Iranian oil official said pipelines and refineries in the area remained intact.
Iran sits astride major fault lines and is prone to frequent tremors. A magnitude 6.6 quake on Dec. 26, 2003, devastated the historic city of Bam, 1,000 km southeast of Tehran, killing about 31,000 people.
Hospital severely damaged
On the Iraqi side, the most extensive damage was in the town of Darbandikhan, 75 km east of the city of Sulaimaniyah in the semi-autonomous Kurdistan Region.
More than 30 people were injured in the town, according to Kurdish Health Minister Rekawt Hama Rasheed.
"The situation there is very critical," Rasheed told Reuters.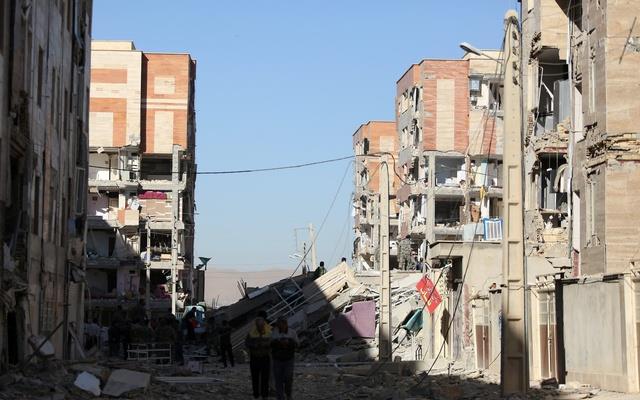 Damaged belongings are seen following an earthquake in Sarpol-e Zahab county in Kermanshah, Iran Nov 13, 2017.
The district's main hospital was severely damaged and had no power, Rasheed said, so the injured were taken to Sulaimaniyah for treatment. Homes and buildings had extensive structural damage, he said.
In Halabja, local officials said a 12-year-old boy died of an electric shock from a falling electric cable.
Iraq's meteorology centre advised people to stay away from buildings and not to use elevators in case of aftershocks.
Turkey and Israel
Residents of Turkey's southeastern city of Diyarbakir also reported feeling a strong tremor, but there were no immediate reports of damage or casualties there.
Turkish Red Crescent Chairman Kerem Kinik told broadcaster NTV that Red Crescent teams in Erbil were preparing to go to the site of the earthquake and that Turkey's national disaster management agency, AFAD, and National Medical Rescue Teams (UMKE) were also preparing to head into Iraq.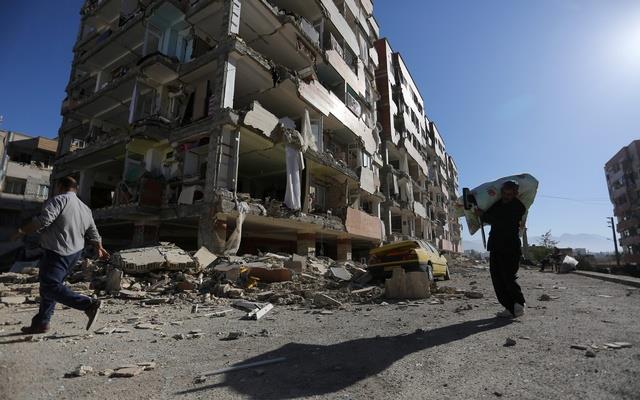 People walk past a damaged building following an earthquake in Sarpol-e Zahab county in Kermanshah, Iran Nov 13, 2017.
AFAD's chairman said the organisation was waiting for a reply to its offer for help.
In a tweet, Kinik said the Turkish Red Crescent was gathering 3,000 tents and heaters, 10,000 beds and blankets and moving them towards the Iraqi border.
"We are coordinating with Iranian and Iraqi Red Crescent groups. We are also getting prepared to make deliveries from our northern Iraq Erbil depot," he said.
Israeli media said the quake was felt in many parts of Israel as well. In a statement, Israeli Intelligence Minister Israel Katz said, "My condolences to the people of Iran and Iraq over the loss of human life caused by the earthquake." Iran refuses to recognise Israel.