Scene in Las Vegas as gunman fired multiple rounds into a concert crowd
Las Vegas, NBC News, October 2, 2017 - A lone gunman released a rapid-fire barrage of bullets from a 32nd-floor Las Vegas hotel room late Sunday, killing at least 50 people and injuring more than 400 others at an outdoor country music festival, police said.
It was the worst mass shooting in modern American history.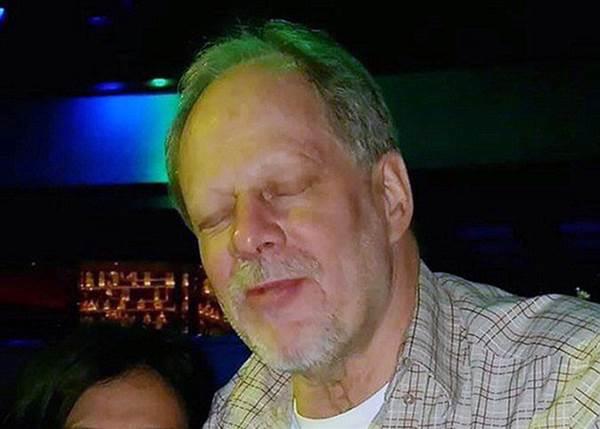 Stephen Paddock, the suspect in the Las Vegas shooting
The shooter, who was identified by law enforcement officials as Stephen Craig Paddock, 64, of Mesquite, Nevada, fired shot after shot from the Mandalay Bay Resort and Casino down on the crowd of about 22,000, sending terrified concertgoers running for their lives.
"We heard what sounded like firecrackers going off. Then all of a sudden we heard what sounded like a machine gun. People started screaming that they were hit," witness Meghan Kearney told MSNBC. "When we started running out, there were probably a couple hundred [people] on the ground."
The Latest:
. 50 people killed, more than 400 injured in the deadliest mass shooting in modern American history.
. Gunman identified as Stephen Paddock, a 64-year-old man from Mesquite, Nevada.
. At least 10 weapons were found inside Paddock's room at the Mandalay Bay Resort and Casino.
. President Donald Trump is monitoring the developments, the White House said.
Police responded to reports of the shooting just after 10 p.m. (1 a.m. ET). Las Vegas Metropolitan Police Sheriff Joseph Lombardo told reporters Monday morning that authorities believe Paddock killed himself before police entered his room.
Earlier, officials had said police fatally shot Paddock.
The suspect is believed to have checked into the Mandalay Bay Resort and Casino on Sept. 28, Lombardo said, and had an "excess of ten rifles" in his hotel room.
It was not clear whether Paddock had specifically requested a room on a high floor that overlooked the concert venue or whether he had prevented housekeepers from entering his room in the days prior.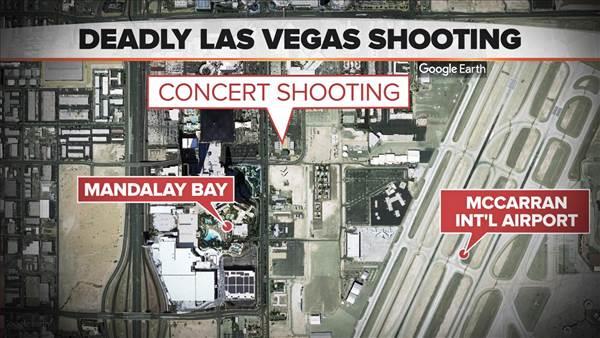 Las Vegas shooting-map
The shooting is not believed to be connected to international terrorism. Authorities have not said what kinds of weapons were found.
Former Las Vegas Metropolitan Police Department Sheriff Bill Young's 22-year-old daughter was at the concert. Young told MSNBC his daughter said the weapon "sounded like a machine gun" and that she and her friends took cover under a desk.
"I picked up the phone, my cellphone, and she was screaming and yelling, 'Dad, dad, dad, dad, somebody's shooting at us, and I don't know what to do.' She was hysterical and I tried to just calm her down," Young said. "She could hear the gunshots — sounded like a machine gun, she said — and they didn't know where they were coming from. She had nowhere to take cover, so I told her just to run as fast as she could, as quick as she could out of the arena. Get as far away from it as she could where she thought the line of fire might be."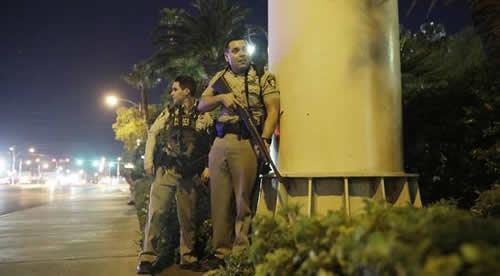 Police officers take cover near the scene of a shooting on the Las Vegas Strip
Authorities were digging into Paddock's history. Other than a citation he received several years ago that was "handled as a normal practice" by the courts, Lombardo said he had no criminal background. The sheriff didn't offer any more details.
The shooting started while performer Jason Aldean was onstage. Witnesses described a chaotic scene of back-to-back bullets raining down from above, lasting for up to 10 minutes.
Fellow performer Jake Owen said he was standing about 50 feet away from Aldean when the shots started.
"It got faster and faster, almost like it was an automatic rifle," Owen said. "At that point, everyone on stage started running everywhere."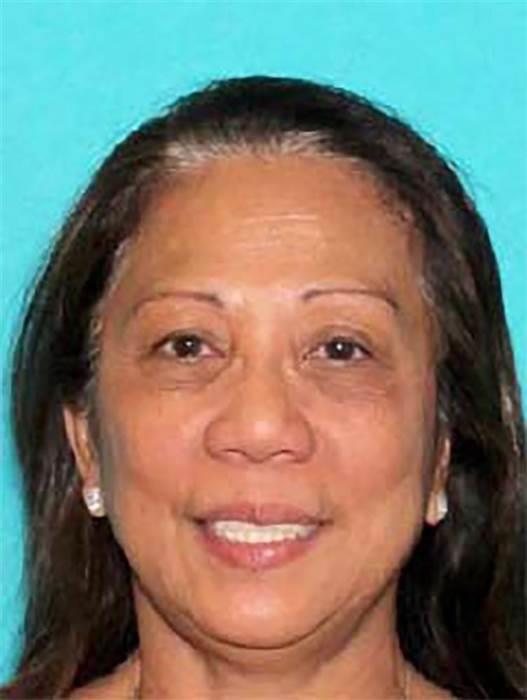 Marilou Danley is wanted by police for questioning in connection with the shooting in Las Vegas on Oct. 1. LVMPD
Owen dashed by victims covered in blood and eventually found shelter in his bus. The gunfire still hadn't stopped by the time he got there, he said.
"It wasn't something that was quick. It was chaos for a pure seven to ten minutes," he said.
At least one off-duty Las Vegas police officer was among those shot, Lombardo said. Several other off-duty police officers are believed to be among the dead and injured.
The massacre put the normally bustling Strip at a standstill. Flights in and out of the Las Vegas airport were temporarily halted.
Police have located Paddock's roommate, Marilou Danley, 62, and don't think she was involved, Lombardo said, adding that the investigation is ongoing.
A search of their home in Mesquite, located about 80 miles away from Las Vegas, was underway.
The suspect's brother, Eric Paddock of Orlando, told NBC News he was "dumbfounded" by the shooting.
"He was just a guy," Eric Paddock said. "He lives in Mesquite, he went to the hotels, he gambled, he went to shows."
"We are completely at a loss," he added.
Aldean, who was named the Academy of Country Music's Entertainer of the Year in April 2017, was performing on the final night of the three-day Route 91 Harvest festival at the Las Vegas Village. He later said via Instagram that he and his band were safe.
"I still don't know what to say but wanted to let everyone know that Me and my Crew are safe. My Thoughts and prayers go out to everyone involved tonight," he wrote.
Witnesses said that the first round of shots sounded like fireworks. Only after the second burst of gunfire did the band stop playing.
"After the second round… everybody hit the ground around us," concert-goer Sean said on TODAY. "It seemed like people were hit everywhere."
Another concertgoer, Jon Bessette, described a scene of "pandemonium" as "the band ran off stage."
"Everyone was running, people were getting trampled," he said.
President Donald Trump sent his condolences in a tweet Monday morning.
"My warmest condolences and sympathies to the victims and families of the terrible Las Vegas shooting. God bless you!" he wrote.
Vice President Mike Pence also tweeted about the "senseless violence."
"The hearts & prayers of the American people are with you. You have our condolences and sympathies," he wrote.
"To the courageous first responders, thank you for your acts of bravery," he added.
Hillary Clinton expressed her grief in a tweet too, and wrote, "The crowd fled at the sound of gunshots. Imagine the deaths if the shooter had a silencer, which the NRA wants to make easier to get."
"Our grief isn't enough. We can and must put politics aside, stand up to the NRA, and work together to try to stop this from happening again," she tweeted.
Republican House Speaker Paul Ryan ordered flags over the U.S. Capitol to be lowered to half-staff in memory of the victims.
Mandalay Bay tweeted out a statement that said, "Our thoughts & prayers are with the victims of last night's tragic events. We're grateful for the immediate actions of our first responders."