FRANCE 24, 23 September 2017-- Preliminary investigations had concluded that Alberto Nisman's 2015 death was probably a suicide. But on Friday a team of forensic investigators gave a prosecutor a new report on the death of the prosecutor that concludes he was a victim of homicide and that he did not kill himself, sources say.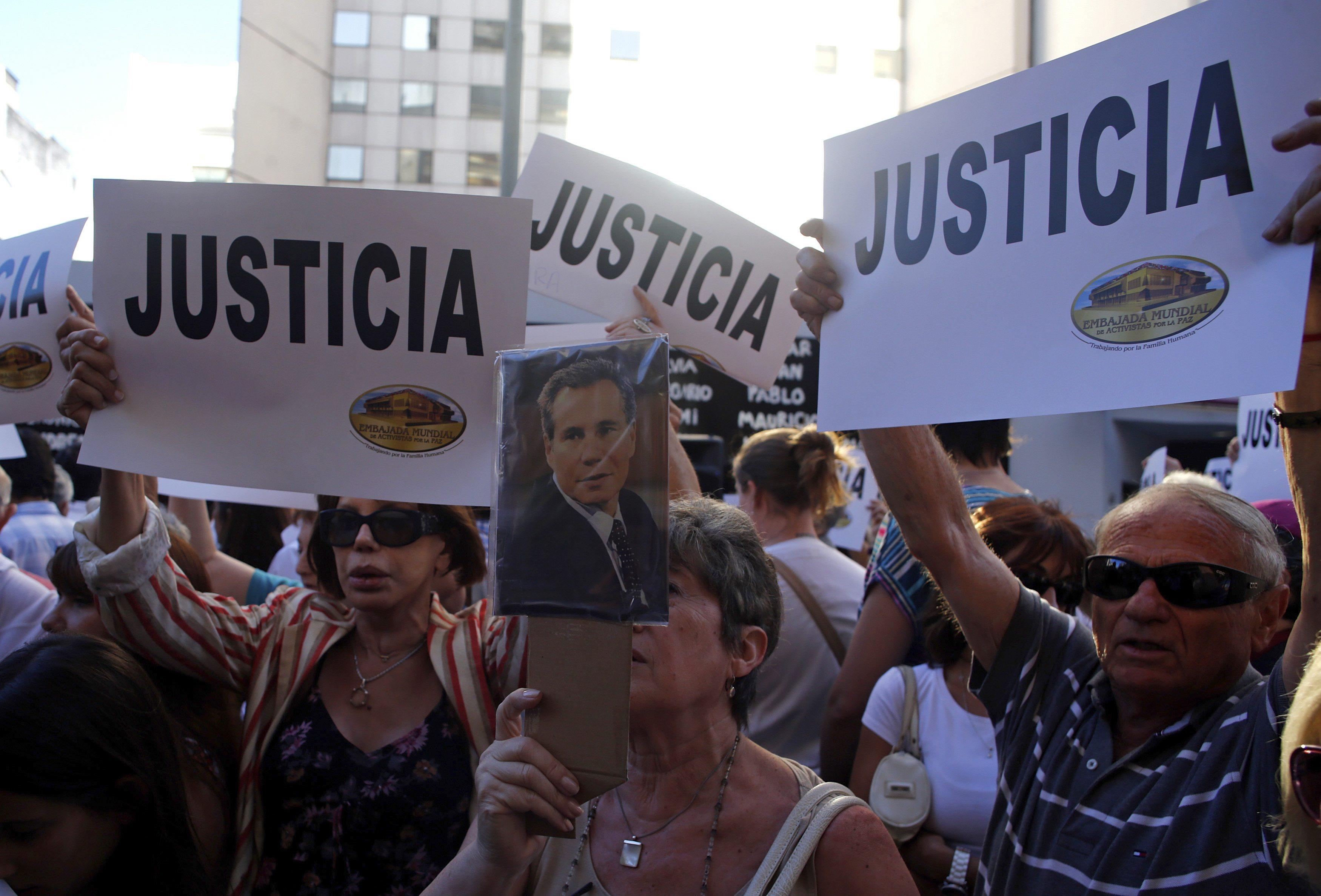 A woman holds up a picture of the late Argentine prosecutor Alberto Nisman during a demonstration Wednesday in Buenos Aires during a demonstration over his death.
The report, submitted by a team led by Argentina's border police, marks a departure from previous court-ordered investigations that concluded there wasn't enough evidence to prove foul play.
An official at the prosecutor's office confirmed the homicide conclusion, but spoke on condition of anonymity because the findings are not yet publicly available.
Nisman had spent 10 years investigating the 1994 bombing of a Jewish community centre in Buenos Aires, the worst terror attack on Argentina's soil in its modern history.
Nisman was found dead in his apartment from a .22-calibre gunshot wound to the head in January 2015, days after accusing then president Cristina Kirchner of helping Iranian officials cover up Iran's alleged role in the bombing.
Doubts over 'suicide' of Argentine prosecutor
Nisman, 51, died on the eve of an appearance before Argentine lawmakers in which he was expected to accuse Kirchner of mounting a cover-up over the bombing, which left 85 people dead and 300 wounded.
In a criminal probe released four days before his death, Nisman alleged Kirchner and other officials had struck a deal with Iran aimed at shielding Tehran officials linked to the bombing in exchange for lucrative trade agreements. Iran denies any role in the bombing.
The revelation that Nisman had considered seeking the arrest of Kirchner provided a fresh twist to a scandal which has captivated Argentina since the prosecutor's death at his home in Buenos Aires.
The mysterious circumstances surrounding his death unleashed a storm of conspiracy theories.
Congresswoman Cornelia Schmidt-Liermann said that she had planned to pick Nisman up at his residence and accompany him to congress for his testimony against Kirchner. "Everybody who had contact with him in the past 24 hours says he was confident" about his testimony, she told The Associated Press at the time. "There is no indication, under any circumstances, that he killed himself."
Kirchner has alleged that Nisman's death was part of a plot to discredit her, suggesting that Nisman was manipulated by former intelligence agents whothen killed him.
Nisman's former wife, Sandra Arroyo Salgado, hired a private team to analyse the autopsy results and run additional tests. The results showed that he was murdered, she announced a few weeks after his death.
Early probes suggested suicide, although the lead investigator into Nisman's death said she could not categorically say if he shot himself in the head or was killed.
"Nisman didn't have an accident. He didn't commit suicide. They murdered him," Salgado told a news conference.
A week before his death, Nisman had filed a 280-page complaint charging that Kirchner had issued an "express directive" to shield a group of Iranian suspects.
Nisman himself seemed to know that he was treading a dangerous path, making a premonitory comment to reporters about his investigation.
"I could end up dead from this," Nisman told Clarin, a leading Argentinian daily paper.