The tremor was the biggest earthquake to hit the region in 100 years, sending terrified residents into the streets in their pyjamas as their homes shook
Mirror, September 8, 2017 - A massive earthquake off the coast of Mexico triggered a tsunami and caused widespread damage, killing at least five people.
Two children were among those killed, including a child who died after a wall collapsed in the state of Tabasco.
The tremor with a magnitude of 8.1 struck just before midnight Thursday night and was the most powerful earthquake to hit the country in at least 100 years.
Tsunami alerts were issued for Pacific countries - from Ecuador to Australia - after the quake shook buildings as far away as Guatemala and sent terrified residents running into the streets in their pyjamas.
Footage has emerged showing destroyed buildings and houses swaying, and power being knocked out as aftershocks continued to shake the region.
Holidaymakers caught up in disaster
Thousands of holidaymakers are among those affected by the earthquake, which has left a number of locals homeless.
Photos posted online show damage to hotels and resorts.
Images also show toppled homes and other buildings, with streets covered in debris.

Mexico's poorest state among worst hit
Reports of damage and casualties are still emerging after the earthquake struck late last night, but the worst hit areas appear to be two southern states.
Chiapas, which borders Guatemala, is Mexico's poorest state, with a poverty rate around 70-75%.
The neighbouring state of Tabasco, just to the north, was also badly hit.
Three people were killed in Chiapas and two were killed in Tabasco.
Emergencies have been declared in both states as rescuers look for more victims in collapsed buildings.
The epicentre was 54 miles southwest of the town of Pijijiapan in Chiapas, at a depth of 43 miles.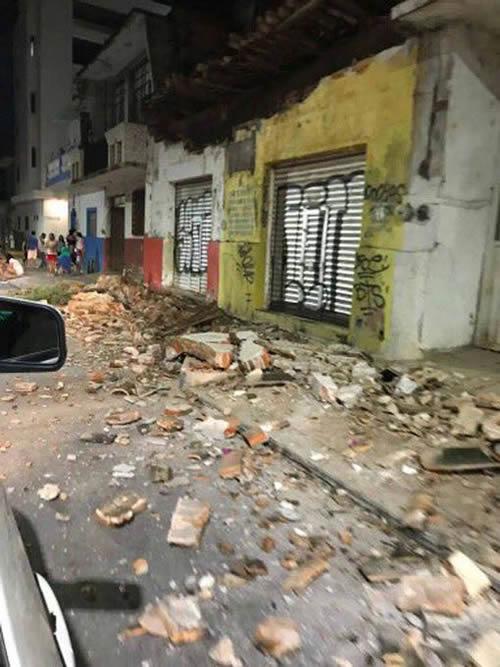 Hundreds of buildings have been damaged or destroyed
Terrified residents flee into streets in pyjamas
Terrified residents fled into the streets in their pyjamas as the earthquake caused buildings to sway.
In Mexico City, Liliana Villa, 35, was at home in her flat when the tremor struck just before midnight.
She told Reuters: "It felt horrible, and I thought, 'this is going to fall'."
Architect Luis Carlos Briceno, 31, added: "I had never been anywhere where the earth moved so much. At first, I laughed, but when the lights went out I didn't know what to do. I nearly fell over."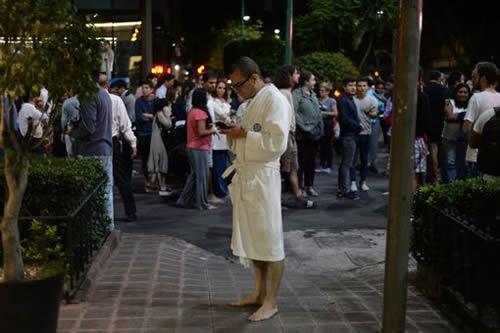 People gather on a street in Mexico City
Coastal communities evacuated due to tsunami threat
A number of communities on Mexico's Pacific coast have been evacuated due to the tsunami threat.
They include Puerto Chiapas (Port Chiapas), where cruise ships dock.
Emergencies have been declared in more than 120 municipalities in the state of Chiapas.
Evacuations have also been reported in parts of South America's Pacific coast.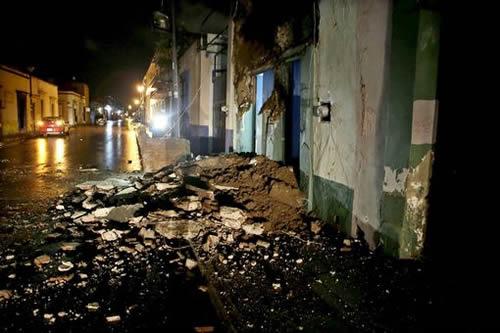 Damage to a building in Oaxaca, Mexico
Scenes of devastation as rescuers look for more victims
Photos have emerged showing scenes of devastation and panic in Mexico.
Rescuers are going through neighbourhoods looking for victims.
A number of homes have collapsed or suffered severe damage in Chiapas and Tabasco.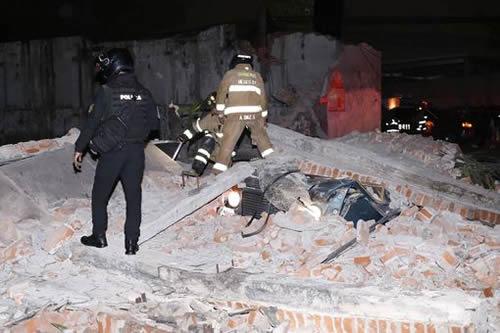 Rescuers stand amongst the rubble of a building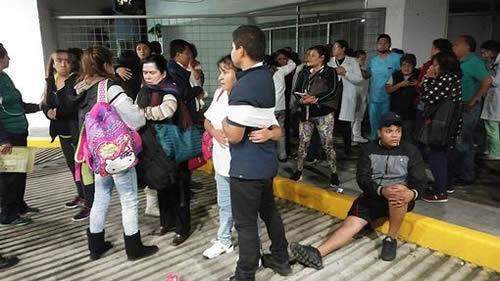 People embrace outside a hospital in Mexico City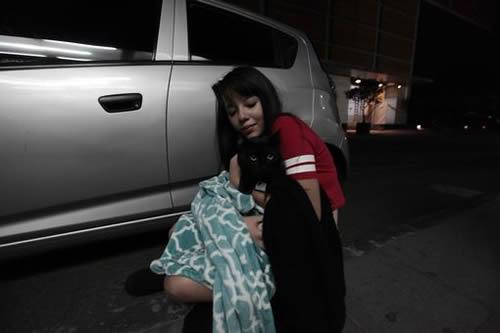 A woman holds a cat after fleeing a building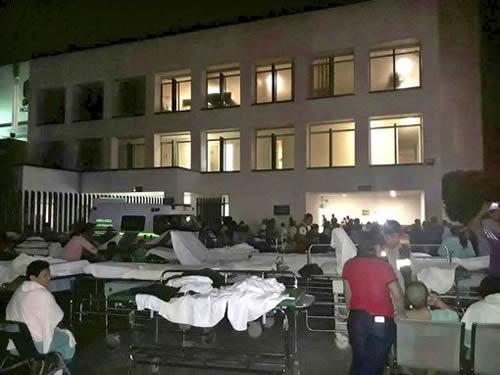 Hospital patients in Villahermosa were taken outside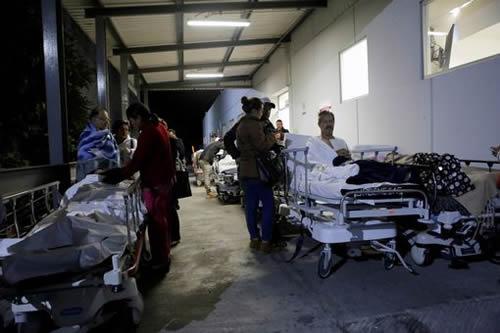 Hospitals moved everyone outdoors amid fears of a building collapse
Death toll rises to five as victims include children
At least five people have been killed in Mexico.
The victims include two children in the state of Tabasco.
There are fears the death toll will rise even further as rescuers go through rubble and inspect homes
Earthquake magnitude revised to 8.1
The earthquake's magnitude has been revised to 8.1 by the US Geological Survey (USGS).
It struck off the Pacific coast of Chiapas, Mexico, just before midnight local time last night.
The USGS says the quake was "the result of normal faulting at an intermediate depth".
Over the last 100 years, the region has experienced eight other earthquakes of a magnitude greater than seven.
Of those, the largest, at 7.4, occurred off Guatemala and killed at least 48 people in November 2012.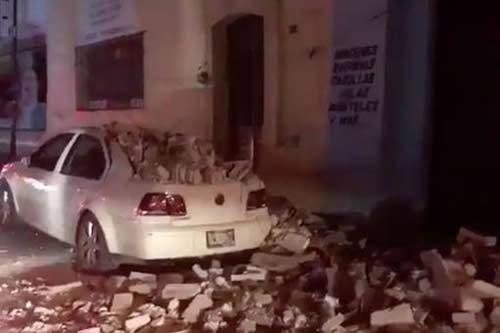 There have been reports of widespread damage
Larger waves hit Mexico as sea 'retreats'
Larger waves have hit Mexico while part of its Pacific coast is under a tsunami threat.
The Pacific Tsunami Warning Center says waves as high as one metre (3.3ft) have been observed.
It comes after residents reported seeing the sea 'retreat' following the earthquake.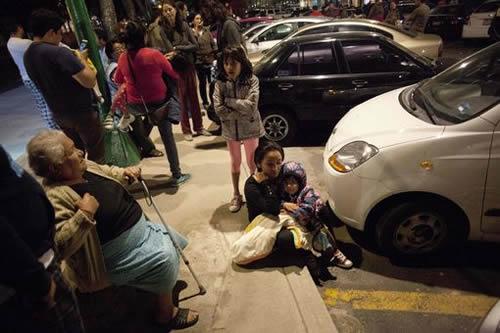 People gather in the street following the earthquake
Tsunami waves to hit as far away as Antarctica, Australia
Waves of up to one metre are possible for coasts as far away as Antarctica.
The same threat exists from Ecuador and El Salvador to French Polynesia and New Zealand.
Waves of less than 0.3 metres are expected in Australia.
So far, the largest wave recorded was 0.7 metres in Mexico.
Tsunami threat for Pacific countries after major quake
Several Pacific countries are under a tsunami threat following a major 8.2-magnitude earthquake off the coast of Mexico.
Some coastal communities in countries including El Salvador have been evacuated as a precaution amid fears of devastating waves crashing ashore.
The Pacific Tsunami Warning Center says waves of more than three metres are possible along with some coasts of Mexico.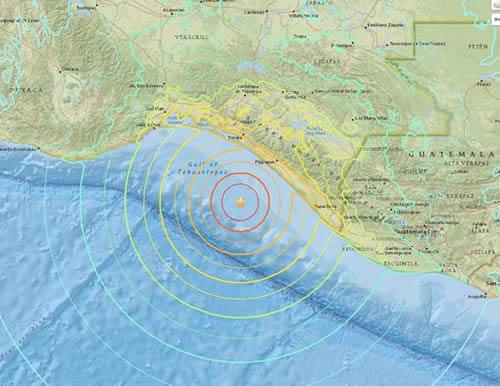 The earthquake hit off the Pacific coast of Mexico