By: Heshmat Alavi
Forbes, AUG 24, 2017-- In line with the ongoing evaluation of Iran's compliance or non-compliance with a pact aimed at curbing its nuclear ambitions, and as the administration of US President Donald Trump continues to weigh its comprehensive Iran policy, Nikki Haley, US Ambassador to the United Nations visited Vienna on Wednesday to meet with International Atomic Energy Agency (IAEA) officials on a fact finding mission to shed more light on this entire dossier.
As past decades have proven, the appeasement policy adopted by the international community vis-à-vis Iran has failed to halt Tehran's nuclear approach. Iran's nuclear ambitions continue despite the signing of the Joint Comprehensive Plan of Action (JCPOA).
Just recently, Iranian President Hassan Rouhani said it is not a matter of months or weeks, but a matter of days for Iran's nuclear program to be back on track. Ali Akbar Salehi, chief of Iran's Atomic Energy Organization and a vice president of Rouhani, raised the stakes even further by saying Tehran only needs 5 days to return to 20% uranium enrichment.
Haley had talks with IAEA Director General Yukiya Amano and technical experts monitoring Iran's nuclear activities governed by the JCPOA.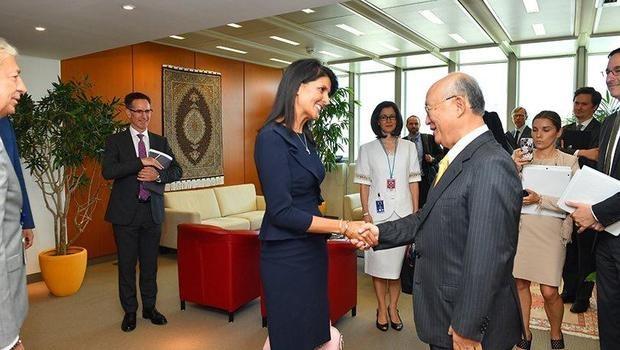 Nikki Haley takes US, Donald Trump administration "concerns" on Iran nuclear deal to IAEA
Following her meeting with Amano, the U.S. United Nations delegation released a statement saying Haley had stressed "concerns about ensuring Iran strictly adheres to its obligations." One of Haley's main missions is to ensure Iran abide to those obligations, and to highlight its violations to the international community.
As Haley emphasized the importance of the IAEA having broad access to Iranian facilities, Tehran's officials, however, responded that the meeting challenged "the independence and credibility" of the inspectors and went as far as describing Haley's visit to Vienna as the "destructive approach of the US Administration."
The Trump administration has certified Iran's technical obedience with the JCPOA, but objected missile test launches and "unprofessional" confrontations provoked by Iranian forces against the U.S. Navy in the Persian Gulf.
Iran's support for terrorism and continued meddling, parallel to increasing human rights violations, provide further reason to believe Iran has no intention to salvage the JCPOA spirit.
There are many who want to salvage the spirit of the Iran deal. Unfortunately, Iran is not one of them.
In the meantime, heated discussions continue on both sides of the Atlantic over Trump's upcoming decision about the fate of the JCPOA.
Iran's report card provides a disturbing past of covert measures regarding its highly controversial nuclear program focused on zones described as military sites. This comprises of even universities, including the Imam Hossein University in Tehran, known to be associated directly to the regime's Revolutionary Guards (IRGC).
Yet come October, there is virtually no need for President Trump to completely tear up the JCPOA. Despite its flaws, if fully and correctly implemented with no room for loopholes and zero tolerance for bending rules or dodging possibilities, the deal actually does enjoy the capability of restricting Iran's nuclear ambitions.
Washington can lead the global community to rightfully demand Tehran open all its sites, military and non-military, to IAEA inspectors. And as explained recently by The Washington Post Editorial Board, "The principal weakness of the nuclear accord is its temporary nature. Most of its provisions will expire in eight to 13 years, leaving Iran free to stockpile an unlimited quantity of nuclear materials."
Thus, the challenge before the Trump administration is "how to extend its restrictions into the future." Congress has taken the lead in this regard through adopting a series of sanctions against Iran, and most specifically blacklisting the IRGC as a Specially Designated Global Terrorist entity. This delivers a significant blow to Iran's economy considering the fact that the IRGC has usurped control over 40% of the entire apparatus.
The international community should also not fall for remarks such as those made by Salehi or Rouhani himself. Considering the drastic economic situation Iran was experiencing due to sanctions prior to the nuclear deal, and despite the restrictions imposed, Tehran actually needs the JCPOA to remain intact, far more than European companies or any other correspondent in this regard.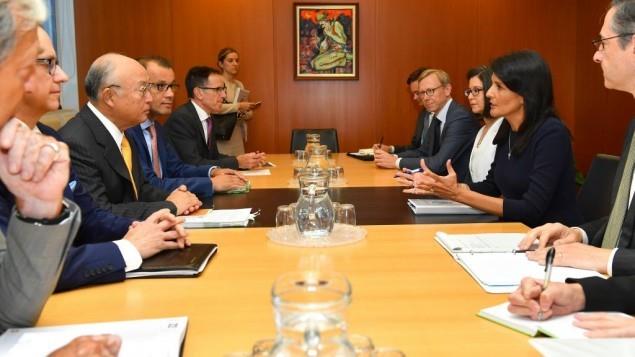 IAEA Director General Yukiya Amano, center left, meeting with US Ambassador Nikki Haley
Yet if implemented correctly, Iran can be both restricted and provided only reliefs on conditions of spending the rendered capital to improve the average Iranians' living standards, and not allocate billions to support terrorism and further pursue nuclear and ballistic missile ambitions.
The Iranian regime understands fully well it will be the single losing party if the reliefs provided by the Obama administration under the JCPOA framework, allowing it to rebound, come to an end. It is only logical that in the highly unlikely scenario of Iran petering out of the JCPOA all parties would prefer to continue their business transactions with America's $19 trillion economy in comparison to Iran's $400 billion. This would entail the risk of ruffling US Treasury Department and souring relations with Washington in general.
With this in mind the Trump administration can adopt and navigate the following countering roadmap:
1) Demand Tehran unconditionally open all military and non-military sites to IAEA inspectors "anytime, anywhere" as promised,
2) Come October find Iran in non-compliance with the JCPOA spirit, yet refrain from completely tearing up the text,
3) Begin implementing all articles of the nuclear deal and extend sunset provisions to prevent Iran from taking advantage of any temporary aspects,
4) Immediately impose the recent Iran sanctions bill without any loopholes, especially on the IRGC as the main element behind Iran's nuclear and ballistic missile drives, support for terrorism and Middle East meddling, and gross human rights violations at home.
As US Secretary of State Rex Tillerson said back in April, "In deed and in propaganda, Iran foments discord… The Trump administration has no intention of passing the buck to a future administration on Iran."