JAKARTA, AP, 22 August 2017 - Indonesia's disaster mitigation agency says the number of dry season fires has jumped to more than 500 and a sixth province has declared a state of emergency.
Spokesman Sutopo Purwo Nugroho said Tuesday that satellite images show 538 fires across 23 provinces, up from about 160 early in the month.
Plantation companies and villagers often set fires deliberately to clear land for planting. They spread easily because a widespread practice in Indonesia of draining swampy peatlands for palm oil and pulp wood plantations has made swathes of land highly combustible.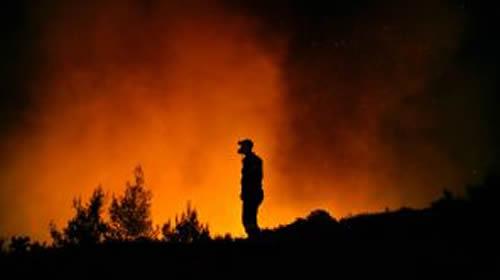 A firefighter tries to extinguish a fire burning
Nugroho said Central Kalimantan was the latest province to declare a state of emergency.
In 2015, record fires burned 2.6 million hectares (6.4 million acres) and blanketed Sumatra, Borneo, Singapore, Malaysia and southern Thailand in health-damaging haze.