BERLIN, Reuters, AUG. 18, 2017 - Germany stands united with Spain in its determination not to allow terrorist attacks stop people living their lives, Chancellor Angela Merkel said on Friday, after a suspected Islamist militant killed 13 people in Barcelona.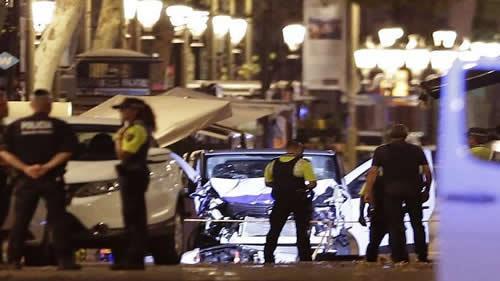 Police officers stand next to the van involved on an attack in Las Ramblas in Barcelona, Spain
"These murderous attacks have once again shown us the full contempt for mankind involved in Islamist terrorism," Merkel said.
"We're united in our resolve not to allow these murders ... stop us living our way of life," she said, adding that Barcelona in particular stood for tolerance, beauty and peaceful encounters between people of different cultures.
"Terrorism may inflict bitter and terribly sad hours upon us, as has happened in Spain, but it can never defeat us," she said.
Merkel said she had spoken to Spanish Prime Minister Mariano Rajoy to extend Germany's condolences.
She also said she had spoken to representatives of the other parties in Germany and they had collectively decided to continue campaigning ahead of a Sept. 24 election but they would forego loud music and hold minutes of silence.