Washington (CNN) July 28, 2017 - President Donald Trump condemned North Korea's launch of an intercontinental ballistic missile on Friday.
"Threatening the world, these weapons and tests further isolate North Korea, weaken its economy, and deprive its people." Trump said in a written statement. "The United States will take all necessary steps to ensure the security of the American homeland and protect our allies in the region."
The United States detected an intercontinental ballistic missile launch out of North Korea at approximately 10:45 am ET on Friday, the Pentagon confirmed to CNN -- Pyongyang's second such test this month.
The missile was launched from Mupyong-ni and traveled about 1000 km before splashing down in the waters off the Japanese coast, according to the Pentagon, which is working with interagency partners on a more detailed assessment.
The North American Aerospace Defense Command (NORAD) determined the missile launch from North Korea did not pose a threat to North America.
"Our commitment to the defense of our allies, including the Republic of Korea and Japan, in the face of these threats, remains ironclad. We remain prepared to defend ourselves and our allies from any attack or provocation," a statement from the Pentagon said.
Japanese Prime Minister Shinzo Abe told Japanese broadcaster NHK: "I have received the first report that North Korea again launched a missile and it possibly landed inside the exclusive economic zone."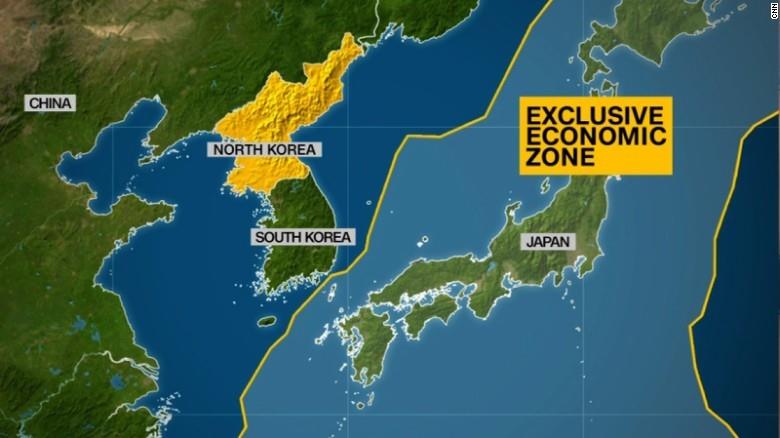 The North Korea threat. What can Trump do?
Japan's Chief Cabinet Secretary Yoshihide Suga said the missile launched by North Korea possibly flew for approximately 45 minutes.
Suga told reporters there is no damage to any vessel or aircraft.
South Korea's joint chiefs of staff said they estimate that the intercontinental ballistic missile is more advanced than one launched last month based on the range it traveled.
"The altitude is about 3,700 km and the flying distance is about 1,000 km. It is estimated that it was a more advanced type of an ICBM compared to the previous one based on the range," a statement to CNN said.
The chairman of the Joint Chiefs of Staff, General Joseph F. Dunford, Jr., and the commander of US Pacific Command, Admiral Harry Harris, called the South Korean Joint Chiefs of Staff Chairman General Lee Sun Jin in the wake of North Korea's test to express the US' "ironclad commitment" to its alliance with South Korea and discuss military response options.
Hours after that call, the US and South Korean military conducted a live fire exercise as a show of force in response to the missile test, according to Pentagon spokesman, Capt. Jeff Davis. The exercise included firing missiles into the ocean.
Both militaries conducted a similar show of force, after North Korea's first ICBM test in early July.