Reuters, Jun 30, 2017 - A gunman fired shots inside a New York City hospital on Friday in a burst of violence that injured several people and killed the suspect, police said, as local media reported at least three doctors were among the wounded.
Few details about the shooting at Bronx-Lebanon Hospital were immediately available from official sources.
The New York Times, citing information furnished by an unnamed city Fire Department official, reported that three physicians had been shot, though their conditions were unknown.
As least one of the wounded doctors was treated by people inside the hospital who fashioned a tourniquet from an emergency fire hose, according to the official, the Times said.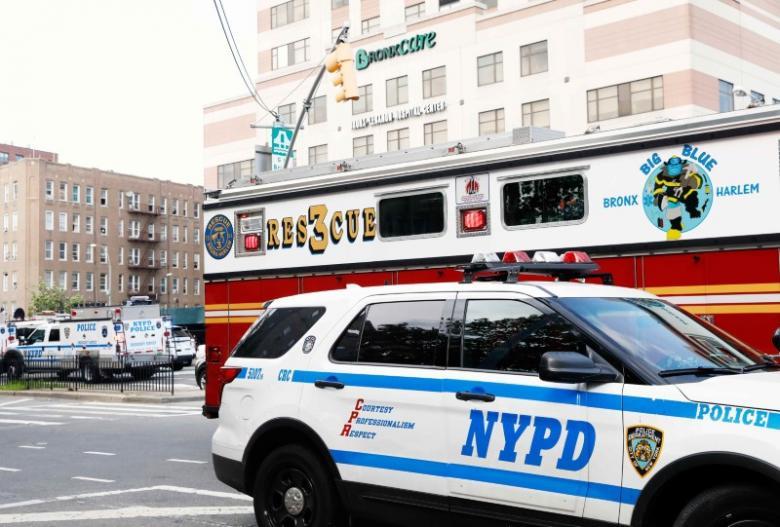 Police and Fire Department vehicles line the streets after an incident in which a gunman fired shots inside the Bronx-Lebanon Hospital in New York City, U.S. June 30, 2017.
As many as five or six people may have been wounded, the Times said, citing a law enforcement official who spoke on condition of anonymity. It took police some time to secure the area, preventing emergency medical workers from immediately entering, the Times said.
CBS News reported that a gunman, believed to be a former hospital employee, was armed with a rifle and had barricaded himself inside the building.
New York Police Department spokesman Peter Donald posted a message a short time later on Twitter, saying, "One shooter is deceased at the hospital." The NYPD's official Twitter feed then posted an update saying, "The shooter is deceased. Several others are injured regarding the shooting at Bronx Lebanon Hospital."
On Twitter, the New York Police Department told members of the public to avoid the area around the hospital, located in the borough of the Bronx at 1650 Grand Concourse.
Police conducted a room-by-room search, telling civilians to turn off the lights and remain in place, according to an account posted on Twitter by Felix Puno, who identified himself as patient in the radiology department on the fourth floor of the hospital.
"Building is in complete shut down, I was in the middle of getting an x-ray when security alerted us to the active shooter situation," Puno tweeted.
New York Mayor Bill de Blasio was briefed on the shooting and was on his way to the scene, the mayor's Twitter account said.
Bronx Lebanon hospital, about one mile (1.6 km) north of Yankee Stadium, describes itself as the largest voluntary, non-profit health care system serving the South and Central Bronx, as well as among the largest providers of outpatient services in New York City.