Manchester, England, The New York Times, MAY 23, 2017 -- The Islamic State claimed responsibility on Tuesday for a bombing at Manchester Arena, the deadliest terrorist assault in Britain since 2005, as the death toll rose to 22.
The bomb tore through an entrance hall of the 21,000-seat arena around 10:30 p.m. on Monday as a concert by the American pop star Ariana Grande was ending and as crowds of teenagers had begun to leave, many for an adjacent train station.
Pandemonium ensued, as panicked adolescents struggled to connect with parents and guardians waiting outside to pick them up. As well as those killed, dozens were wounded in the attack; 59 were hospitalized, some with life-threatening injuries.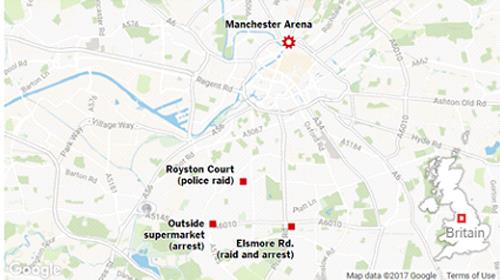 Raids and Arrests
The police said they were following leads and poring over surveillance footage to determine if the assailant — who died in the attack — had acted with any accomplices. Shortly before noon on Tuesday, the police announced that they had arrested a 23-year-old man in the Chorlton-cum-Hardy neighborhood, southwest of the city center.
Hours later, the police set off a controlled explosion and raided a house in Elsmore Road, in the Fallowfield district, about 3.5 miles south of the arena.
A neighbor, Lina Ahmed, said that a young man lived with his parents and younger siblings at the house that was raided. "They didn't really speak to anyone," she said. "They were nice people if you walked past."
Children, teenagers and adults tell of seeing bodies on the ground and of scrambling to escape the Manchester Arena when a bomb exploded after an Ariana Grande performance.
Residents were stunned by the police operations. "We've been watching this kind of attack happen in Paris," said a neighbor, Thomas Coull, 17. "We didn't expect it to happen on our doorstep, literally."
He was with a friend, Bilal Butt, also 17, who said: "It's a shock. You see it in other places and then suddenly it hits you in your own neighborhood."
The British government did not make any immediate comment on the claim by the Islamic State, which said on the social messaging app Telegram that, "One of the soldiers of the caliphate was able to place an explosive device within a gathering of the crusaders in the city of Manchester." The SITE Intelligence Group, which monitors militants' communications, also provided a translation of the claim. The Islamic State statement did not identify the bomber.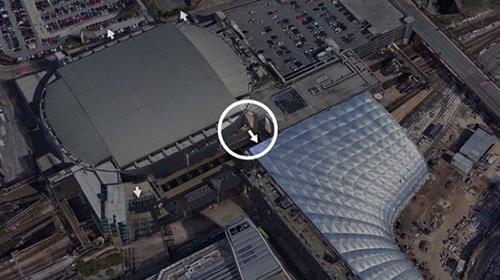 Location of the Blast
"We now know that a single terrorist detonated his improvised explosive device near one of the exits of the venue, deliberately choosing the time and place to cause maximum carnage and to kill and injure indiscriminately," Prime Minister Theresa May of Britain said in a televised statement.
"The explosion coincided with the conclusion of a pop concert, which was attended by many young families and groups of children," Mrs. May added. "This attack stands out for its appalling, sickening cowardice — deliberately targeting innocent, defenseless children and young people who should have been enjoying one of the most memorable nights of their lives."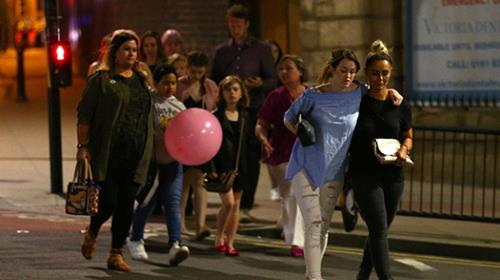 Many of the concertgoers were young children
The terrorist attack was the worst in the history of Manchester and northern England, and the worst in Britain since 2005, when 52 people died, along with four assailants, in coordinated attacks on London's transit system.
"After our darkest of nights, Manchester is today waking up to the most difficult of dawns," Mayor Andy Burnham told reporters. "These were children, young people, and their families. Those responsible chose to terrorize and kill. This was an evil act."
Security experts suggested that the use of a suicide bomb in Manchester, if true, would display a level of sophistication that implied collaborators — and the possibility that other bombs had been fabricated at the same time.
ISIS has claimed responsibility for the deadly explosion at an arena in Manchester, England, where the American pop singer Ariana Grande had been performing on Monday night.
"This type of target was absolutely foreseeable, as Islamic State has increasingly been highlighting in its propaganda that scores of children have been killed in coalition and Russian strikes targeting Islamic State positions in Iraq and Syria," said Michael S. Smith II, a terrorism analyst who specializes in the Islamic State's influence efforts and who is writing a book on its external operations.
All of that content is "intended to stimulate thinking about executing retributive attacks among Islamic State supporters here in the West," Mr. Smith said.
Chris Phillips, a former leader of the National Counter Terrorism Security Office in Britain, told the BBC: "It has involved a lot of planning — it's a bit of a step up. This is a much more professional-style attack."
Another former member of that office, Lee Doddridge, said that "alarm bells for me are ringing at the moment because this would have appeared to have taken quite a considerable amount of planning."
The Islamic State claimed responsibility for the March 22 attack in which a British man fatally struck four pedestrians on Westminster Bridge before killing a police officer outside Parliament. Two British men, converts to Islam, were behind a May 2013 attack on a soldier, Lee Rigby, who was hacked to death outside an army barracks in southeast London.
Richard Barrett, former director of global counterterrorism operations at MI6, Britain's foreign intelligence agency, said that the security and police forces were stretched, having to monitor more than 400 people returning from jihad in the Middle East, and 600 or so others who had tried to go but had been stopped. "So that's already 1,000 people ," without taking into account other sympathizers in Britain, he said.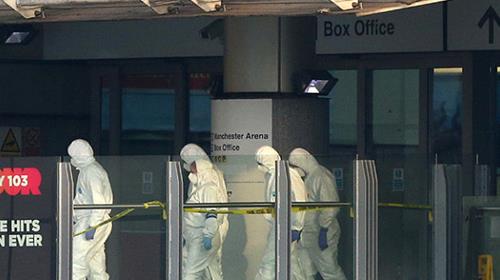 Forensics experts at the arena on Tuesday
"It's not that complicated to build a bomb," Mr. Barrett told the BBC. "I'm not sure it requires someone to go to Syria to get that expertise."
Mr. Barrett urged the authorities to engage more with the Muslim communities of Britain "to understand why people do this," saying that information from local communities was more important in stopping terrorism than putting up barriers or bombing in the Middle East. "It's about engaging the community and letting the community inform us about how to avoid attacks," he said.
"The external stuff," he added, "is easier to do but is not protecting us."
President Trump, speaking at a news conference in the West Bank city of Bethlehem on Tuesday with Mahmoud Abbas, the president of the Palestinian Authority, was among the global leaders to condemn the attack, and he castigated what he called the "losers" responsible.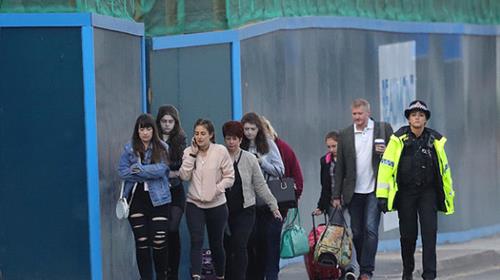 Concert-goers leaving a Manchester hotel on Tuesday
The attack came in the final stretch of campaigning before a general election in Britain on June 8, and the country's political parties agreed to suspend campaigning on Tuesday. Opposition politicians — Jeremy Corbyn of the Labour Party, Tim Farron of the Liberal Democrats and Nicola Sturgeon of the Scottish National Party — joined Mrs. May in expressing their grief and condolences.
It was unclear what effect the attack might have on the election. Some political experts suggested it would help Mrs. May, who, in her previous role as home secretary, was in charge of Britain's domestic security and is generally perceived as a tough leader. But difficult questions are already being asked about what security gaps might have abetted the assault, and what could have been done to prevent it. Mrs. May led a meeting of the government's crisis response committee Tuesday morning and will travel to Manchester later on Tuesday.
Britain is no stranger to terrorism. It suffered the attack in London in March, and the authorities say they have broken up terrorist cells lately. Britain's threat level for international terrorism has for some time been at its second-highest level, indicating that an attack had been considered highly likely.
Manchester was the site of an Irish Republican Army bombing in 1996 that devastated the city center but caused no fatalities, and Europe as a whole has become all too familiar with the human toll of terrorism in recent years. But the Manchester attack on Monday caused particular anger and pain: It targeted a concert spilling over with girls in their teens or younger, with their lives ahead of them, out for a fun night.
Manchester was the site of an Irish Republican Army bombing in 1996 that devastated the city center but caused no fatalities, and Europe as a whole has become all too familiar with the human toll of terrorism in recent years. But the Manchester attack on Monday caused particular anger and pain: It targeted a concert spilling over with girls in their teens or younger, with their lives ahead of them, out for a fun night.