ATHENS/LONDON, Reuters, May 16, 2017 - Greece is eyeing its first sovereign bond issue in three years as early as July if its international lenders specify longer term debt relief for the country, and the European Central Bank includes it in its bond-buying program.
Sources familiar with the plan say Athens wants to test market appetite for Greek debt before a current bailout program, worth up to 86 billion euros, expires in mid-2018.
Greece's last venture onto international bond markets was with two issues in 2014, a year before it plunged into crisis in a tense standoff between lenders and Greece's newly elected left-wing government which vowed to end bailout-induced austerity.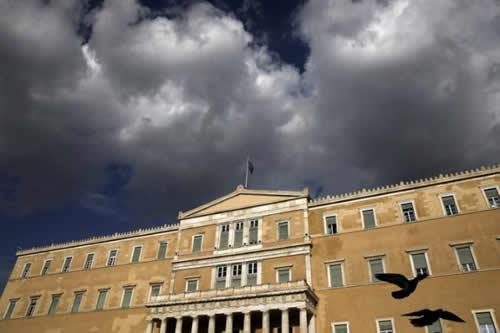 A Greek national flag flutters atop the parliament building in Athens, Greece April 11, 2016.
That part of the crisis ended with the country signing up to a new bailout, its third since 2010.
"We are considering swapping a five-year (bond) which was issued in 2014, with a new five-year bond, and possibly raising a small amount (over and above) the same issue," a Greek government official told Reuters on condition of anonymity.
The 2014 five-year bond raised 3.0 billion euros.
The move, Greek officials said, is contingent on lenders specifying how the country could restructure an existing mountain of debt, which at 179 percent of gross domestic product is the highest in the euro zone. Euro zone finance ministers are scheduled to discuss Greece on May 22.
A second bond issue could follow by the end of the year, other Greek officials said without providing details. No deal at the EU meeting on Monday could mean pushing back the issue to the autumn, another official said.
Three primary dealers in London confirmed Greek authorities had already started talking on a potential market return.
GREEK YIELDS DROP
Borrowing costs have dropped steadily since Greece and its lenders agreed in early May on further economic reforms to unlock remaining bailout funds.
Greek government bonds are the best performing in the euro zone so far this year, with returns of more than 11 percent, according to Thomson Reuters data.
"I'd say the Greek government bond trade is no longer at its most attractive given how far yields have already come down, but it still has legs."
"We would certainly look at participating in a new bond deal, depending on the levels of course," said Louis Gargour, chief investment officer at LNG Capital, a London-based hedge fund.
The yield on Greece's 5-year bond, maturing in 2019 was at 5.53 percent on Tuesday, almost one percentage point lower since the preliminary deal for new reforms was brokered on May 2.
Ten year paper -- an indication of the cost for the government to raise long-term cash in financial markets -- is at its lowest level since the country's debt was restructured in March 2012, according to Tradeweb data.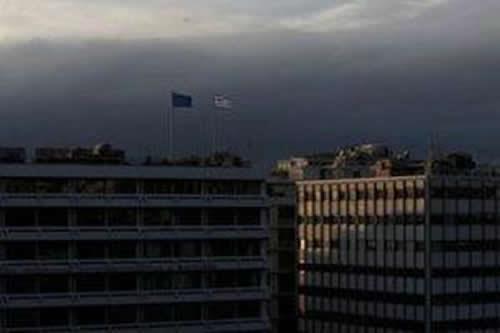 FILE PHOTO, A Greek national flag (R) and a European Union flag flutter atop the Finance Ministry building during sunset in Athens, Greece March 5, 2015.
The country's debt agency recently restarted talks with their primary dealers about the possibility of a bond market return, dealers said.
"I still think it is too early, but at least we have started talking about it again whereas a few months ago it wasn't even on the agenda," a dealer said on condition of anonymity.
That dealer, and a second, cautioned against Greece rushing into it: "While I think a deal (with lenders) is possible, we need to see a lot more in terms of progress on the bailout agreement to be convinced that it is the right time to pull the trigger," the dealer said.