AFP, 13 MAY 2017 - President Hassan Rouhani faced accusations of a failed nuclear deal which has not benefitted the Iranian people, during the final televised debate with his rivals before the country's presidential election next week.
The president is believed to be the frontrunner in the May 19 election but the failure of the 2015 accord to bring economic gains for the public has brought an opening that his main competitors, powerful conservative cleric Ebrahim Raisi and hardline Tehran mayor Mohammad Bagher Qalibaf, have sought to exploit.
In the most heated of the three debates, his opponents focused on his inability to deliver the jobs and growth he said would follow the unlocking of billions of dollars worth of assets.
"The country is facing an economic crisis, with unemployment, recession and inflation," Qalibaf, a former Republican Guard and police chief, said. "A tree that has not borne any fruit in four years will not yield anything positive in the future."
The economic crisis can be seen in pictures of homeless people sleeping in graves outside of the capital Tehran, images that shocked the nation and Rouhani himself. The poor, both young and old, are forced to search the rubbish for food or cleaning car windows for loose change.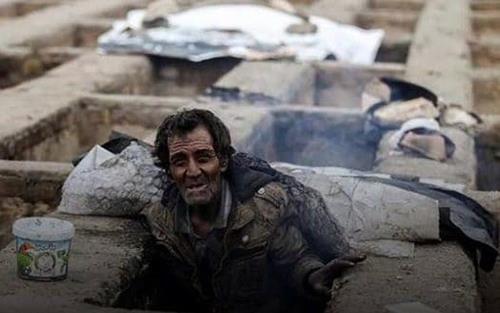 Iranians have been shocked by images of people sleeping in a graveyard in Shahriar, Iran, Dec. 27, 2016.

The president found himself heckled and his vehicle beaten by angry miners last week as he visited the site of a coal mine disaster that killed at least 42 people, as they used the opportunity to complain about lay-offs and late payments from the state.
Rouhani, who is seeking a second four-year term, has promised during his campaign to normalise relations with the west, greater foreign investments and a revival of tourism.
Raisi has campaigned on job creation and bigger cash handouts for the poor, but he has remained vague on other issues, including foreign policy. He has however committed to uphold the nuclear accord despite reservations.
Raisi, seen by some as a protégé of Supreme Leader Ayatollah Ali Khamenei, is the president's main challenger but is still a very distant second with less than a week to go.
Historically, the more Iranians who cast ballots the greater the chance a reformist or a moderate like incumbent President Rouhani will be elected.
However, Rouhani's bid for another four-year term comes amid widespread apathy among younger voters.
"I like Rouhani, but I do not want to vote at all," said Aidin Yahyavi, 32. "Years after graduating, I am still unemployed and my parents support me."
If no candidate wins 50 per cent of the vote, there will be a run-off between the top two one week later.