Maryam Rajavi met and held talks with Mr. Gilbert Mitterrand on Saturday, April 29, 2017, in Auver-sur-Oise.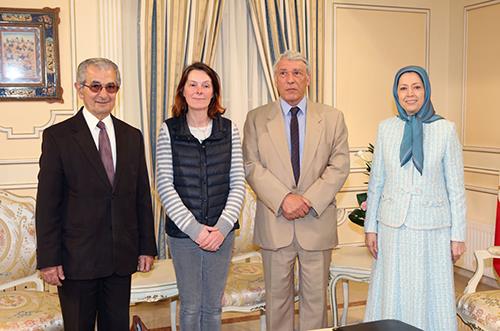 Mr. Mitterrand is the son of the late French President François Mitterrand, President of the France Libertés Foundation and one of the most renowned personalities in France.
They discussed the latest developments in the Middle East including the Iranian regime's destructive role in prolongation of the carnage of Syrian people and its meddling in other countries in the region. They underlined the need to blacklist the Iranian Revolutionary Guards Corps as a terrorist organization. Mr. Mitterrand said the IRGC's terrorist designation would be a significant step, signaling the end of the clerical regime's rule.
Gilbert Mitterrand reiterated his support for the Iranian people's Resistance for freedom under Mrs. Rajavi's leadership. What is taking place in Iran under the name of elections is just a mockery and the show put on by "reformists" and "hardliners" does not deceive anyone, asserted Mr. Mitterrand.
Maryam Rajavi said Gilbert Mitterrand and his staunch support for the Iranian Resistance is a reminder of the late Danielle Mitterrand who courageously stood up and defended the rights of the Iranian people and Resistance in their most difficult times, something that will never fade away from the historical memory of the Iranian nation.
Gilbert Mitterrand recently headed a delegation from the France Libertés Foundation in a visit to Albania, where he met the PMOI freedom fighters. Mr. Mitterrand was a member of the French National Assembly for three terms.