Paris (CNN) April 21, 2017 - In a country riven by increasing divisions, Thursday's shooting on Paris' Champs Elysees, which left one police officer dead, has the potential to upend an already contentious and unpredictable election.
With a record number of voters still undecided, analysts say the shooting, by a suspect said to be known to French security services for radical Islamist activities, could play into the narrative pushed by the far-right.
"This recasts the final hours of the campaign, puts law and order and fighting terrorism, immigration and national identity at the heart. It makes it much more of a battle between Marine Le Pen and those who oppose her," said CNN's Melissa Bell.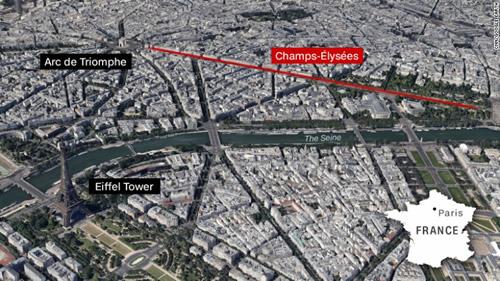 Map paris champs elysees shooting
Far-right candidate Marine Le Pen's Front National party has made immigration and the perceived threat of Islam a central plank in her campaign.
As news of the shooting broke, Le Pen was taking part in live televised debate with 10 other candidates. She immediately responded by saying security in the country was failing its citizens.
"Not everything has been done to protect our citizens. What we need is the resources to make sure we can combat the Islamist terrorism. I don't want our youth to get used to living with this danger. Naivety is over," she said.
Candidates have just one day before French law brings an end to campaigning ahead of the first round of voting Sunday.
Three candidates -- Le Pen, Center-right candidate Francois Fillon and centrist independent, Emmanuel Macron -- announced they were suspending their campaigns.
Fillon said he wanted to show "solidarity" with the police, who appear to be the prime targets in the attack. Along with one officer shot and killed, two others were wounded.
Macron also announced he would cancel rallies in Rouen and Arras to free up security forces who would need to be mobilized "to ensure the safety of our citizens," he said in a statement