Iran Commentary, APRIL 9, 2017 - Following the U.S. missile attack in Syria targeting the assets of Levant dictator Bashar Assad, Arab and Syrian opposition media outlets have published details depicting the presence of Iran's elements in Assad's bases, including the Shayrat airfield.
Basel Ezzatedin, Director of the Qasioun News Agency office in the city of Homs, in an interview with Iranian opposition INTV satellite television described how the Shayrat airfield has been used by Iran's Revolutionary Guards (IRGC).
"The Shayrat airfield, located east of Homs, is considered a vital and strategic base for the Assad regime. Iran's IRGC officers are present in this site and they have been behind a series of activities for some time now, all carried out through [Assad's] experts and officers," he explained.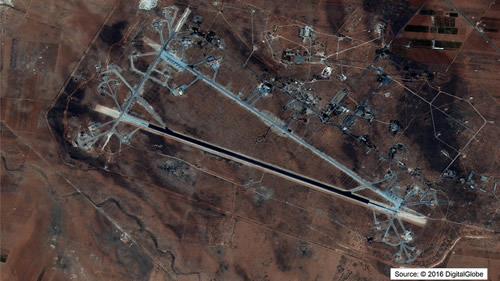 "They issue any and all orders to Assad's officers through this airfield. This base is used to carry out Iran's will in Syria. Iranian commanders are stationed in the airfield's hotel. The Shayrat military airfield is one of the most important training bases in central Syria and most of the military attacks were launched form this site," Ezzatedin continued.
"The majority of airstrikes launched against Homs and other liberated areas are carried out through this base. This airfield was specifically used by the Sukhoi warplanes piloted by Assad's elements to launch the recent chemical attack against Khan Sheikhoun, leaving 100 people dead… nearly 20 days ago, a military delegation linked to the IRGC inspected the Shayrat base. This delegation consisted of 15 Iranian officers, including technical experts, pilots and senior ranking officers. Through this visit Iran sought to evaluate its support for Assad's air force. The IRGC provides a variety of bombs made in Iran for the Assad regime's air force in this airfield… A number of Assad's forces were killed in the recent U.S. airstrike, including Brigadier General Khaled Isa Ebrahim… Six other individuals were also killed and 22 Assad elements were left wounded… of course, IRGC members are present in most Syrian airbases. They are briefed and instructed by IRGC Quds Force commander Qassem Suleimani who is literally in charge of directing Iran's terrorism and instructing Bashar Assad," he added