AFP, March 31, 2017 - The European Union has demanded that Britain make "significant progress" on its divorce from the bloc before talks on a trade deal can start, as it unveiled its tough Brexit negotiating guidelines on Friday.
EU president Donald Tusk rejected British Prime Minister Theresa May's demand for immediate parallel negotiations made in her historic letter triggering the Brexit process on Wednesday.
Taking a firm tone, Tusk said London must make headway on the bill for the split, safeguarding the rights of three million European citizens living in Britain and also the border in Northern Ireland.
The clash underscored the likely tensions in the wrenching divorce as Britain prepares to be the first country to leave the crisis-hit EU in its 60-year history.
The fallout from Brexit keeps coming for London, with Spain pressing its claim to Gibraltar and Scotland formally calling for a second independence referendum.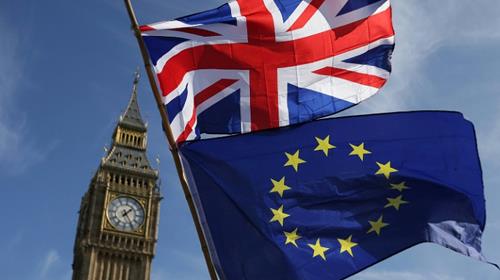 Britain voted to leave the European Union in a referendum in June 2016
"The EU 27 does not and will not pursue a punitive approach. Brexit itself is already punitive enough," Tusk said as he revealed his plans in Malta, which currently holds the EU rotating presidency.
The draft guidelines set the tone for the coming two years of Brexit talks and will now be sent to the capitals of the 27 remaining EU countries ahead of a special summit in Brussels on April 29.
Tusk's guidelines appeared to offer a small compromise in saying that some trade talks could eventually be held at the same time, but he insisted on a "phased approach" during the Brexit process.
"Starting parallel talks on all issues at the same time as suggested by some in the UK will not happen," the former Polish premier said.
"Once and only once we have achieved sufficient progress on the withdrawal can we discuss the framework for our future relationship," Tusk said.
- 'Robust positions' –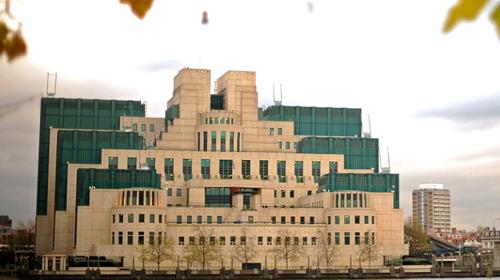 British Prime Minister Theresa May has talked up the importance of MI6 and other intelligence agencies to the rest of Europe, warning that a failure to clinch a trade deal would weaken the fight against terrorism
EU big powers France and Germany have led opposition to the parallel talks that May had demanded.
But Britain is keen to get things moving as quickly as possible, fearing the 'cliff edge' of an exit from the EU's single market in March 2019 without a new deal.
London said it had expected a "robust" position in the EU guidelines.
"We've been clear for some time now we expected robust positions to be taken at the start. The negotiation will get under way and let's see where we end up," a spokesman for May said.
Brexit got off to a rocky start due to May's warning in her letter that failure to clinch a deal on trade would affect Britain's cooperation on terrorism and security.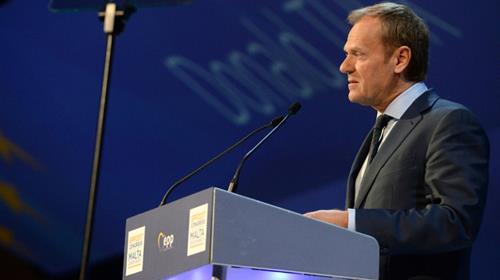 European Council chief Donald Tusk delivers a speech during the European People's Party congress (EPP) in Malta, on March 30, 2017
British Foreign Secretary Boris Johnson, in Brussels as NATO ministers met US Secretary of State Rex Tillerson, said London was committed to European security and that it was "not some bargaining chip" in the Brexit talks.
Tusk added he was sure that a "wise and decent" Britain would not do so.
Maltese Prime Minister Joseph Muscat meanwhile called for the fate of EU citizens in Britain not to be used in the same way.
Britain's very unity continues to be at stake in the negotiations.
The EU's guidelines state that Spain must have a say over whether any post-Brexit deal applies to the British territory of Gibraltar, over which London and Madrid have rowed for 300 years.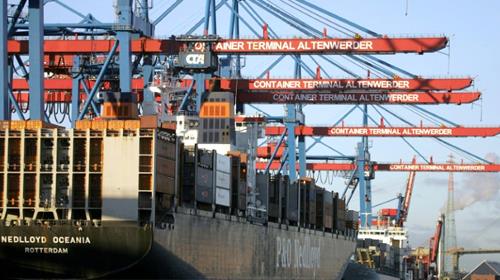 EU leaders have warned that Britain must agree on the conditions of its exit from the European Union before the bloc can discuss a trade deal
Scotland's government meanwhile made a formal request to London for a second vote on Scottish independence, given that a majority of Scots voted to stay in the EU.
"The people of Scotland must have the right to choose our own future," said First Minister Nicola Sturgeon, who has called for a new vote by early 2019.
- 'Prepared' if talks fail –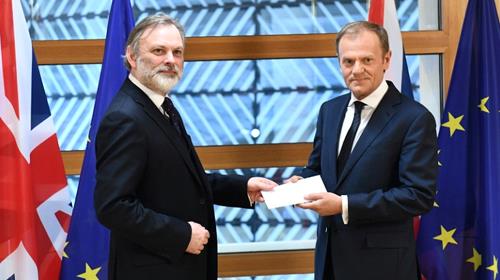 British diplomat Tim Barrow (left) delivered the UK's formal notice to leave the European Union during a meeting with European Council President Donald Tusk on March 29, 2017
EU-UK talks could start as soon as May 22 when the bloc's Brexit negotiator Michel Barnier is expected to get a mandate from the EU 27, although "pre-negotiations" on the language and format of the discussions could begin sooner.
European officials suggested enough progress could be made on the divorce arrangements by the end of the year to begin trade talks, although EU leaders will have the final say.
But time will be short as France's Barnier has said that a draft deal is needed by October 2018 in time for it to be ratified by the European Parliament and member states.
The EU guidelines say they are also open to a transitional arrangement after Brexit as a "bridge" to a future deal some years down the line.
But the bloc insisted that it would have to be under EU rules and the European Court of Justice, likely to be politically toxic in Britain where national sovereignty was a key issue in the Brexit referendum.
The EU said meanwhile it would "prepare itself to be able to handle the situation also if the negotiations were to fail."