Hill-2 Feb. 2017- Iran is dominating "more and more of Iraq," despite U.S. efforts to secure the country, President Trump tweeted late Wednesday.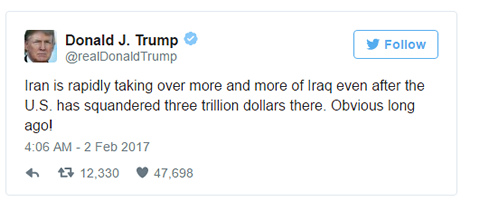 Trump's comments came the same day that the White House condemned a recent ballistic missile test by Iran, and put the country "on notice," though the administration did not specify what actions it would take.
"The Trump administration condemns such actions by Iran that undermine security, prosperity, and stability throughout and beyond the Middle East and place American lives at risk," National Security Advisor Michael Flynn said during the daily White House press briefing.
"As of today, we are officially putting Iran on notice."
As a presidential candidate, Trump criticized a 2015 international agreement to curb Iran's nuclear program, and vowed to abandon the agreement if elected.