Reuters, Jan 24, 2017, A powerful storm that killed at least 21 people in the southern United States over the weekend was expected on Tuesday to bring heavy snow and wind gusts to the Northeast, causing school closings, treacherous driving conditions, and power outages.
The storm, known as a nor'easter, was forecast to bring snowfalls of up to 9 inches (23 cm) along with icy rains and wind gusts of 40 mph (65 kph) to northern Pennsylvania through central New York and into Maine on Tuesday morning, the National Weather Service said.
"Only travel in an emergency," it said in an advisory.
School districts across the region canceled or delayed the start of classes on Tuesday due to the icy road conditions. Local news outlets showed early-morning footage of vehicles covered with a thick glaze of ice and snow-covered roads.
"I didn't want a snow day but I didn't want to drive in this mess either," Lauren Piechota, a teacher in Vermont, said on Twitter.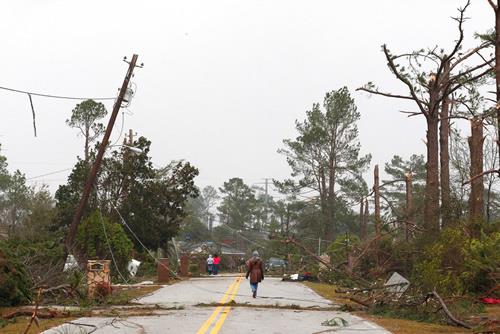 Residents survey damage after a tornado struck a residential area on Sunday in Albany, Georgia.

Flood advisories and watches were also in effect for coastal areas throughout New England until midday as rain totals for the last couple of days were expected to reach 3 inches (8 cm), the weather service said.
About 15,000 customers were without power early on Tuesday morning, according to online reports by utility companies in the region.
"Scattered power outages are expected as the slushy accumulations and ice will weigh down trees and power lines," the weather service said.
The storm unleashed deadly twisters in Mississippi and Georgia over the weekend before turning cooler as it advanced on the Northeast on Monday and into Tuesday. It was expected to head into Canada on Wednesday, the service said.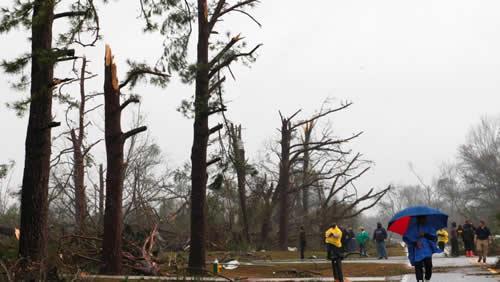 Powerful storm hammers U.S. East with heavy snow, wind gusts

The weather system killed 16 people on Sunday in Georgia, according to a tally by the Storm Prediction Center in Oklahoma.
Georgia Governor Nathan Deal extended a state emergency declaration to 16 counties and said President Donald Trump had called him on Sunday and promised he would be "ready and willing to respond" to an expected request for federal disaster relief.