Opposition bloc tells Al Jazeera it has yet to receive a draft of a truce plan agreed by Russia and Turkey

29 December 2016 - The fate of a nationwide truce for Syria remains unclear with the Syrian National Coalition, the country's main political opposition bloc, telling Al Jazeera that it has still not received a draft plan from either Turkey or Russia
Turkey's state-run Anadolu news agency had reported on Wednesday that a ceasefire plan had been submitted to Syria's rival parties and could come into force as early as midnight.
But the coalition, which represents the Free Syrian Army and other rebel groups fighting across the country, told Al Jazeera that it was yet to receive a draft of the document.
Labib Nahhas, the foreign relations head of the powerful Ahrar al-Sham rebel group, said the faction was "aware of ongoing discussions between Russia and Turkey about a nationwide ceasefire".
He said rebel factions had not been presented with any official proposal.
"Russia wants to exclude Eastern Ghouta from the ceasefire, which is not acceptable," he told the AFP news agency, referring to a rebel-held area outside Damascus.
Meanwhile, sources told Al Jazeera that a new meeting was planned in Ankara on Thursday, this time between Syrian rebels, Turkey and Russia.
Mevlut Cavusoglu, Turkey's foreign minister, told broadcaster A Haber in an interview that Ankara was aiming to establish the ceasefire before the new year.
Al Jazeera's Charles Stratford, reporting from Gaziantep in neighboring Turkey, said it remained unclear which opposition groups had been taking part in previous negotiations.
"A senior official from the Free Syrian Army says that the FSA has rejected a proposal by Russia and that Douma, one of its strongholds near the capital Damascus, would not be included in the ceasefire agreement," Stratford said.
On Wednesday, a source requesting anonymity had told Anadolu that "terrorist organizations" would be excluded from the deal.
This would most certainly exclude the Islamic State of Iraq and the Levant (ISIL) group
If successful, the latest proposal could form the basis for upcoming political negotiations between Damascus and the opposition, overseen by Russia and Turkey in the Kazakh capital Astana, Anadolu added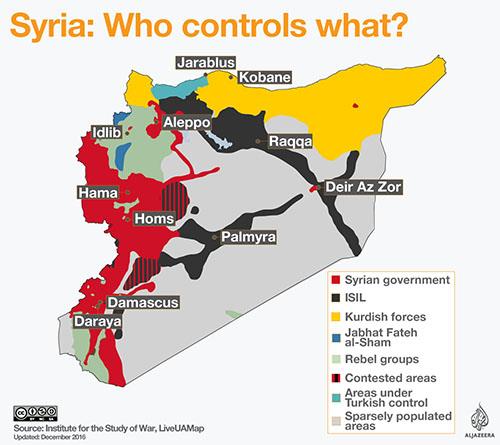 Ankara has hosted a succession of closed-door talks between Russia and Syrian opposition rebels over the past weeks.
Ankara and Moscow have been on opposing sides in the Syrian civil war, with Turkey seeking to oust President Bashar al-Assad, who is backed by Russia and Iran
The Syrian civil war started as a largely unarmed uprising against Assad in March 2011 but quickly developed into a full-on armed conflict.
Staffan de Mistura, the UN special envoy to Syria, estimated in April that more than 400,000 Syrians had been killed since 2011.
Calculating a precise death toll is difficult, partially owing to the forced disappearances of tens of thousands of Syrians whose fates remain unknown.
Almost 11 million Syrians - half the country's prewar population - have been displaced from their homes.
Source: Al Jazeera and news agencies