MEXICO CITY - CBS News- 21 Dec. 2016- The San Pablito fireworks market was especially well stocked for the holidays and bustling with hundreds of shoppers when a powerful chain-reaction explosion ripped through its stalls, killing at least 29 people and leaving dozens more badly burned.
The third such blast to ravage the market on the northern outskirts of Mexico's capital since 2005 sent up a towering plume of smoke that was lit up by a staccato of bangs and flashes of light. Once the smoke cleared, the open-air bazaar was reduced to a stark expanse of ash, rubble and the charred metal of fireworks stands, casting a pall over the country's Christmas season.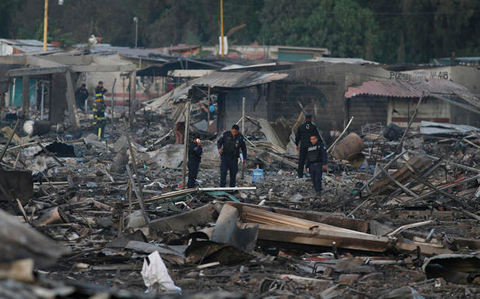 Local policemen walk through the scorched ground of the open-air San Pablito fireworks market
State Health Secretary Cesar Nomar Gomez Monge said 72 people were being treated for injuries including severe burns, in some cases over 90 percent of their bodies. Those hospitalized included 10 children.
Authorities said an investigation into the tragedy had been opened.
"We are going to identify who is responsible," Gov. Eruviel Avila said.
Video of the blast showed a dramatic staccato of rockets exploding in flashes of light, leveling the open-air San Pablito Market in Tultepec in Mexico State as it bustled with shoppers stocking up on fireworks to celebrate Christmas and New Year's.
Vendors' stands were reduced to piles of rubble, ash, and charred metal. It was the third devastating explosion and fire to ravage the market since 2005 and officials still have not said what caused this latest blast.
Tultepec Mayor Armando Portuguez Fuentes said the market was especially well stocked because demand for noisy firecrackers and rockets soars this time of year.
"We are obviously in the high season," Portuguez said. "There was more product than usual because we are a few days away from Christmas, a few days away from New Year's, and those are the days when the products made here are consumed the most."