Reuters, Nov 6, 2016 - Bulgarians began voting on Sunday to choose the country's next president in a highly contested election that could trigger political instability in the Black Sea state and push it towards closer ties with Russia.
Opinion polls show Tsetska Tsacheva, 58, the center-right GERB ruling party candidate, is likely to narrowly win the ballot but lose a subsequent runoff to Rumen Radev, 53, a Socialist Party ally who wants to end European Union sanctions against Moscow.
"The vote on Sunday will show whether we have the right to rule the country in the next two years," Prime Minister Boiko Borisov, GERB's leader, told supporters at the close of the campaign.
If Tsacheva does lose, Radev's Socialists and other opposition groupings could try to unseat the GERB party's minority government and trigger early parliamentary elections, observers say.
That would lead to months of political uncertainty and a further slowdown in reforms, much needed after the collapse of Bulgaria's fourth-largest bank and massive anti-corruption protests that helped GERB win parliamentary elections in 2014.
Public disappointment over the progress of reform eroded support for GERB, while Tsacheva is seen as lacking the charisma of Prime Minister Borisov.
"My choice is General Radev because he is a man of honor, who will work to revive the Bulgarian army and he will not be a servant of foreign countries," Georgi Danailov, 74, a retired military officer, said after casting his ballot in the Sofia district of Mladost.
Voting started at 7 a.m. local time (0500 GMT) and polls close at 8 p.m.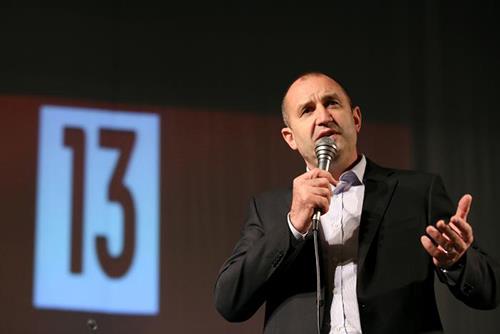 Latest opinion polls showed parliament speaker Tsacheva winning with 27.2 to 26.3 percent of the vote, against Radev's 22.5 to 23.1 percent.
"I'm not happy with my choice because I had to choose between the lesser of several evils," 39-year-old teacher Reneta Braykova said, pointing out that she cast her vote for Tsacheva.
Nineteen other candidates are also running and most polls show Radev could win a runoff vote on Nov. 13, which has to be held between top two contenders if no one wins an overall majority.
Radev, a former air force commander, has campaigned largely on a promise of closer ties with Moscow, arguing the small European Union state - fully dependent on Russian energy - should hedge its bets when it comes to strategic alliances.
Bulgaria, seen as the Kremlin's most pliable satellite in Soviet times, has long been an anomaly in Europe, a country within EU and NATO structures yet feeling close to Russia.
"Bulgaria is a small country, we do not have resources and it is naive to go against Russia," said Kalin Dragiev, 49, a shop owner. "Politicians must accept that Bulgaria badly needs Russia ...I will probably vote for Radev but I still think that Tsacheva is the favorite."
EU sanctions imposed on Moscow over its role in the pro-Russian separatist conflict in Ukraine have hurt North Atlantic Treaty Organization member Bulgaria financially.
Most power in the country of 7.2 million rests with the prime minister and parliament, but the president leads the armed forces and can veto legislation, sign international treaties and appoint ambassadors.