CTV News, October 15, 2016 - Iran has once again targeted a prominent human rights activist, who lost six family members to state executions and killings in the 1980s.
Mansoureh Behkish, who's been jailed several times for her past advocacy work, had her passport confiscated indefinitely and without explanation by authorities.
It happened as she was about to board a plane to Ireland, where her daughter lives.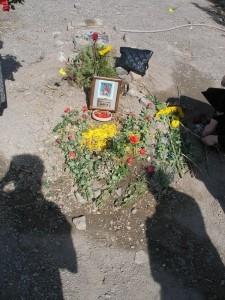 A grave at Khavaran cemetery belonging to Mansoureh Behkish's sister, Zahra, who was arrested Aug. 25, 1983 in Tehran and killed the same day or the day after under torture
Behkish said security agents did not tell her why they stopped her from boarding and took her passport at Tehran International Airport on Sept. 16.
She was told that in order to get her passport back she must report to Evin revolutionary tribunal court, located in the same complex as the notorious Evin Prison where she has several times been incarcerated for her human rights advocacy work.
"It is possible that, during the interrogation, they might arrest me, or threaten me with a heavier sentence, which I would strongly protest," Behkish wrote in an open letter.
"I am aware that resisting injustice and oppression has a price, and I am prepared for it."
Behkish said she was looking forward to flying to Ireland to visit her daughter, especially as she was still dealing with the death of her own mother in January.
"I have not [gotten] used to her absence yet," she said of Nayereh Jalali Mohajer, who was known as "Mother Behkish."
Mohajer spent much of her life seeking justice for her five children and a son-in-law who were among the thousands of political prisoners executed in 1988 by the Islamic Republic of Iran.
The state executions of Mother Behkish's children and son-in-law, by all known accounts, are the most suffered by a single family.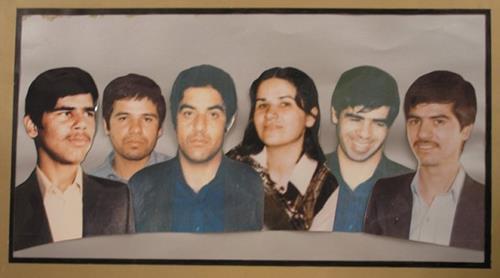 Five siblings and a brother-in-law of Mansoureh Behkish, executed or killed by the Iranian government in the 1980s because of their political beliefs, ideology and activities. From left to right: Mohsen Behkish, Mohammad Reza Behkish, Siamak Asadian, Zahra Behkish, Mahmoud Behkish, Ali Behkish.
The Islamic Republic of Iran systematically executed thousands of people belonging to political opposition groups in the 1980s. Amnesty International estimates 4,500 people were killed in 1988, over a period of about five months, but Iranian opposition groups say the death toll is far higher. To this day, the regime continues to deny the executions ever happened.
This past Sept. 16, Mansoureh, still in mourning, looked forward to spending a few months away from Iran to visit her daughter in Ireland.
But the "Iranian regime's security agents at Tehran airport barred me from exiting the country and deprived [me] of the most simple right: spending time with family," she wrote.
While it's unclear if it's related, a member of Mansoureh's family points out this incident happened just over a month after the posting of an audio file to a website associated with deceased dissident cleric Ayatollah Hossein Alo Montazeri.
According to the Guardian, the audio file is a recording of a meeting Montazeri held in 1988 with senior judges and judiciary officials involved in the mass executions. A recording in which Montazeri is heard condemning the executions. "In my view, the biggest crime in the Islamic Republic, for which the history will condemn us, has been committed at your hands," Montazeri told the officials, according to the Guardian, "and they'll write your names as criminals in the history."
A similar incident happened to Mansoureh in 2009, when she was trying to visit another daughter who was living in Italy. She said in her letter that her passport was exit-stamped by passport control, but security agents stopped her from boarding her plane.
Meanwhile, Mansoureh continues to live in Tehran under a cloud of uncertainty, while family members overseas wonder whether they will see her again, fearing she may once again be interrogated and arrested.
'They want to silence us': brother in Canada
"She's angry," said her brother Jafar Behkish, who immigrated to Canada in 2002, "but not surprised because they have harassed her [Mansoureh] many, many times."
He said in an interview with CTVNews.ca that his family is under the regime's microscope because they continue to be vocal about the political executions.
"She's part of the most prominent group of families of victims of Iran which have been seeking justice for more than 35 years … and challenging the government's policy of denial," said Jafar.
"They want to silence us and they want to push us to stop talking about those crimes."
Jafar continues to write about human rights violations in Iran. He stressed that visits his sister and other family members have made to Khavaran cemetery -- where many of the victims of the executions were buried in unmarked graves – are likely a significant reason they continue to be watched by the regime.
"Khavaran cemetery is one of the main symbols of brutality in Iran," he said. Two of his brothers were among those massacred on Khomeini's orders in 1988 are believe to be buried in mass graves at Khavaran, which was historically known as a burial ground for religious minorities.
"They asked my brothers if they believed in Islam or not, they said no, and they said, 'You're not believing so you have to be killed.'"
Mansoureh also took part in vigils at Khavaran to commemorate the mass executions. While families of political prisoners aren't allowed to mourn loved ones at Khavaran, they still want to know exactly where they're buried so they could mourn close by. These vigils, by grassroots groups such as the Mothers of Khavaran, are routinely broken up by authorities, and Mansoureh has been swept up several times.
As for what will happen now to his sister, Jafar said he believes uncertainty is part of the regime's tactic.
"She's already been convicted to a four-year prison term (in 2012). But they didn't enforce the verdict and when she went to Evin prison (in 2013) -- they pushed her out," said Jafar.
"If it's beneficial to them to convict her again they'll do that, but right now their policy is to show other families … they may lose their right to go outside the country, or be summoned by authorities."
"Confiscating her passport may be enough for them for this moment."
Meanwhile, in her open letter, Mansoureh said she's had a prison suitcase packed "for any moment when they may wish to call me again."
But she added, she will "not bend to the wishes of an oppressive system that does not adhere to any moral standard, or even follow its own rules."
"I will not pledge to stop my efforts to reach justice."