(CNSNews.com) October 7, 2016 – Senator Tom Cotton (R-Ark.) wants the State Department and Treasury Department to release their documents on the Obama administration's decision in January to lift U.N. sanctions on Iran's Bank Sepah and its subsidiary, a decision that came on the same day that Tehran released four U.S. hostages, a move the Wall Street Journal reported was part of a secret agreement.
Cotton's letter, sent on Thursday, Oct. 6, cites State Department spokesman Mark Toner's claim that the department "conducted a very thorough review, in essence updating what we knew about Bank Sepah, and whether they qualified. And it was our assessment that they did qualify" for the lifting of sanctions.
Cotton is requesting that the State Department "expeditiously share any and all assessments related to the lifting of sanctions on Bank Sepah with the Senate Committee on Banking, Housing and Urban Affairs and the Senate Select Committee on Intelligence, and the Senate Committee on Foreign Relations."
Cotton wrote, "Bank Sepah has long been the financial facilitator of Iran's illicit ballistic missile procurement efforts, a program whose sole purpose is to create delivery systems for nuclear weapons."
He quoted a 2007 statement from the Treasury Department calling Bank Sepah "the financial linchpin of Iran's missile procurement network," which "has actively assisted Iran's pursuit of missiles capable of carrying weapons of mass destruction."
"The Obama administration may have expedited Iran's efforts to obtain viable delivery vehicles for nuclear weapons," Cotton warned.
He added that "the sanctions relief may have constituted a major component of a ransom payment," pointing out that the January 17 agreements for Iran's release of U.S. hostages, the U.S. release or pardon of several Iranian agents, and a $1.7 billion payment to Iran were all finalized "on the same day, by the same U.S. and Iranian negotiators, meeting in the same Geneva conference hotel room."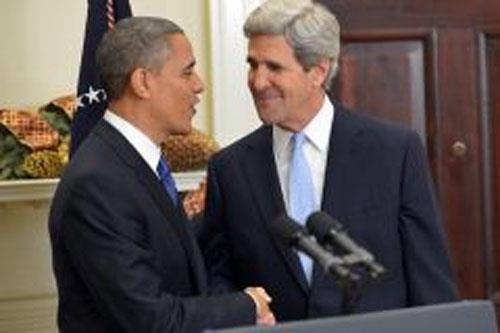 President Obama and Secretary Kerry
Cotton expressed concerns that the sanction relief being a part of an apparent "tightly orchestrated ransom payment" will "create a strong incentive for Iran and other malign actors around the world to capture and detain Americans for use as bargaining chips."
He argued that the lifting of sanctions also violated the Iran nuclear deal, specifically Annex V of the Joint Comprehensive Plan of Action, indicating that the sanctions were not to be lifted until a "milestone" date in 2023 or until the Director General of the IAEA issued a report that "all nuclear material in Iran remains in peaceful activities."
House Speaker Paul Ryan (R-Wisc.) raised that concern as well in a statement last Friday demanding an "immediate explanation" from the administration.
"It now appears that on the same day American hostages were freed from Iran, the administration not only agreed to the $1.7 billion cash ransom payment, but violated a key term of the nuclear deal by prematurely lifting ballistic missile sanctions," Ryan said.
"These additional secret concessions directly jeopardize our national security, and cast further doubt on this flimsy agreement," said the House Speaker.