Reuters, Oct 5, 2016 - Syria's army will reduce air strikes and shelling on rebel-held eastern Aleppo on humanitarian grounds, it said on Wednesday, after mounting international criticism of it and Russia.
Last month, the army - backed by Shi'ite militias from Lebanon and Iraq, and by Russian jets - launched a new offensive involving one of the five-year-old war's heaviest bombardments in eastern Aleppo after a week-long ceasefire collapsed.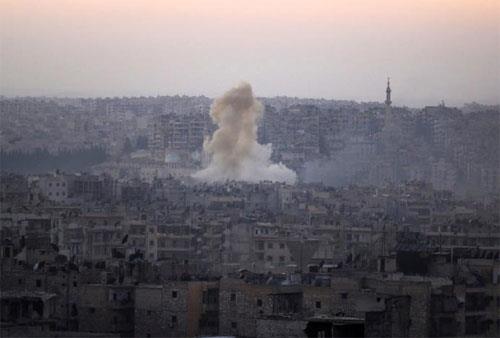 Smoke rises from Bustan al-Basha neighborhood of Aleppo, Syria, October 5, 2016

Air strikes and shelling on rebel-held eastern Aleppo, and insurgent shelling of the government-held west of the city, have killed hundreds of civilians since the offensive began on Sept. 19, according to residents and war monitors.
The ferocity of the bombardment, which has included repeated air strikes on hospitals in rebel-held areas, has drawn intense criticism from aid agencies, with the U.N.'s rights chief on Tuesday warning it may amount to a war crime.
It has also created new friction between the United States, which backs some rebel groups, and Russia, which supports President Bashar al-Assad and led to Washington breaking off talks with Moscow over renewing the ceasefire.
In a statement distributed by a Syrian military source, the army's general command said its decision on Wednesday to reduce air strikes and shelling came after it had succeeded in cutting off all entry roads into Aleppo used by insurgents.
The conflict has killed hundreds of thousands of people and displaced half the country's pre-war population.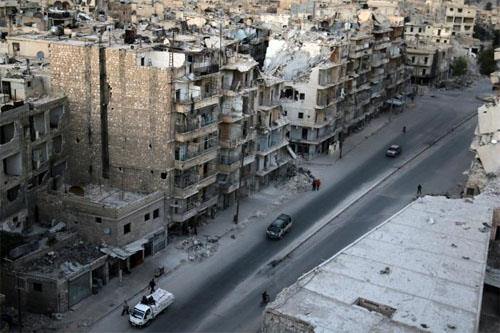 Vehicles drive past damaged buildings in the rebel-held Tariq al-Bab neighbourhood of Aleppo, Syria, October 5,2016

The rebel-held eastern zone of the city has been effectively besieged by the army and its allies since mid-September, and about half of its approximately 275,000 inhabitants may want to leave as food and fuel runs short, the U.N. said on Wednesday.
Since the offensive began, the army and its allies have made territorial gains in the northern part of Aleppo, capturing the Handarat refugee camp, and have also taken control of smaller areas in the south and in the city center.