Port-au-Prince،AFP،October 3, 2016 - As Hurricane Matthew churns toward Haiti, the inability of the country's impoverished majority to prepare for the storm has laid bare the gaping economic disparities in the poorest country in the Americas.
Matthew, the most menacing storm to hit the Caribbean in a decade, was forecast to dump up to 100 centimeters (40 inches) of rain on some parts of the country and set off life-threatening floods and mudslides after charging ashore Monday night.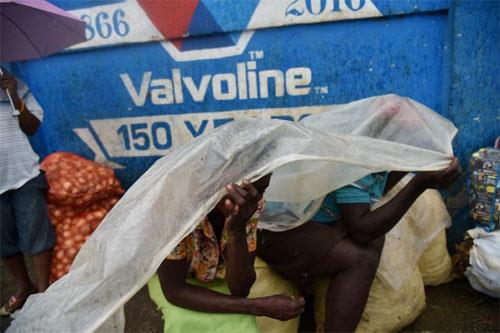 Women protect themselves from the rain with plastic in the Haitian Capital of Port-au-Prince, on October 3, 2016
"We are very concerned. We especially need disinfectant, candles, matches, canned food and of course water," Patricia, a woman in her 40s, told AFP while checking out at a supermarket, her leather handbag balanced on top of a shopping cart full of food and basic necessities.
She pulled out a bank card to pay for the supplies that cost more than $50 -- a small fortune by the standards of many ordinary Haitians.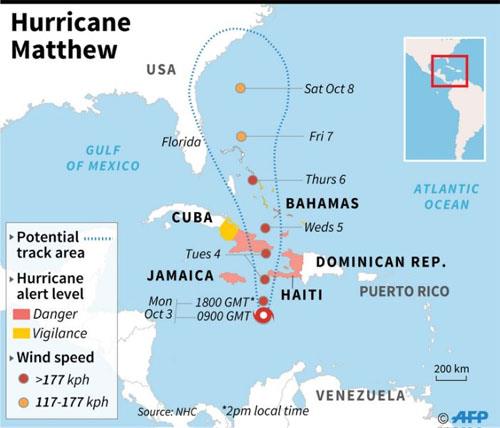 The forecast path of Hurricane Matthew through the Caribbean (AFP Photo Gustavo IZUS, Jean Michel CORNU, Thomas SAINT-CRICQ
In the upscale hilltop suburb of Petionville, stores stayed open all day Sunday to allow customers to stock up. By midday, shelves for bread, pasta and water were nearly bare.
"We're expecting three days of storm-related impact and I see people buying like they won't have access to anything for two or three weeks. It's ridiculous! I'm only buying the minimum," said Roxane Ledan.
- Out of reach -
But even stocking up on the basics is out of reach for a majority of Haitians.
More than six million of the country's 10.4 million people live below the poverty line of $2.42 per day, according to the latest World Bank statistics.
The glaring inequity isn't limited to food and supplies. The poor are also unable to access information about the looming storm.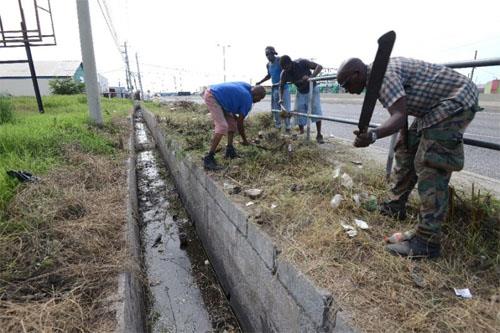 Jamaican workers clean the drainage system on the side of a road in preparation of Hurricane Matthew
While the wealthier Haitians have been trading weather alerts and emergency instructions on their smartphones, some of the country's poorest people aren't even aware of the threat.
"Someone here at the port just told me a hurricane is coming. I hadn't heard anything about it," said Fritznel, a villager from the seaside community of Pestel, 280 kilometers (175 miles) west of Port-au-Prince.
At midday Sunday, just a few kilometers from the supermarket, he was sitting helplessly on his sailboat docked in the Bay of Port-au-Prince.
"I don't know how I'm going to get home because I can't go out on the water, it's too dangerous," he said.
"I called my family to tell them to take shelter in the church next to our home, which is not very strong," said the man, who had only a few coins in his pocket and did not know where he would wait out the storm.
- 'Will be disaster' -
Haiti's yawning rich-poor gap is denounced by many, including those in the upper class.
"I don't worry about myself, I may have broken windows or water in my house... (but) I literally panic for the poor people who live on the coasts. These people will die," Ledan said.
"They don't buy their food in supermarkets, they farm small plots of land and they have animals," she said. "It will be disaster for them if we don't do more to prevent it."
Haitian authorities have said they are running outreach campaigns, but many people said they never received any text message from the government.
The lack of information and preparation was a source of concern for the humanitarian community and international organizations.
"This country has always had hurricanes and yet even today, it's not ready," said a foreign diplomat, among those doing some last-minute shopping at the supermarket