The use of child soldiers is a crime under international law, raising difficult legal questions for both Baghdad and Tehran

Middle East Monitor, Sept. 28, 2016 - Iraqi civil rights groups have accused their government of staying silent as Iranian-sponsored militias and organizations recruit child soldiers to fight a "jihad" in Syria, Al Jazeera reported on Monday.
Campaigners accused Baghdad of adopting a policy of silence or complicity as Iran uses organizations and armed militant Shia factions under its control to press children to take part in the Syrian bloodletting that has now claimed 400,000 lives since 2011.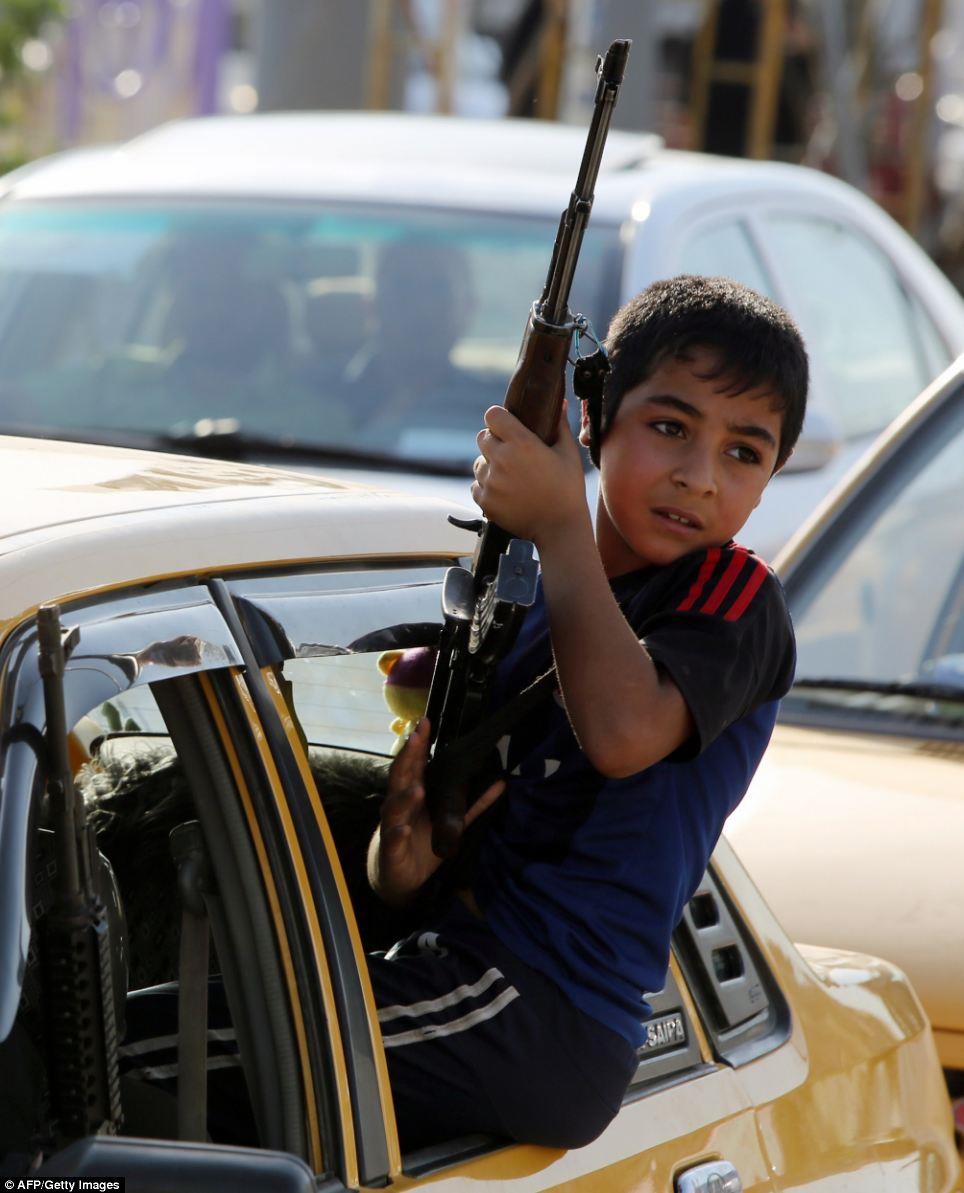 An Iraqi young boy holds a weapon from the window of a car as people gather The families of some of these children have complained that Iraqi officials have done little to address their grave concerns regarding the welfare of their children.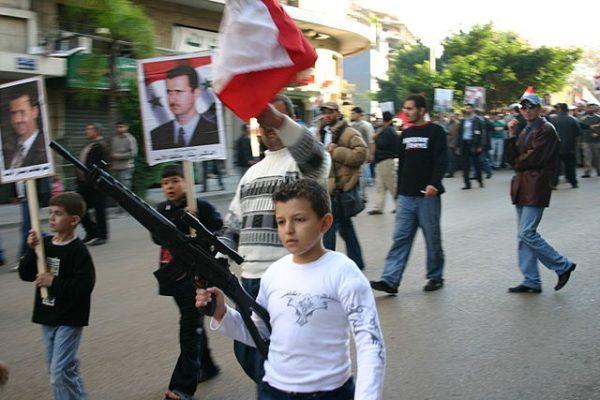 SSNP supports demonstrate in favor of the Syrian regime. An SSNP child soldier was
reportedly Their complaints also suggest that Iraqi children are seen as expendable as they are left unattended when they suffer wounds or their bodies are not repatriated to Iraq after they have been killed in Iran's so-called jihad in Syria.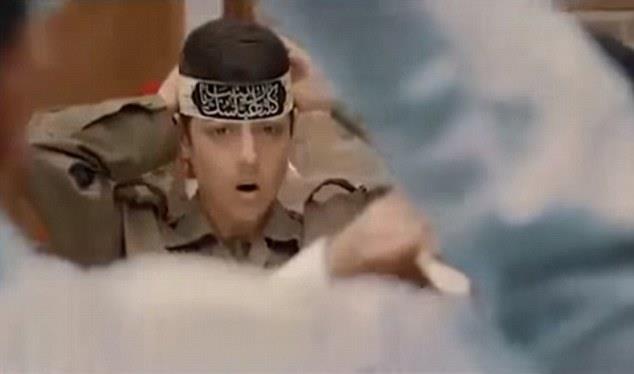 In parts of this clip, young children can be heard singing'On my leader orders I am ready to give my life' According to these families,
Baghdad is fully aware of what is going on yet will not, or cannot, do anything to prevent it from happening. The socio-economic situation of Iraqi children is reportedly being manipulated by those looking to recruit them, with promises of financial and spiritual rewards.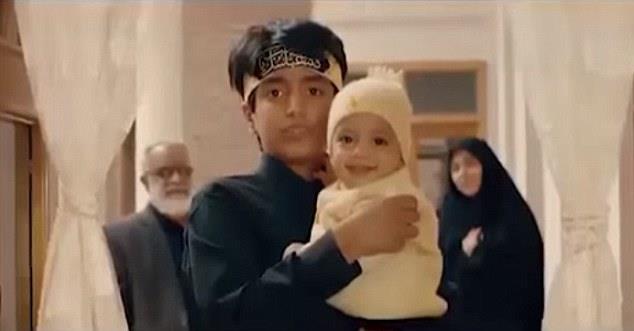 The video was produced by the Bassij Music House, the propaganda arm of the regime's paramilitary Bassij
Their claims include troubling information that Iraqi children are granted Iranian passports before being transported to Iran, suggesting they receive training there. They are then moved to Syria in order to fight in support of the Assad regime that is currently destroying opposition-held eastern Aleppo with Russian and Iranian support.
The use of child soldiers is a crime under international law, raising difficult legal questions for both Baghdad and Tehran.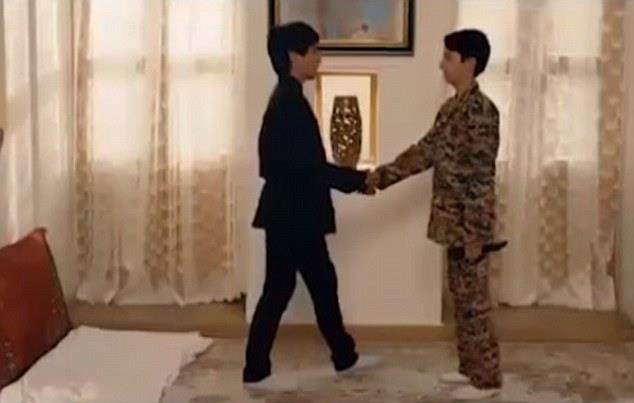 Iran is Assad's main regional ally and has provided military and economic support for his conflict with rebel groups and Islamic State m
The chief of the Iraqi National Centre for Justice, Mohammed Al-Sheikhly, stated that the Iraqi government must be held responsible for the illegal recruitment of Iraqi children to fight in military campaigns.

The Iranian government is broadcasting a music video made by the Basij militia recruiting children to fight in Syria's civil war.
Speaking to Al Jazeera, Iraqi political analyst Walid Al-Zubaidi said: "This problem [of child soldiers] was exacerbated after the foundation of the Popular Mobilisation Forces (PMF)…and this phenomenon has spread widely, particularly in areas in southern Iraq."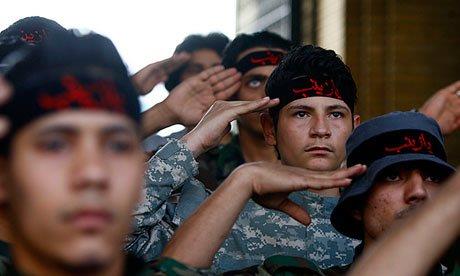 Iraqi Shia fighters salute the shrine of Sayyida Zeinab in Damascus.
The PMF is a largely Shia military organization that was formed in 2014. Since then, the PMF has been accused of perpetrating grave sectarian abuses against Iraq's Sunni population.
Al-Zubaidi also claimed that an agreement was made earlier this month between Iraqi Shia militias and the Houthi rebels, both Iranian-backed, to press Iraqi children into military service in Yemen, though he could not say if this agreement was acted upon.

Pro-aborts aren't the only ones waging a "war on children"
Iran has been known to use child soldiers in the past. During the Iran-Iraq War (1980-1988), Iranian children were widely reported as being present on the frontlines and large numbers of them were captured or killed during the bloody conflict.