Nasa's Aqua satellite has captured pictures that show something unusual about Iran's lake Urmia. The lake which was green a couple of months ago has suddenly turned into bright blood red color.
NASA's (MODIS) instrument on the Aqua satellite has sent back satellite images of the Lake Urmia captured on July 18 which show the water in the lake turned red in color, reported Daily Mail.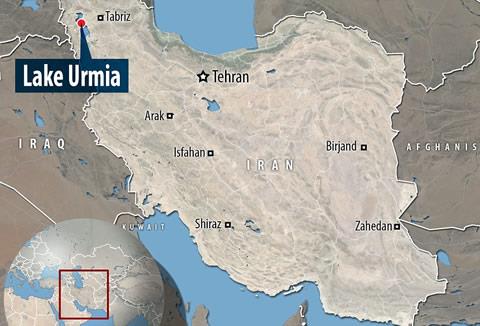 What's more interesting to note is that the water in the Lake was green in pictures taken on April 23. This means that the transition from green to red color has happened in mere three months' time. The shoreline in the picture is encrusted with salt deposits and appears white in color.
According to the NASA experts, microorganisms might be the reason behind the change of color. They are suspecting that the bacteria family called Halobacteriaceae and the algae family Dunaliella have caused Lake Urmia's water to turn into deep red color. It is during summers that the water levels in the lake drops and the salinity level increases. In conditions of high salinity, these bacteria release a red pigment called bacteriorhodopsin that absorbs light and converts it into energy for the bacteria. When bacteria populations are large enough, they can stain a whole body of water.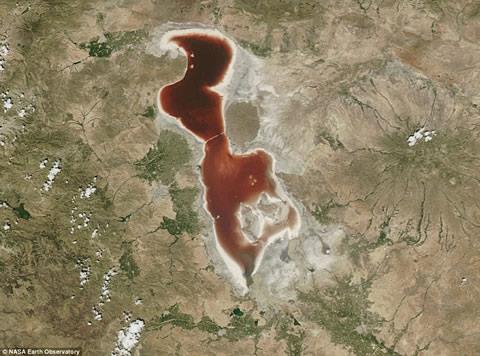 Stunning satellite image shows how tiny bugs transform salt water into a brilliant red that can be seen from space.

Mohammad Tourian, a scientist at the University of Stuttgart, said that Dunaliella salina is responsible for reddening of Lake Urmia. He added that Dunaliella salina appears green in the marine environment. But, in conditions of high salinity and light intensity, the microalgae turns red due to the production of protective carotenoids in the cells, reported Nature World News.
While Lake Urmia turning red from green is a temporary change and the same has happened several times in recent years, NASA has noted the possibility of Lake Urmia turning permanently red as Iran's drought increases.

Daily Mail repoted: Pictures show that on April 23, the water in the lake was green, but by July 18, it was the colour of wine or more worryingly, blood.
The shoreline, which is encrusted with salt deposits because of water evaporating in the heat, appears a frosty white and the pale ring around the lake is especially noticeable in July when water levels are lower.
The colour changes become common in the spring and early summer due to seasonal precipitation and climate patterns, Nasa said.
Spring is the wettest season in north western Iran, with rainfall usually peaking in April and snow on nearby mountains also melts.
The combination of rain and snowmelt sends a surge of fresh water into Lake Urmia in April and May sending salt levels down, but by July, the influx of fresh water has tapered off and lake levels begin to drop.
The lake generally becomes saltier as summer heat and dryness take hold, which is when the microorganisms show their colours.
The lake generally becomes saltier as summer heat and dryness take hold, which is when the microorganisms show their colours.
While experts have not determined exactly what tiny creatures have turned the lake red this year, they believe there are probably two groups of organisms involved: a family of algae called Dunaliella and an archaic family of bacteria known as Halobacteriaceae.
'Previous research suggests that Dunaliella salina is responsible for reddening of Lake Urmia,' said Mohammad Tourian, a scientist at the University of Stuttgart.
'In the marine environment, Dunaliella salina appears green; however, in conditions of high salinity and light intensity, the microalgae turns red due to the production of protective carotenoids in the cells.'
Other scientists emphasise the role of Halobacteriaceae, a group of bacteria found in water that is saturated or nearly saturated with salt.
These bacteria release a red pigment called bacteriorhodopsin that absorbs light and converts it into energy for the bacteria.
When populations of the bacteria are large enough, they can stain bodies of water.
While it is not unusual for Lake Urmia to turn red in recent years, the colour could become increasingly common.
This is because drought and intensive water diversion for agriculture has been limiting the amount of fresh water reaching the lake.
Dr Tourian said: 'The lake volume has been decreasing at an alarming rate of 1.03 cubic kilometres per year.
'The results from satellite imagery revealed a loss of water extent at an average rate of 220 square kilometres per year, which indicates that the lake has lost about 70 per cent of its surface area over the last 14 years.'
Source: Science World Report, Daily Mail, 29 July 2016