Eiffel Tower to be lit in France's colours after Nice attack
PARIS (AFP) - The Eiffel Tower will be lit in France's national colours from Friday in tribute to the victims of the Nice truck attack, Paris city hall said.
"The mayor of Paris, Anne Hidalgo, has decided to illuminate the Eiffel Tower in red, white and blue tonight and during the (three-day) period of national mourning," it said in a statement, adding that the illumination would start each night at 10.30pm (2030 GMT).
NBC News:French Pres. Hollande: 50 people injured in Nice terror attack are "between life and death."
France declares three-day national mourning after truck attack
PARIS (AFP) - France has declared three days of national mourning from Saturday after at least 84 people were mown down by a truck while watching a Bastille Day fireworks display, the prime minister said.
Manuel Valls also told reporters that the government wants to extend the state of emergency which has been in force since the November 13 Paris attacks until October.
World leaders express horror at attack; sympathy for France
NICE, France (AP) — World leaders are expressing dismay, sadness and solidarity with France over the attack carried out by a man who drove truck into crowds of people celebrating France's national day in Nice, killing at least 84 people:
UNITED STATES
President Barack Obama condemned what "appears to be a horrific terrorist attack" in Nice.
"Our thoughts and prayers are with the families and other loved ones of those killed," he said.
Noting that the attack occurred on Bastille Day, the French national holiday, Obama praised "the extraordinary resilience and democratic values that have made France an inspiration to the entire world."
Secretary of State John Kerry called it a "horrendous attack in Nice. ... I was proud to stand alongside French leaders earlier today at Bastille Day celebrations in Paris, and the United States will continue to stand firmly with the French people during this time of tragedy."
Both presidential candidates also condemned the attacks, with Republican Donald Trump declaring "this is war" and Democrat Hillary Clinton vowing "we will not be intimidated.
Clinton said "every American stands in strong solidarity with the people of France, and we say with one voice: We will not be intimidated. We will never allow terrorists to undermine the egalitarian and democratic values that underpin our very way of life."
Trump, who postponed plans to announce his vice presidential pick because of the attack, said "this is war. If you look at it, this is war coming from all different parts."
____
GERMANY
Chancellor Angela Merkel pledged solidarity with France in the aftermath of the attack, saying "Germany stands at France's side in the fight against terrorism."
Speaking on the sidelines of a summit in Mongolia, Merkel added: "I am completely convinced that we will win this fight despite all difficulties."
On a state visit to Uruguay, German President Joachim Gauck said Friday that "the 14th of July, the day when France celebrates its national day, represents the values of the French Revolution, which are our values as well."
"An attack on France, therefore, is an attack on the entire free world," he said.
Germany's Foreign Ministry flew the French flag in solidarity with its neighbor, and flags on all public buildings were ordered flown at half-staff.
___
EUROPEAN UNION
European Council president Donald Tusk expressed consternation that France was attacked on its national day and said the world stands united with the French people.
"It is a tragic paradox that the victims of the attack people celebrating liberty, quality and fraternity. We will stand united with the families of victims, the French people and the government in the fight against violence and hatred," Tusk said.
The EU lowered its flags to half-staff outside its headquarters Friday and the EU Commission's daily media briefing observed a moment of silence.
____
NATO
NATO's chief said he was "appalled and saddened" by the attack in Nice and that alliance's other member nations "stand in strong solidarity with the people of France."
"This attack targeted innocent people and the core values for which NATO stands," alliance Secretary-General Jens Stoltenberg said. "But terrorism will never defeat democracy, freedom and our open societies."
VATICAN
Pope Francis has condemned the terror attack in Nice during national Bastille Day celebrations.
The Vatican said "we condemn in an absolute manner all manifestations of homicidal folly, hatred, terrorism and attacks against peace."
RUSSIA
Russian President Vladimir Putin says he was "shocked by the violence and exceptional cynicism" of Thursday's attack in Nice.
Putin sent condolences to French President Francois Hollande on Friday and said that terrorism can be defeated only if "all civilized mankind pulls efforts together" to fight militants, their leaders as well as targeting their financial backers "wherever they are hiding."
Putin said Russia is willing to work closely with France and other countries to fight terrorism which is "devoid of any human moral."
____
TURKEY
Turkish President Recep Tayyip Erdogan said the attack shows "terrorism has no religion, race or nationality."
Erdogan said Friday that "those who carried out this brutal incident have nothing to do with humanity. In essence these barbarians have no place in this world or should they have."
"We need to see that for the terror organizations, there is no difference between Turkey and France, between Iraq and Belgium, between Saudi Arabia and the United States."
CHINA
Premier Li Keqiang said "we strongly condemn terrorism of all forms. We express our condolences to the victims and we will fight all kinds of terrorism."
____
INDIA
Prime Minister Narendra Modi condemned what he called a mindless attack.
"I am appalled by the horrific attack in Nice. I strongly condemn such mindless acts of violence. My thoughts are with the families of deceased," he said. "India shares the pain and stands firmly with our French sisters and brothers in this hour of immense sadness."
____
PAKISTAN
Prime Minister Nawaz Sharif said the government and people of Pakistan were deeply saddened by the attack.
"Being the front-line state in the war against terror, Pakistan itself has suffered immensely and has seen a series of tragedies," he said.
___
AFGHANISTAN
President Ashraf Ghani of Afghanistan is calling the Nice attack a "brutal and unforgiveable crime, unjustifiable under any circumstances."
In a statement issued by the presidential palace in Kabul, Ghani said terrorism does not recognize borders, nationality, faith or religion, posing a threat to the region and the world. Ghani expressed condolences and deepest sympathies to the families of victims of the attack, and to all French people.
____
EGYPT
Egyptian President Abdel-Fattah el-Sissi has extended his deepest sympathies to President Francois Hollande and the people of France for "the abhorrent terrorist attack in the French city of Nice." A statement from the presidential office says el-Sissi reiterated his support for international efforts to combat terrorism, which "knows neither borders nor religion."
Egypt's Grand Mufti Shawki Allam also condemned the Nice attack, saying the perpetrators of such attacks "have followed the footsteps of the devil, shed blood, and terrorized" innocent people.
____
KUWAIT
The ruler of oil-rich Kuwait has condemned the attack in Nice, France, saying it "runs counter to all religious teachings and humanitarian values."
The state-run Kuwait News Agency said the ruling emir, Sheikh Sabah Al Ahmad Al Sabah, sent a cable of condolence to French President Francois Hollande over the assault. Sheikh Sabah said Kuwait "supports all measures France might take to protect its security against the terrorist acts."
UNITED ARAB EMIRATES
The seven sheikhdoms of the United Arab Emirates condemned the "heinous terrorist crime" that struck Nice.
In a statement, Emirati Foreign Minister Sheikh Abdullah bin Zayed Al Nahyan pledged to stand with the people of France after the assault. Sheikh Abdullah also stressed the attack "makes it imperative for everyone to work together decisively and without hesitation to counter terrorism in all its forms."
The UAE is part of the U.S.-led coalition targeting the Islamic State group and hosts American and Western military personnel involved in the fight.
____
QATAR
Tiny gas-rich Qatar has condemned the "heinous" attack in Nice, France. The Foreign Ministry said the assault "is contrary to all human, ethical values and religions." It said it stood in solidarity with France after the attack.
Qatar, on the Arabian Peninsula, hosts a major American military base home to U.S. Central Command and has not faced any militant attack like neighboring Saudi Arabia. That U.S. base is involved in the battle against the Islamic State group.
____
SPAIN
Foreign Minister Jose Manuel Garcia-Margallo said he called his counterparts in France to express his condolences.
"We are very sorry and very much with the French people and the French government," he said in at a meeting of Asian and European leaders in the Mongolian capital of Ulaanbaatar.
___
BELGIUM
Foreign Minister Didier Reynders expressed dismay that France was once again the target of an apparent terrorist attack. "We condemn such an attack, maybe a terrorist attack, but such an attack in France again," he said.
____
IRELAND
Ireland's president says all lovers of freedom worldwide support the people of France as they absorb the horror of another mass killing.
Michael D. Higgins says after meeting France's ambassador in Dublin: "This cowardly attack in a public place on a national day of celebration must be condemned in the strongest terms. We must strengthen our resolve not to let such cold-blooded attacks undermine the way of life in our global community seeking to live in diversity and peace."
___
GREECE
Greece's Foreign Ministry says the attack in France targeted "the cradle of the ideas of liberty, equality and fraternity," adding that "the action of barbaric terrorism is doomed to fail."
"We express the certainty that, in spite of radical extremists, France, the beacon of the ideas of enlightenment, of democracy and of freedom will continue to ceaselessly shine its light on Europe and the World," the ministry said.
Telgraph: A terrorist who used a hired lorry to kill at least 84 people in a rampage during Bastille Day celebrations in Nice has been named as a convicted criminal well known to the police for armed attacks.
Tunisian-born Mohamed Lahouaiej Bouhlel, a 31-year-old delivery driver, was reported to be a French passport holder who lived in the Riviera city and was regularly in trouble with the law.
At least 10 children are among the dead following the "cowardly and barbaric" atrocity that left at least one British national among the many injured. Officials fear the death toll will rise.
As hundreds remained in hospital - including 18 fighting for their lives in intensive care - anti-terrorist judges opened an investigation into "mass murder" and investigators searched the home of the driver in the Abattoirs area of Nice.
Nice attack aftermath
The driver reportedly zig-zagged his way through the crowds along the promenade
Investigating sources said Bouhlel's last appearance in a criminal court was as recently as March, when he was found guilty of violent contact. Despite this, he had no known links with terrorism and was not under surveillance.An investigating source said: "An operation is currently underway at the dead suspect's home in Nice. It is being raided by officers."
Bouhel left his French identity card in the hired 19 tonne lorry used to murder dozens of people on Thursday night.

His truck had zigzagged through crowds massing on the Promenade des Anglais, killing anyone he could.
After being stopped by armed police, who fired bullets into the lorry's windscreen, the so far unnamed man exchanged fire with officers using a 7.65 pistol, before being shot dead.
"He was known to the police for violence, and using weapons, but had no direct links with terrorism," said an investigating source. "His identity car was found in the lorry. He had French and Tunisian nationality."
A search of the vehicle uncovered a pistol, a larger gun, and a number of fake weapons and grenades.
The fact that the killer was known to the authorities will be of grave concern to those trying to prevent terrorist attacks in France.
A recent Paris parliamentary investigation into last year's attacks identified multiple failings by France's intelligence agencies.
New Prime Minister Theresa May said Britain must redouble its efforts to defeat "brutal" terrorist "murderers" after the "horrifying" attack, as she called a meeting of senior officials in the Government's emergency Cobra committee.
As the United Nations issued a statement calling the latest "cowardly and barbaric", French Prime Minister Manuel Valls tweeted: "The city of Nice has been hit by terrorism on the day of our national holiday. Immense pain, the country is in mourning. The French will face it."
President Francois Hollande meanwhile spoke of a "monstrosity", and said soldiers would be deployed to support gendarmes and police, particularly at the country's borders.
A State of Emergency imposed last year after almost 150 people were killed during attacks on Paris will be extended to July 26, Mr Hollande added.
Interior Minister Bernard Cazeneuve said: "We are at war with terrorists who want to strike us at any cost and who are extremely violent."
Guardian: Nice truck attack leaves 84 dead and France in shock
Hundreds injured after Tunisian-French man drove through Bastille Day celebrations firing at revelers
At least 84 people have been killed in the French city of Nice after an armed man drove a truck at full speed for 2km through a crowd who had gathered to watch the Bastille Day fireworks display over the seafront.
The attack on France's national day came eight months after 130 people were killed in Paris in coordinated attacks on a stadium, bars and a rock concert at the Bataclan venue.
The French president, François Hollande, said the Nice killings on Thursday night appeared to be a terrorist attack. France has declared three days of national mourning.
As the authorities confirmed a rising death toll, with 18 of the injured said to be in a critical condition, the scene of the attack, the seafront Promenade des Anglais, was closed off by police on Friday morning and people were advised to stay at home.
Employees of hotels on the promenade were having difficulty getting to work and were being searched. Those who had witnessed the attack were seen wrapped in blankets, shaking their heads and crying. Restaurant owners on the beachfront described sheltering panicked crowds.
A man in a white blanket, haggard and dazed, limped down the street as neighbours tried to hold him up. "He's lost his whole family," hushed an elderly woman crying through her sunglasses.
On every street corner, hurdles of tourists sat on their luggage as the sun rose, waiting for taxis to rush them to the airport. Julie Holland, an American on holiday was having dinner with her daughters when the truck drove at full speed through the crowd on the esplanade. "We heard screams, and people started running into the restaurant. We hid in the kitchen, behind a stove."
"As soon as the gunfire stopped we went through the back door to a hotel down the street. A policeman eventually escorted us back to our hotel at around three in the morning. There were bodies every where. My daughters saw bodies. Lots of them."
At the Mediterranean University Centre, where emergency psychological support is being given to those who were on the promenade, people were bundled up in blankets outside, some covered in blood or bandages.
Officials said hundreds were hurt as the driver wove along the seafront, knocking them down "like skittles". Video footage showed the 19-tonne white truck speeding up as it drove into screaming crowds on the promenade while several people tried to chase it on foot. A local government official said weapons and grenades were found inside the unmarked articulated truck.
Jaqueline Lacour and her companion George Pellet were sitting on their beachfront balcony watching the fireworks when chaos broke out. "We were about to put away our camera when we saw a huge white truck plough into the crowd" she said.
"We could hear the awful thump every time a body hit the front of the vehicle. One man right in front of us was literally thrown into the air. He laid dead for ages. People were screaming. A group of teenagers were trying to hide on the beach.
"A man stayed next to a body for what seemed to be hours, he kept screaming 'Help me, help me!'. It must have been one of his family members. People would hail ambulances and the guys would pop their heads out and signal that the next one would stop."
The attacker, identified by a police source as a 31-year-old Tunisian-born Frenchman, opened fire before police shot him dead. He was known to police for lower-level crimes, such as theft and violence, but had not been put on a watchlist by French intelligence services, Reuters said.
No groups have claimed responsibility for the attack, but Hollande said it was "terrorist in nature" and called up military and police reservists to relieve forces that have been involved in the state of emergency that began after the Islamic State attacks in Paris in November.
"Nothing will make us yield in our will to fight terrorism," he said in a pre-dawn address. "We will further strengthen our actions in Iraq and in Syria. We will continue striking those who attack us on our own soil," he said, referring to France's current airstrikes on Isis.
A spokesman for the British prime minister, Theresa May, said she was being kept up to date on events, adding: "Our thoughts are with all those affected by this terrible incident on what was a day of national celebration."
The White House said Barack Obama was being kept updated. The president condemned "what appears to be a horrific terrorist attack in Nice" and said he had directed his team to offer any assistance France may need in its investigation.
The Republican presidential candidate, Donald Trump, said on Twitter that, after the events in Nice, he was delaying a press conference planned for Friday to announce his running mate.
Hollande, who will hold emergency security talks at the Élysée on Friday morning before flying to Nice, must now address the horror and pain of a nation that has already been rocked by three major attacks in 18 months, and several smaller-scale killings.
A total of 147 people were killed in attacks in 2015 – from January's gun attacks on the Charlie Hebdo offices and a kosher grocery store to the coordinated gun and bomb attacks on 13 November.
The fact that many children were among the dead and seriously injured in Nice has deepened France's grief.
AFP, July 15, 2016 - A truck smashed into a crowd in the French resort of Nice, killing at least 80 people in what President Francois Hollande on Friday called a "terrorist" attack on revellers enjoying a Bastille Day fireworks display.
The driver was shot dead after barreling the truck two kilometres (1.3 miles) through the festive crowd on the palm-lined Promenade des Anglais, sending hundreds fleeing in terror and leaving the area strewn with bodies.
Authorities said they found identity papers belonging to a 31-year-old French-Tunisian citizen in the truck, as well as "guns" and "larger weapons".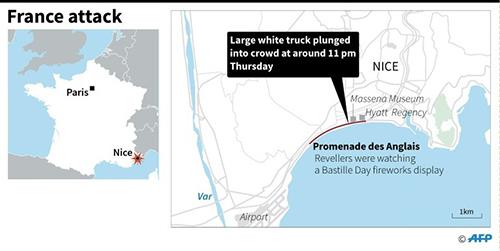 Nice attack
The attack was of an "undeniable terrorist nature," a somber Hollande said in a televised national address, confirming that several children were among the dead as families came together to celebrate France's national day.
The bloodshed came on Bastille Day, a celebration of everything France holds dear, its secular republic and the values of "Liberte, Egalite, Fraternite" (Freedom, Equality, Fraternity).
The attacker struck after a day of military pomp and ceremony in Paris -- where armed forces, tanks and fighter jets swooped down the Champs Elysees avenue -- and spectacular firework displays.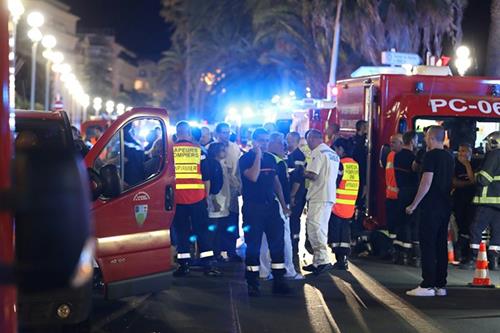 Police and rescue workers work at the site of an attack on the Promenade des Anglais in the French Riviera town of Nice
"France was struck on its national day ... the symbol of freedom," said Hollande.
A photograph showed the front of the truck riddled with bullet holes and badly damaged, with burst tires.
A lone doll lay abandoned on the promenade where families celebrated the holiday just hours earlier.
Robert Holloway, an AFP reporter who witnessed the white truck driving at speed into the crowd, described scenes of "absolute chaos".
"We saw people hit and bits of debris flying around. I had to protect my face from flying debris," he said.
Interior Minister Bernard Cazeneuve told reporters on the scene that the death toll stood at 80, with scores injured including 18 in "critical condition".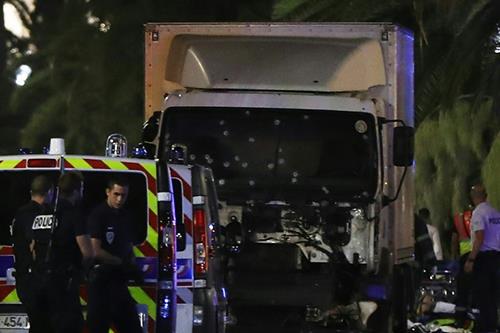 Police officers stand near a van, with its windscreen riddled with bullets, that ploughed into a crowd leaving a fireworks display in the French Riviera town of Nice on July 14, 2016
On Twitter, people mobilized fast, with citizens offering safe refuge under the hashtag #PortesOuvertesNice (Nice Open Doors).
An account called SOS Nice was set up where desperate pleas for news of missing loved ones went out with pictures of a young girl with braces or a teenager pulling a funny face among those posted.
Some were quickly tracked down, according to relieved tweets.
- 'Horrific terrorist attack' –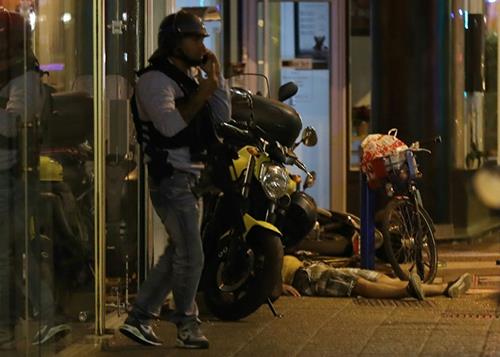 A dead body lies on the ground after a van drove into a crowd watching a fireworks display in the French Riviera town of Nice
The attack is the third major strike against France in less than 18 months and prosecutors said anti-terrorist investigators would handle the probe.
It comes eight months after Islamic State attacks on Paris nightspots left 130 people dead, dealing a hard blow to tourism in one of the world's top destinations.
US President Barack Obama condemned "what appears to be a horrific terrorist attack", although no group had yet claimed responsibility.
Hollande announced he would extend France's state of emergency for three months in the wake of this latest attack and "step up" the government's action against jihadists in Syria and Iraq.
"We will continue striking those who attack us on our own soil," he said, in reference to the Islamic State group.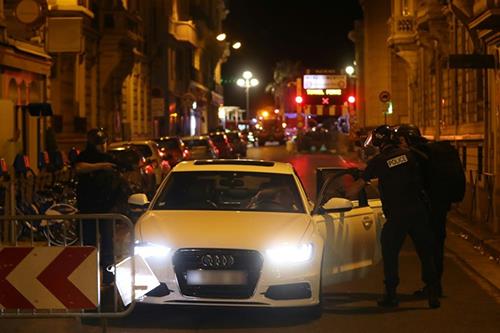 Police officers carry out checks on vehicles in the centre of French Riviera town of Nice, after a van drove into a crowd watching a fireworks display on July 14, 2016
He also called up army reservists to bolster the country's security services that are stretched to the limit.
France has been under a state of emergency ever since the November 13 Paris carnage, which came after 17 were killed in another attack in January at various sites including the offices of the Charlie Hebdo magazine and a Jewish supermarket.
The Islamic State group has repeatedly singled out France as a prime target for its military actions against the group in Iraq and Syria, and hundreds of jihadists have left France to go and fight in its ranks.
- 'He crushed a lot of people' -
The Mediterranean city of Nice, with its pebble beaches and clear blue water, has been a magnet for sun-seekers and the jet-set since the 19th century.
A witness named Nader told BFM television he had seen the whole attack from start to finish, and had initially thought the driver had "lost control".
"I was in the street. He stopped just in front of me after he (crushed) a lot of people. I saw a guy in the street, we were trying to speak to the driver to get him to stop.
"He looked nervous. There was a girl under the car, he smashed her. The guy next to me pulled her out," he said in broken English.
Nadr said he saw the driver pull out a gun and start shooting at police.
"They killed him and his head was out the window."
The Promenade des Anglais was sealed off, crawling with police and ambulances as authorities from the local Alpes-Maritimes prefecture urged residents to stay indoors.
Over the past week, France had been breathing a sigh of relief after successfully hosting the month-long Euro 2016 football championship, which passed off without incident despite fears of attacks.
The tournament brought an all-too-brief burst of joy to a gloomy France, bogged down after the two attacks in 2015, violent anti-government protests, strikes and floods.
European Council President Donald Tusk said: "It's a sad day for France, for Europe, for all of us."
"The subjects of the attack were people celebrating liberty, equality and fraternity."