By: Heshmat Alavi
International July 10, 2016 - On July 9th more than 100,000 Iranian dissidents and opposition supporters from four corners of the globe rallied in a grand gathering staged at the Le Bourget convention center located near Paris to call for democratic change in Iran, and the international community to adopt a new approach and start supporting the main Iranian opposition, the National Council of Resistance of Iran (NCRI).
The keynote speaker of the event was none other than Iranian opposition leader Maryam Rajavi, who delivered a powerful speech to the annual gathering calling for a major shift in policy by the world powers and the global community as a whole vis-à-vis the ruling religious theocracy in Iran and to recognize the NCRI as the legitimate voice of the Iranian people across the globe.
"[Iranian regime supreme leader Ali] Khamenei's circle is looking for an outlet to escape crisis [at home] has failed," Mrs. Rajavi said.
Regime change is the "only solution" for Iran is to exit this "deteriorating" situation, she added.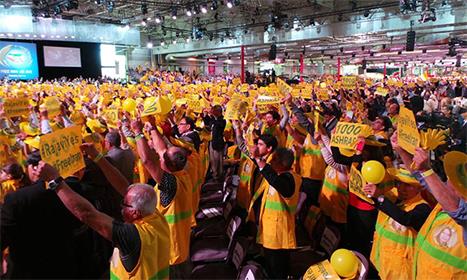 The NCRI has been struggling against the Iranian regime for nearly four decades as Tehran has established a reign of terror based on three main principles of massive domestic crackdown, the support of international terrorism, extremism and Islamic fundamentalism, and the pursuit of nuclear weapons.
The massive crowd in Le Bourget greeted hundreds of distinguished guests, personalities, lawmakers from various political backgrounds, human rights advocates, prominent jurists and other professionals from around the world, all in Paris to express their support for a future Iran based on freedom and democracy.
The prestigious personalities joining the rally in support of the Iranian opposition called on the United Nations, United States and the European Union to recognize the NCRI as the legitimate Iranian opposition movement.
"As far as the ambition of the Iranian regime is concerned to achieve nuclear power, they have not stopped and they use all the chances they have to produce atomic bomb as well as ballistic missiles. It also continues to thread its neighbors around the gulf and continues its fatal activities in Syria and Iraq and we should not be surprised about none of these developments. Mrs. Maryam Rajavi and the PMOI have been giving warnings to the world for years and they have been right all along the way," Ambassador Mitchell Reiss, former Director of Policy Planning in the U.S. State Department.