Istanbul-People in Istanbul were not surprised by the terrorist attack that hit Ataturk airport and killed 45 on Tuesday; however, it caused more fear in the city that is not ready to face dangers of terrorism.
As ISIS attacked this modern airport, which is the third to be targeted in Europe, with nonwestern people killed, the extremist group proved for Istanbul residents, whose population amounts up to 15 million, that it can hit any place even the city that is considered Turkey's center of attraction.
For his part, President of Turkey Recep Tayyip Erdogan visited the attack site on Saturday, saying a prayer in front of a memorial set up for the victims, which features the pictures of airport employees killed in the rampage, and said: "The latest findings point to ISIS terrorist organization."
Meanwhile, Turkish security forces arrested three people on Sunday in the framework of current investigations.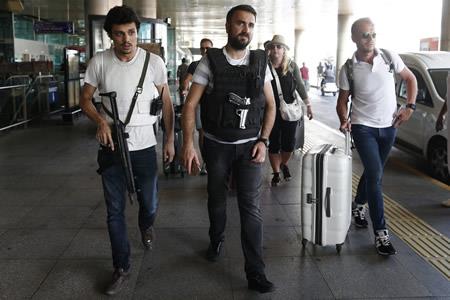 Armed Turkish policemen patrol as tourists arrive at Atatürk international airport in Istanbul, Turkey, on June 29.
Moreover, following Thursday's raids in Istanbul, Turkish authorities have arrested an additional 14 suspects, including 11 foreigners, over their involvement in a terrorist attack on Istanbul's Atatürk airport, which brings the total number of arrests to 27 after 13 people were detained on Thursday in raids across several neighborhoods in Istanbul.
Thirteen suspects, including three foreigners, were referred to Istanbul's Bakirkoy Court on Sunday following medical checks.
In a common matter, "Around 20 ISIS militants, mainly foreigners, are in custody in connection with the attack on the airport, Turkish President Tayyip Erdogan said on Saturday.
Two Russian nationals have been identified as suspected ISIS suicide bombers in the attack that is thought to have been masterminded by a Chechen, Turkish media said on Friday.
More than 5,000 ISIS suspects have been detained so far in Turkey as part of the country's intense fight against extremism, Interior Minister Efkan Ala said Thursday.
"To this day, 5,310 people have been detained in connection with the ISIS extremist organization," Ala told the parliament in Ankara.
He also said that in 2016 alone, 1,654 people had been detained, of which 791 people were foreigners; adding: "Of those detained, 663 have been remanded in custody, of which 371 were foreigners."
Source: Asharq Al-Awsat, 4 July 2016