Amnesty International on Wednesday, 29 June 2016 issued an urgent action calling for immediate and unconditional release of the Iranian trade unionist Jafar Azimzadeh, the Chair of the Free Union of Workers of Iran who has lost consciousness on 27 June following a two-month-long hunger strike.
Amnesty International said: Jafar Azimzadeh has been hospitalized since 18 June due to his deteriorating health, but is at risk of being returned to Tehran's Evin Prison, where his life may be at risk. He is a prisoner of conscience.
Iranian trade unionist and prisoner of conscience Jafar Azimzadeh, a welder and the Chair of the Free Union of Workers of Iran, has lost consciousness several times since his transfer to Sina Hospital in Tehran on 18 June from Evin Prison, where he is serving a six-year prison term in connection with his peaceful trade union activities. His health deteriorated after he started an indefinite hunger strike on 29 April, in advance of International Workers' Day on 1 May.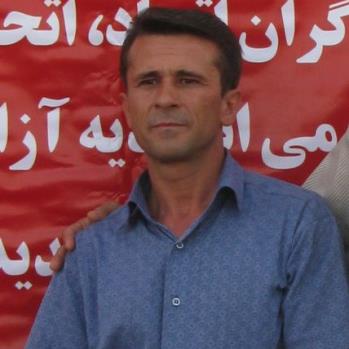 He began the hunger strike in protest at the arrest and conviction of himself and other trade unionists and teachers on trumped-up national security-related charges; the repression of trade unionists' peaceful assemblies and strikes; the ban on independently organized events for International Workers' Day and World Teachers' Day; and the continuing existence of wages that fall below the poverty line.
Jafar Azimzadeh is refusing food and medication in hospital but has allowed doctors to administer intravenous fluids to him. In addition to losing consciousness, he is experiencing heart palpitations, intestinal bleeding and kidney, bladder and urinary problems; his hearing and eyesight have become impaired, and he feels dizzy and has trouble walking. He is also experiencing numbness on the left side of his body. The Prosecutor General of Tehran has dismissed his family's pleas for help, saying that he will not do anything even if it means that Jafar Azimzadeh will die.
Amnesty International in its urgent action called for his immediate and unconditional release and emphasized that he is a prisoner of conscience, held solely for his peaceful trade union activities;
Jafar Azimzadeh was first arrested on 30 April 2014. Ministry of Intelligence officials held him for 46 days without access to his lawyer or family, in Section 209 of Evin Prison, before releasing him on bail. He was sentenced in March 2015 to six years in prison after an unfair trial before a Revolutionary Court in Tehran, which convicted him of "gathering and colluding to commit crimes against national security" and "spreading propaganda against the system". He also received a two-year ban on "membership in political and social parties, groups or collectives" and "engagement in online space, media and press". He began serving his sentence on 8 November 2015.
Source: Amnesty International, 29 June 2016